Thirty-year and 15-year fixed rates saw significant increases, while 5/1 ARM rates remained unchanged today, according to a NerdWallet survey of mortgage rates published by national lenders this morning.
---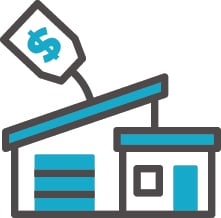 Maximum conforming loan limits will increase next year
On Nov. 23, the Federal Housing Finance Agency announced that it will increase the maximum conforming loan limits for mortgages backed by Fannie Mae and Freddie Mac in 2017. The limit will go from $417,000 to $424,100 in most states.
In areas where 115% of the local median home value exceeds the baseline loan limit, the maximum loan limit will be higher. A ceiling loan limit in these high-cost areas will be set at $636,150 for one-unit homes in the continental U.S. In Alaska, Hawaii, Guam and the U.S. Virgin Islands, the loan limit can go higher. 
This will be the first time since 2006 that the baseline loan limit has risen. The Housing and Recovery Act of 2008 established the $417,000 limit; it was meant to be adjusted each year according to changes in national average home prices. Because prices have declined since then, the baseline loan limit could not increase. The third quarter of 2016 saw the first increase in home prices to their pre-decline average.
Homeowners looking to lower their mortgage rate can shop for refinance lenders here.
NerdWallet daily mortgage rates are an average of the published APR with the lowest points for each loan term offered by a sampling of major national lenders. Annual percentage rate quotes reflect an interest rate plus points, fees and other expenses, providing the most accurate view of the costs a borrower might pay.
More from NerdWallet
Calculate your mortgage payment
The pros and cons of a HELOC
What is an FHA loan?
Michael Burge is a staff writer at NerdWallet, a personal finance website. Email: [email protected].