Thirty-year mortgage rates inched up, while 15-year fixed and 5/1 ARM rates fell even lower, according to a NerdWallet survey of mortgage rates published by national lenders Wednesday.
---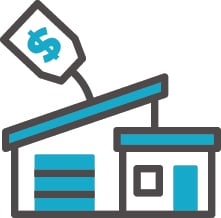 Cash sales hit lowest level since housing crisis began
It looks like investor purchases are taking a back seat in the housing market. Cash sales accounted for 29.3% of total home sales in June 2016, down 2.5 percentage points year over year, according to CoreLogic.
CoreLogic reported that cash sales peaked in January 2011, when cash transactions accounted for nearly half (46.6%) of total home sales in the U.S. During that time, housing markets across the country were just starting a slow but steady recovery following several years of depressed values and a glut of distressed properties on the market.
June 2016 marks the first time that cash sales accounted for under 30% of home purchases since late 2007. Before the downturn, the cash sales share of total home sales averaged approximately 25%. If this downward trend in cash sales continues at the latest rate, the share should hit 25% by mid-2018, wrote Molly Boesel, senior economist at CoreLogic, in a blog post.
Homeowners looking to lower their mortgage rate can shop for refinance lenders here.
NerdWallet daily mortgage rates are an average of the published APR with the lowest points for each loan term offered by a sampling of major national lenders. Annual percentage rate quotes reflect an interest rate plus points, fees and other expenses, providing the most accurate view of the costs a borrower might pay.
More from NerdWallet
Compare online mortgage refinance lenders
Compare mortgage refinance rates
Find a mortgage broker
Deborah Kearns is a staff writer at NerdWallet, a personal finance website. Email: [email protected]. Twitter: @debbie_kearns.