Thirty-year and 15-year mortgage rates held steady, while 5/1 ARM loan rates slipped a hair, according to a NerdWallet survey of mortgage rates published by national lenders Friday.
---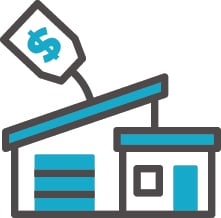 NAR: Pending home sales retreat
Pending home sales retreated in August for the third time in four months and to their lowest level since January, according to the National Association of Realtors.
A shortage of existing homes for sale prompted NAR's Pending Home Sales Index to fall 2.4% to 108.5 in August from a downwardly revised 111.2 in July — the second-lowest level this year after January (105.4).
The NAR index is based on signed real estate contracts for existing homes, with 100 representing average activity in 2001, the first year to be examined.
"Contract activity slackened throughout the country in August except for in the Northeast, where higher inventory totals are giving home shoppers greater options and better success signing a contract," NAR chief economist Lawrence Yun said in a news release. "In most other areas, an increased number of prospective buyers appear to be either wavering at the steeper home prices pushed up by inventory shortages or disheartened by the competition for the minuscule number of affordable listings."
NAR warned that a lack of new home construction, which has long hampered many metro markets, could derail housing's recovery, especially as we head into the slower sales season. Even more worrisome: Housing inventory has declined year-over-year for 15 straight months, and existing-home prices have jumped year-over-year for 54 consecutive months, NAR said.
Homeowners looking to lower their mortgage rate can shop for refinance lenders here.
NerdWallet daily mortgage rates are an average of the published APR with the lowest points for each loan term offered by a sampling of major national lenders. Annual percentage rate quotes reflect an interest rate plus points, fees and other expenses, providing the most accurate view of the costs a borrower might pay.
More from NerdWallet
How to refinance your mortgage
Compare mortgage refinance rates
Find a mortgage broker
Deborah Kearns is a staff writer at NerdWallet, a personal finance website. Email: [email protected]. Twitter: @debbie_kearns.