Thirty-year fixed mortgage rates were unchanged, while 15-year fixed and 5/1 ARM rates were modestly lower Thursday, according to a NerdWallet survey of mortgage rates published by national lenders.
Average weekly rates on 30-year fixed-rate home loans are at their highest levels since June 24, according to the NerdWallet Mortgage Rate Index.
---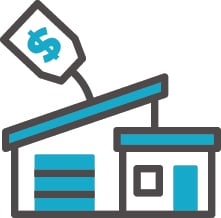 Mortgage Rates Today, Thursday, Sept. 15
(Change from 9/14)
30-year fixed: 3.69% APR (NC)
15-year fixed: 3.09% APR (-0.01)
5/1 ARM: 3.54% APR (-0.02)
Mortgage rates sharply higher for the week
Reacting to overseas economic concerns and speculation of a hike in interest rates here at home, mortgage rates have seen increased volatility over the past week. The result: Rates on the most popular terms are sharply higher from one week ago.
"The 10-year Treasury yield rose 18 basis points to 1.73%, its highest level since Brexit," Sean Becketti, chief economist for Freddie Mac, said in a news release. Brexit was the British referendum that resulted in a vote to leave the European Union. "The 30-year fixed-rate mortgage followed suit, rising 6 basis points to 3.50% this week. This is the first week since June that mortgage rates were above 3.48%, snapping an 11-week trend."
The Federal Reserve Open Market Committee meets next week and announces its decision regarding short-term interest rates Wednesday. Many economists expect the FOMC to delay issuing a rate hike until later in the year, most likely to December's meeting. Most analysts expect a quarter point (0.25%) increase in interest rates.

Homeowners looking to lower their mortgage rate can shop for refinance lenders here.
NerdWallet daily mortgage rates are an average of the published APR with the lowest points for each loan term offered by a sampling of major national lenders. Annual percentage rate quotes reflect an interest rate plus points, fees and other expenses, providing the most accurate view of the costs a borrower might pay.
More from NerdWallet
Compare online mortgage refinance lenders
Compare mortgage refinance rates
Find a mortgage broker
Hal Bundrick is a staff writer at NerdWallet, a personal finance website. Email: [email protected]. Twitter: @halmbundrick