Thirty-year and 15-year fixed mortgage rates, as well as 5/1 ARM rates, were all lower Thursday, according to a NerdWallet survey of mortgage rates published by national lenders.
---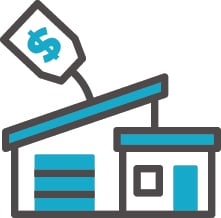 Fed waits, mortgage rates move lower
The bond market liked what the Federal Reserve was dishing out: a big, heaping serving of "catch you later." After the Fed's Federal Open Market Committee announced its decision to leave short-term interest rates the same, bond prices rose, yields fell and mortgage rates moved lower.
"The committee judges that the case for an increase in the federal funds rate has strengthened but decided, for the time being, to wait for further evidence of continued progress toward its objectives," the FOMC statement said. "The committee expects that economic conditions will evolve in a manner that will warrant only gradual increases in the federal funds rate; the federal funds rate is likely to remain, for some time, below levels that are expected to prevail in the longer run."
Freddie Mac's weekly survey of lenders found mortgage rates already lower ahead of the Fed meeting.
"The 10-year Treasury yield declined after last week's post-Brexit high in anticipation of the Fed's September policy meeting," Sean Becketti, chief economist for Freddie Mac, said in a news release. "The 30-year fixed-rate mortgage followed Treasury yields, falling 2 basis points and settling at 3.48%. Despite the decrease in rates, the Refinance Index plunged 8% to its lowest level since June."

Homeowners looking to lower their mortgage rate can shop for refinance lenders here.
NerdWallet daily mortgage rates are an average of the published APR with the lowest points for each loan term offered by a sampling of major national lenders. Annual percentage rate quotes reflect an interest rate plus points, fees and other expenses, providing the most accurate view of the costs a borrower might pay.
More from NerdWallet
Compare online mortgage refinance lenders
Compare mortgage refinance rates
Find a mortgage broker
Hal Bundrick is a staff writer at NerdWallet, a personal finance website. Email: [email protected]. Twitter: @halmbundrick.