Mortgage rates held steady on Tuesday, with 15-year fixed rates inching up just a hair while 30-year fixed and ARMs stayed put, according to a NerdWallet survey of mortgage rates published by national lenders this morning.
Last week, Casey Fleming, a mortgage advisor with C2 Financial in San Jose, California, spoke with NerdWallet and predicted that we probably wouldn't see downward movement in the rates this week due to Thanksgiving. "Investors won't commit money into bonds right before the bond market takes four days off," Fleming said. He said there's a chance bond prices might move up next week, which would drive yields down. Lower yields would mean lower mortgage rates.
---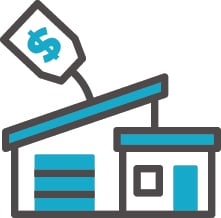 3.5 million California homes at risk of earthquake damage
It's not just the stuff of Hollywood anymore. Once thought to be impossible, a large earthquake occurring simultaneously in Northern and Southern California could damage more than 3.5 million homes, according to data from CoreLogic. That's a 126 percent increase from the 1.6 million homes that was once the estimate.
Such an earthquake — an 8.3 magnitude and occurring along the San Andreas Fault, which runs from Northern California to Southern California — would cause the reconstruction cost value to increase from previous estimates of $161 billion to $289 billion. Smaller magnitude earthquakes — from 8.0 to 8.2 — could also occur in both regions and cause massive amounts of damage.
"Since earthquake damage is not covered in a standard homeowner's policy, this new view of earthquake risk also touches the mortgage industry," said the CoreLogic study. "California has always been at high risk for earthquakes, but this risk may have a greater impact than previously anticipated, and needs to be taken into consideration during preparedness planning."
Homeowners looking to lower their mortgage rate can shop for refinance lenders here.
NerdWallet daily mortgage rates are an average of the published APR with the lowest points for each loan term offered by a sampling of major national lenders. Annual percentage rate quotes reflect an interest rate plus points, fees and other expenses, providing the most accurate view of the costs a borrower might pay.
More from NerdWallet
Calculate your mortgage payment
Compare mortgage rates
How much house can you afford?
Michael Burge is a staff writer at NerdWallet, a personal finance website. Email: [email protected].