In a reverse from yesterday, 30-year and 15-year fixed rates dropped slightly on Tuesday, while 5/1 ARM rates held steady once again, according to a NerdWallet survey of mortgage rates published by national lenders this morning.
---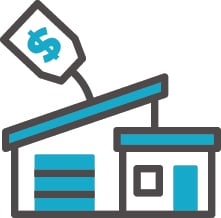 September housing price gain continues upward trend
Early Tuesday, S&P Dow Jones Indices released the latest results for the S&P CoreLogic Case-Shiller Indices, which measure U.S. home prices. The report revealed a 5.5% annual housing price gain in September, up from 5.1% in August. Housing prices have inched up over the last 12 months, and September's increase passed a high set in July 2006, before the housing crisis.
Out of a 20-city composite, Seattle; Portland, Oregon; and Denver had the highest year-over-year gains over each of the last eight months. In September, Seattle saw an 11% year-over-year price increase, Portland a 10.9% increase and Denver 8.7%. In total, 12 cities reported higher year-over-year increases last month compared to August.
This new peak "will be seen as marking a shift from the housing recovery to the hoped-for start of a new advance," said David M. Blitzer, managing director and chairman of the Index Committee at S&P Dow Jones Indices. "While seven of the 20 cities previously reached new post-recession peaks, those that experienced the biggest booms — Miami, Tampa, Phoenix and Las Vegas — remain well below their all-time highs. Other housing indicators are also giving positive signals: sales of existing and new homes are rising and housing starts at an annual rate of 1.3 million units are at a post-recession peak."
Homeowners looking to lower their mortgage rate can shop for refinance lenders here.
NerdWallet daily mortgage rates are an average of the published APR with the lowest points for each loan term offered by a sampling of major national lenders. Annual percentage rate quotes reflect an interest rate plus points, fees and other expenses, providing the most accurate view of the costs a borrower might pay.
More from NerdWallet
The pros and cons of a HELOC
The best lenders for FHA loans
Calculate your refinance savings
Michael Burge is a staff writer at NerdWallet, a personal finance website. Email: [email protected].