Thirty-year fixed mortgage rates were unchanged, while 15-year fixed home loans were up a tick and 5/1 ARM rates were higher Tuesday, according to a NerdWallet survey of mortgage rates published by national lenders.
Mortgage rates have wavered only slightly for a week as banks have simply fine-tuned their existing prices.
---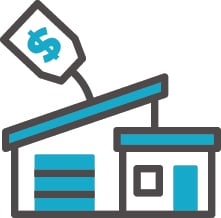 Central banks take center stage
Interest rate watchers are keeping an eye on the Bank of Japan and the U.S. Federal Reserve's Federal Open Market Committee. The decisions of these two central banks Wednesday could provide the next impetus for interest rates to move.
"Keep in mind that Wednesday afternoon brings the FOMC announcement, where the Fed releases its updated policy statement," Matthew Graham, chief operating officer of Mortgage News Daily, wrote in an analysis late Monday. "Although markets and rates can go either way in response to these events, big, negative reactions tend to happen faster and more abruptly than big, positive reactions."
Graham said the bond market will likely see significant volatility, regardless of the announced monetary policy decisions.
"In the biggest of pictures, 'global growth concerns' remain the driving force behind the long-term trend toward lower rates," Graham added.
Scott Anderson, chief economist with Bank of the West, says that while the Fed has been sending signals of a short-term interest rate hike, a weaker than expected August payroll report and continued weak economic and inflation data may have pushed back the Fed's timeline.

Homeowners looking to lower their mortgage rate can shop for refinance lenders here.
NerdWallet daily mortgage rates are an average of the published APR with the lowest points for each loan term offered by a sampling of major national lenders. Annual percentage rate quotes reflect an interest rate plus points, fees and other expenses, providing the most accurate view of the costs a borrower might pay.
More from NerdWallet
Compare online mortgage refinance lenders
Compare mortgage refinance rates
Find a mortgage broker
Hal Bundrick is a staff writer at NerdWallet, a personal finance website. Email: [email protected]. Twitter: @halmbundrick.