Thirty-year fixed, 15-year fixed and 5/1 ARM rates were all slightly lower Wednesday, according to a NerdWallet survey of mortgage rates published by national lenders this morning.
Mortgage rates have made only minor moves in recent days, with little catalyst for change. The Federal Reserve will announce its decision on whether it will hike short-term interest rates this afternoon, however, expectations are that the central bank will stand pat today.
---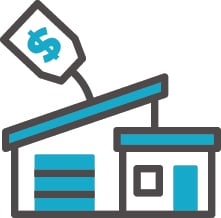 Mortgage applications fall to 5-month low
As mortgage rates slowly rise, the pool of potential homebuyers declines. Evidence of that was revealed in the Mortgage Bankers Association's latest weekly report on loan activity. The MBA said overall mortgage applications for the week ending Oct. 28 fell 1.2% and are now at the lowest level since May 27. Application volume is down almost 11% over the past four weeks.
This mirrors the rise in home loan interest rates, which recently have been near four-month highs.
"Globally, rates have begun to creep upwards as investors anticipate less aggressive monetary policies from central banks, and U.S. rates are being pushed upwards in response," Michael Fratantoni, MBA's chief economist, told CNBC. "Additionally, new data show continued positive signals regarding the job market and rising inflation, indicating that the Fed is likely to hike in December and will continue increasing rates next year."
Homeowners looking to lower their mortgage rate can shop for refinance lenders here.
NerdWallet daily mortgage rates are an average of the published APR with the lowest points for each loan term offered by a sampling of major national lenders. Annual percentage rate quotes reflect an interest rate plus points, fees and other expenses, providing the most accurate view of the costs a borrower might pay.
More from NerdWallet
Calculate your mortgage payment
Compare mortgage rates
How much home can you afford?
Hal Bundrick is a staff writer at NerdWallet, a personal finance website. Email: [email protected]. Twitter: @halmbundrick