Thirty-year and 15-year fixed mortgage rates notched up a bit, while 5/1 ARM rates inched back on Wednesday, according to a NerdWallet survey of mortgage rates published by national lenders this morning.
---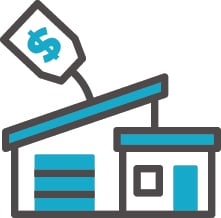 Shifting demographics could improve future homeownership rates
Predicting the future of homeownership in America is no science; there are factors that even the experts can't be sure about. But Sean Becketti, vice president and chief economist with Freddie Mac, said in a news release on Monday that the pessimistic projections we're seeing may not be warranted, despite the fact that we're currently at a half-century homeownership low — less than 63 percent.
"This decline in the homeownership rate has triggered debate among housing experts," Becketti said. "Of particular concern is the pronounced drop in the homeownership rate in demographic groups that historically have had lower-than-average homeownership rates." African-American homeownership is at 41.7 percent, down from a 2004 high of 49.7 percent, according to Becketti.
Millennials may boost the rate once more of them start having families. They're more diverse than their parents' generation, which could mean an increase in minority homeownership. Seventy-three percent of baby boomers are non-Hispanic whites, while 59 percent of millennials are non-Hispanic whites, according to Becketti.
"The factors accounting for the lower homeownership rates of nonwhite demographic groups may be overcome," Becketti said. "The income and education gaps that are responsible for some of these differences may be narrowed or eliminated as the U.S. becomes a 'majority minority' country. And the mortgage market may shift in ways that chip away at the remaining gaps — the ones that can't be explained by income or education and that highlight constraints on access to credit."
A newly released consumer housing trends report from Zillow Group backs up Becketti's stance:
"Half of homebuyers in the U.S. are under 36, meaning a new generation — millennials — is shaping the future of real estate," the study said.
The study also points to millennial diversity. "While only 9 percent of all homeowners are Hispanic, nearly 15 percent of the millennials buying homes are Hispanic — reflecting the changing demographics of the American middle class."
Homeowners looking to lower their mortgage rate can shop for refinance lenders here.
NerdWallet daily mortgage rates are an average of the published APR with the lowest points for each loan term offered by a sampling of major national lenders. Annual percentage rate quotes reflect an interest rate plus points, fees and other expenses, providing the most accurate view of the costs a borrower might pay.
More from NerdWallet
Compare online mortgage refinance lenders
Compare mortgage refinance rates
Find a mortgage broker

Michael Burge is a staff writer at NerdWallet, a personal finance website. Email: [email protected].