Whether you're shopping for your Sinatra-loving grandfather or EDM-addicted niece, portable bluetooth speakers are one of those rare presents that may suit just about anyone on your gift list.
But with so many brands at so many different prices (not to mention shapes, colors and techy extras) on the market, narrowing down which one to bring home can be daunting. Both the Beats Pill+ and the JBL Charge 3 give you high-quality sound in attractive portable packages. We analyzed both speakers to help you figure out which makes the better gift.
At a glance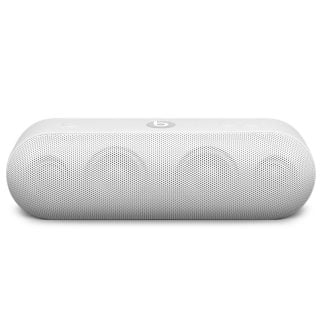 Both the Beats Pill+ by Apple and the JBL Charge 3 are sleek, compact speakers, offering lightweight portability and great sound. The differences are in the details. The Beats Pill+ comes in at nearly $100 more than the JBL Charge 3, retailing at $229.95, compared to JBL's $149.95. Both can be found cheaper via retailers such as Amazon. The JBL Charge 3 also has a longer battery life, lasting 20 hours, compared to the Pill+'s 12. If you're looking for a speaker to be used on a boat or by the pool, the waterproof JBL is the only choice, because if you get the Beats Pill+ wet, you may turn it into a very expensive paperweight.
| | Beats Pill+ | JBL Charge 3 |
| --- | --- | --- |
| Price | $229.95 | $149.95 |
| Color | Black, white | Black, blue, gray, red, mint green |
| Connectivity | Bluetooth, 3.5mm stereo jack | Bluetooth, USB |
| Battery life | 12 hours, rechargeable | 20 hours, rechargeable |
| Weight | 1.28 lbs | 1.76 lbs |
| Dimensions | 2.5" x 8.27" x 2.72" | 3.5" x 8.4" x 3.4" |
| Built-in microphone | Yes | Yes |
| Water-resistant | No | Yes |
| Unboxed | Soft carrying case, 1.5m Lightning to USB-A charging cable, 12.5W power adapter, quick-start guide | 5V 2.3A USB adapter, micro USB cable |
| Buy | | |
Beats Pill+
NerdWallet takes you shopping:
When the style-conscious Apple bought Beats Electronics from rapper Dr. Dre  in 2014 for a reported $3 billion, many were expecting a big design overhaul. But the speaker's capsule design — crafted from perforated metal and rubber — remains an upgraded, albeit sleeker, version of the same shape.
Along with the streamlined look, Apple upgraded to a Lightning charger port. The included Lightning-to-USB cable can be used to charge your speaker from either your computer or the USB power adapter (also included), and you also can use the cable to turn your speaker into a backup battery, powering your phone, tablet or camera from the speaker. One three-hour charge provides approximately 12 hours of battery life, though it's less if you're maxing out the volume. Features of the Beats Pill+ include an LED power gauge that lets you know when it's getting close to recharge time and an integrated speakerphone allowing you to make and receive calls. You can also pair it with multiple devices, so everyone can have a turn playing DJ.
An older model of the Pill scored low for sound quality. Where the Beats Pill+ reportedly falls short is in delivering a booming bass, which some reviewers found lacking, along with its relatively high price tag.
Good fit for: Style-savvy consumers who want an attractive, portable way to hear their favorite songs.
JBL Charge 3
NerdWallet takes you shopping: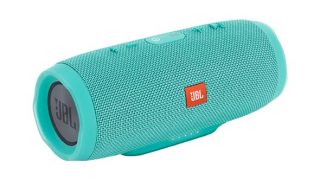 JBL is known for delivering great sound at reasonable prices, and the Charge 3 follows in this tradition. Priced at $80 less than the Beats Pill+, the fully waterproof JBL Charge 3 has a durable rubber and mesh casing and is available in five colors. The speaker's built-in noise- and echo-canceling microphone means that in addition to listening to music, you can take and make speakerphone calls with your smartphone. And when you're done talking, you can connect your phone to the USB charging output and use the Charge 3 as a backup battery. Speaking of power, the Charge 3 gives you 20 hours of battery life, compared to the Beats Pill+'s 12.
Excellent sound quality has been a hallmark of all JBL wireless speakers. The Charge 3 continues to accumulate these raves, and improve upon them, at least as far as the bass sound goes. For those interested in pumping up the volume even higher, it's also possible to use the Charge 3's wireless multi-pairing mode to sync multiple speakers (though they aren't able to be split into left and right stereo sound). You can also play DJ with a group, because the speaker can connect simultaneously to up to three different devices.
Good fit for: Active music lovers who want to listen on the go, boaters who want to sail with a soundtrack, or those who just love to sing in the shower.
» MORE: JBL Charge 3 review
Before you buy
The first thing to do before purchasing any speaker is to listen to a variety of different kinds of music through it. Hip-hop will give you a good idea of how well the bass transmits, while classical music provides a wide variety of ranges. If you can test the same songs on each speaker you're considering, even better.
If you're going to be putting the speaker through its paces, such as on camping trips or during backyard sports, you might want to lean toward the heartier JBL Charge 3. If style is your main concern, the Beats Pill+ would be a chic addition to any bookshelf, although it comes with a heftier price tag.