Stroller frames combine the ease of a traditional stroller with the convenience of a car seat carrier. They aim to keep your baby safe while allowing you to snap your little one's car seat directly into the stroller.
The Chicco Keyfit Caddy is a highly rated stroller frame that makes transporting your precious cargo from the car to the stroller quick and easy.
Read our analysis of this Chicco's best and worst aspects — and learn why it earned the top spot on our rankings of the best strollers — to decide if it's the right choice for you.
The stroller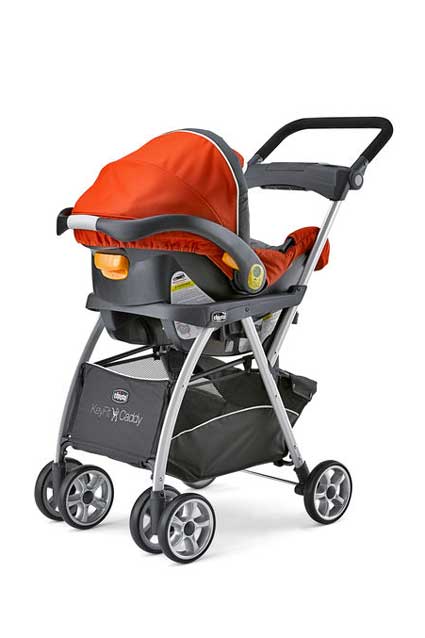 Priced at just under $100, the Chicco Keyfit Caddy is a stroller frame designed specifically for use with Chicco Keyfit Infant car seats (car seat not included). The 11-pound aluminum stroller frame can hold a maximum child weight of 30 pounds.
Those who choose this stroller will appreciate its one-hand fold; compact design; four-position, height-adjustable handle; and toe-tap locking brakes. Other features include helpful accessories like an expandable basket and a parent tray for holding things like your phone and keys.
This stroller frame can be purchased directly from Chicco, but you can also find it at other retailers — like Amazon — where you might be able to snag it at a discount, depending on when you buy.
» MORE: The best car seat strollers
The reviews
To find out how the Chicco Keyfit Caddy compares to other popular strollers, we evaluated expert opinions from review sites like The Sweethome and Good Housekeeping. We then looked closely at user reviews and broke down the feedback using a scoring system from a low of 1 to a high of 10 to rate the stroller's performance across a variety of criteria.
And when all was said and done, the Chicco Keyfit Caddy came out on top.
It earned a 9.59 overall score, a 9.5 score in functionality and a 9.7 score in ease of use. That made it the No. 1 stroller in NerdWallet's rankings of the best strollers. The Chicco model also earned a spot on our list of the best car seat strollers and best lightweight strollers. Let's take a closer look at the pros and cons.
» MORE: The best strollers
The pros
It's tough to pick just one area where this Chicco model shines. The stroller impressed users across the board, receiving a 9.9 score in weight, a 9.8 in size and a 9.8 in folding.
Users particularly love the product's lightweight yet sturdy design, manageable size, easy one-hand fold feature and simple snap-in car seat compatibility (you'll hear a click when the seat is securely attached).
Reviewers found that the stroller is extremely easy to fold and stow, and can even stand on its own when in a folded position. Combine these features with the frame's low weight, and managing this stroller is anything but a struggle.
Other aspects that stood out as selling points with reviewers include the stroller's adjustable handle — which makes it a fit for people of various heights — and how easy it is to steer. Some referred to the smooth movement of the wheels as a "glide."
The cons
But there was at least one area in which this stroller frame seems to miss the mark.
The Chicco Keyfit Caddy's lowest score came in the accessories category, where it received just a 6.3. Its next-lowest score, though still an impressive 9.0, was in the baby comfort category.
Users' main complaints with the on-board accessories include that the cup holders are fairly shallow — which can lead to spills — and the storage is too small to hold everything they might need to bring along on a stroll.
» MORE: The best lightweight strollers
The verdict
Consumers who opt for the Chicco Keyfit Caddy will find little to complain about. The stroller frame's convenience-minded features, like its snap-and-go compatibility, adjustable handle and one-hand fold, make it a solid choice.
However, one important consideration to remember is that this stroller is a stroller frame — so it'll only be useful for a limited period of time. Once your baby outgrows his or her car seat, you'll need to switch to a stroller that holds larger youngsters.
Of course, this isn't the only stroller option out there. For a car seat stroller that scored higher in accessories (9.1), you may want to try the Baby Trend Snap-N-Go EX Universal.
Or, if you're looking for something altogether different, such as a stroller better suited to tough terrains and jogging, consider the BOB Revolution Flex.
More from NerdWallet
The Best Sit and Stand Strollers
BOB Motion Travel System Stroller Review
4 Things You Should Know Before Buying a Stroller
Courtney Jespersen is a staff writer at NerdWallet, a personal finance website. Email: [email protected]. Twitter: @courtneynerd.