Best Buy Slashes Select HDTVs by 25% for March Madness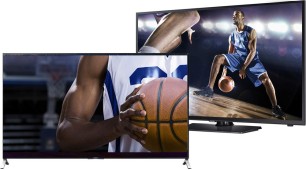 March Madness games are well underway, and if your home theater system is in need of an update, you may be more motivated now than ever to buy a new set to watch all the games on.
Just in time for the college basketball hype, Best Buy has slashed prices on select HDTVs by about 25% off (in some cases, more). Here's a look at some of the discounted TVs:
Toshiba 49-inch LED 1080p HDTV for $299.99 (regularly $429.99)
Samsung 40-inch LED 1080p HDTV for $279.99 (regularly $379.99)
Sharp 50-inch LED 1080p Smart HDTV Roku TV for $399.99 (regularly $499.99)
LG 55-inch LED 1080p Smart HDTV Roku TV for $499.99 (regularly $649.99)
Visit the retailer's website to see all of the sale-priced sets for yourself. And before you buy, take a look at our Best Buy Store Guide and our Best Buy Sales and Events Guide.
Shopping Dealfinder Newsletter
Get the best deals of the day and more!