On Monday, Etsy launched their new Review System that will replace the old Feedback system. After conducting thousands of buyer interviews, Etsy finally overhauls their Feedback system that has never seen a major update since it first launched in 2005. This drastic new change will be rolled throughout Etsy by the end of this week. Intended to promote honesty, fairness, and transparency across the marketplace, the new Review System allows buyers to give a star rating to individual items they purchased. Now, instead of leaving Positive, Neutral, or Negative feedback, Etsy customers will leave a star rating for sellers ranging from giving a one star rating if the customer was disappointed with their purchase to a five star rating if the buyer loved their Etsy purchase. All old store feedback was automatically churned into star reviews by Etsy as follows:
Positive feedback = 5 star rating
Neutral feedback = 3 stars rating
Negative feedback = 1 star rating
The new reviews are for an individual product that your customer bought from you. Here's what an Etsy star rating translates to: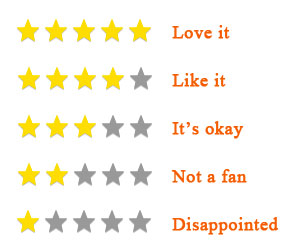 So what does this mean for Etsy sellers?
No More Feedback for Buyers
With the new shopper-friendly Review System, only star ratings from buyers show up on the store's reviews rating. On the flip side, all feedback that sellers used to get if they bought something from other Etsy stores are gone forever since sellers will no longer be able to leave feedback for buyers. This came as a shock to most sellers who can no longer leave feedback for buyers and who also saw their feedback score drop and only the number of reviews by buyers remained. However, this is a huge benefit to shoppers who now can exclusively see just the seller's feedback which will help shoppers evaluate a store before buying. But a review system that supports the buyer more than the sellers has Etsy store owners concerned. Amanda, the creator behind Ms Amanda Jayne's animal inspired crochet cup cozies, shares her initial reaction to the new Etsy Review system and going with the flow: "I will say at first glance, I liked the idea. But the functionality being just for the  buyers is a little disappointing. I also love reading reviews and I hope that the etsy customers will leave great commentary like on Yelp. Since Etsy has never emphasized feedback, it will be interesting to see the stars in action. But we will see what happens with time! I had no feeling on the older system. However it was nice to see my feedback as my shop grew!" The new Etsy Review system gives the buyer more power than before but it also saves sellers from the tedium of having to write buyer feedback for every purchase.
No More Buyer Appreciation Photos
Customers used to be able to share an appreciation photo along with their feedback to the seller, usually to show a product happy in its new home. However, this feature is gone with the new Review System so if you want to save your appreciation photos from your past customers, go to your Appreciation Photos and save them now so you can share the photos elsewhere like on your website or blog outside of Etsy. Your past Appreciation Photos from old buyer feedback will only be accessible until the end of September so act quickly.
No More Blank Feedback
All reviews left by buyers must write at least five words in their review along with a star rating whereas before, buyers could leave a Positive, Neutral, or Negative feedback without writing any supporting reasons why they left that feedback. Now, new and future customers can read  your juicy reviews and be even more inspired to shop with you.
Really Old Reviews Don't Matter
Ever get a Negative feedback a long time ago that has tarnished your feedback rating ever since? Good news! That Negative feedback will no longer haunt you! With the new rating system, your shop review score is an average of all your item ratings from the past 12 months and any reviews older than a year are not calculated in your current overall shop score. Etsy now displays your shop's star rating along with the total number of reviews your shop received since the beginning. on the left sidebar of your main shop page and on the Reviews tab under ever listing picture.
Reviews Can Be Edited
Feedback left by Etsy members used to be permanent but now, reviews can be edited up to 60 days after the buyer received the item. The 60 day period starts after the buyer is scheduled to receive the item based on the estimated shipping and processing time. This ability for buyers to edit reviews is especially advantageous to the seller if you received a low rated review. This allows you to contact the buyer to resolve any outstanding issues so the buyer can give a higher star rating that reflects the resolution.
Buyer's Profile is Public and Displayed Alongside their Reviews
To encourage honest feedback and increase accountability for all reviews going forward, the buyer's avatar and public profile information will be publicly displayed next to their reviews. Etsy believes that your customers are more likely to leave honest feedback if their name and picture shows up right next to their review. Astrid who creates hand-embroidered adornments for her Etsy store An Astrid Endeavor expresses her concern about her shopping information being public. Before, she valued that she had privacy on Etsy when it came to personal purchases. "I really hold this dear, as all of the other information I put out there is public and available to everyone. I have to admit, I don't really like the idea that with the new system my name, profile, review and the item I purchased is available for everyone to see. I understand the idea behind it as a seller: transparency so reviews can be honest and straightforward. But as a buyer I'm not sure I'm such a fan. The first thing I think is that I won't be publishing reviews anymore even though I would love to give the seller a great review and star." I'm sure other people feel the same way. Would you decline to leave feedback if you knew the public could see your buying habits?
While some sellers are concerned about the big changes in the new Review System, others see it as an opportunity to generate truly valuable feedback and reviews for their products which could potentially lead to more customers. But is Etsy becoming too buyer-centric and strict with all these incremental changes?
How do you feel about the new Etsy Review System?
Please share your thoughts in the comments below.
Original image from Shutterstock.