Canister vacuums — such as the Eureka Mighty Mite 3670G — cater to consumers looking to clean hard-to-reach areas. Because canister vacuums' bodies separate from their heads, they can get into tight spaces that other vacuums can't access.
But this type and model isn't for everyone. If your house is mostly carpeted, you might want to choose another vacuum.
We've taken an in-depth look at the Eureka Mighty Mite 3670G's strengths and weaknesses to help you decide if it's right for you.
The vacuum
The Eureka Mighty Mite 3670G is intended for use in your home and garage. It features a 20-foot power cord, a 12-amp motor, an extension wand, a deluxe floor brush, a bare floor nozzle and fingertip controls on its handle.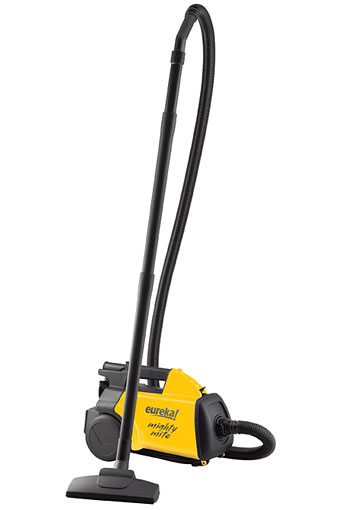 The vacuum is compact enough and — at less than 9 pounds — light enough to carry up stairs and around your house. And you can use its blower port to clean up debris in the garage.
It has a list price of $119.99, but can often be found for less on Amazon.
The reviews
We analyzed reviews of some of the most popular canister vacuums on the market to come up with a definitive buyer's guide. We looked at expert opinions from review sites such as The Sweethome, CNET and Good Housekeeping. Next, we analyzed user reviews to see what shoppers were saying about the various attributes of each vacuum.
The vacuums' scores run from a low of 1 to a high of 10. To score each one, we considered user reports about its performance, both in general and in particular settings, such as on stairs or hardwood floors. We also factored in reviewers' observations on characteristics such as noise level and durability for a well-rounded look at each model.
The Eureka Mighty Mite nabbed a spot on our list of the best canister vacuums. It received an 8.5 overall, a 7.6 for cleaning ability and a 9.1 for ease of use.
» MORE: The best canister vacuums
The pros
This mighty vacuum doesn't just talk a big game. Reviewers think the Eureka Mighty Mite lives up to many of its claims.
The canister earned a 9.8 in the weight category because of its light, compact design. Users also praised its performance on stairs, tile and hardwood floors and noted that it's especially well-suited for reaching underneath furniture.
The cons
There are a few areas in which the vacuum is less than stellar. Most reviewers agreed that it's loud. In fact, the Mighty Mite scored just 3.7 for noise. If disruptive sound is a problem for you, you may want to look for a different model.
Users also pointed out that while the Mighty Mite is good at cleaning floors, its performance on carpet is unimpressive. It received an 8.9 for hard-floor cleaning, but just a 5.8 for carpet cleaning.
Who it's best for
If you're looking for a multipurpose vacuum that can pick up dust in the entryway one minute and blow away leaves in the garage the next, this canister might be a fit for you — particularly if your home has mostly tile or hardwood floors.
But if your home is mostly carpeted, we recommend a different vacuum type altogether, as canister models tend to perform better on bare floor than on carpet.
More from NerdWallet
Dyson V6 Absolute vs. Dyson V6 Motorhead
Shark Navigator vs. Dyson DC50
5 things you should know before buying a vacuum
Courtney Jespersen is a staff writer at NerdWallet, a personal finance website. Email: [email protected]. Twitter: @courtneynerd.