Vacuuming isn't the most exciting chore, but having the right model for the job makes it better.
If you have a multistory home, you might be considering the Miele S2121 Olympus, a canister vacuum that performs well on hardwood floors and stairs.
Check out our analysis of this vacuum, including its ratings on a variety of criteria, to decide if it's the right one for you.
The vacuum
The Miele S2121 Olympus is a lightweight, white canister vacuum cleaner that's intended for use on low-pile carpets, area rugs and hard floors.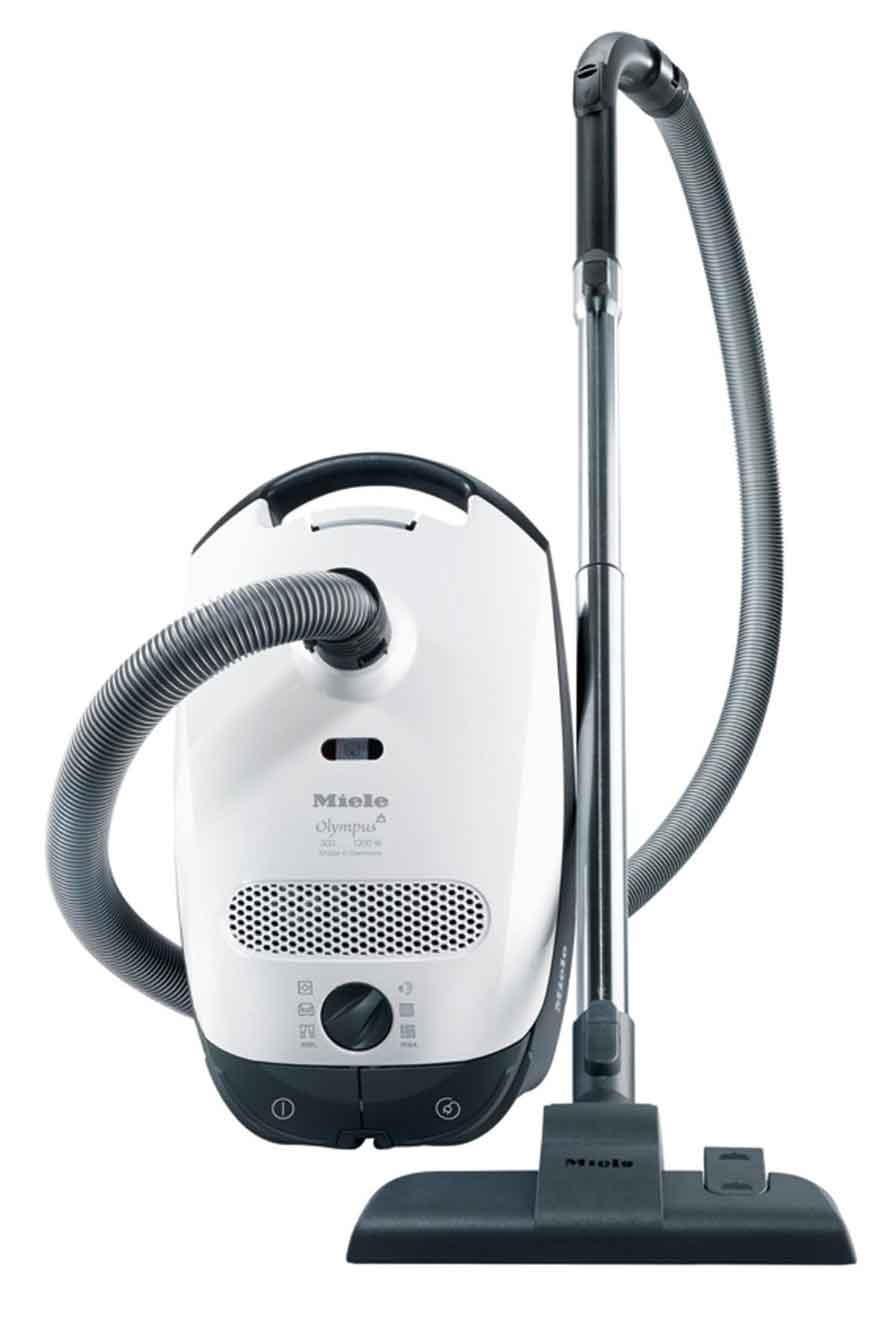 The canister features a variable speed motor with six power settings controlled by a rotary dial, so switching between them is easy. It also includes a large handle, a dustbag change indicator, and an AirClean system and filter for trapping dirt.
The S2121 Olympus holds a dusting brush, an upholstery tool and a crevice tool onboard for specialized cleaning jobs. It also features a telescopic, stainless steel wand, giving it an operating radius of 29.5 feet for far-reaching cleaning.
The vacuum has a regular retail price of $369, but it can often be purchased for less from Amazon. Wherever you buy the Miele, if you plan to spend hundreds of dollars, consider making the purchase with a relevant rewards credit card.
Note that there is also a newer version of S2121 Olympus, called the Classic C1 Olympus. According to the Miele website, its features and accessories are the same.
The reviews
We analyzed reviews of some of the most popular vacuums on the market to come up with a definitive buyer's guide. We looked at expert opinions from review sites such as The Sweethome, CNET and Good Housekeeping. We then analyzed user reviews to see what shoppers were saying about the various attributes of each vacuum.
The vacuums' scores, which run from a low of 1 to a high of 10, incorporate what users reported about each model's overall performance and how each performed in a variety of settings, such as on stairs or hardwood floors. We also factored in reviewers' observations on characteristics such as noise level and durability for a well-rounded look at each model.
Fantastic reviews earned the Miele S2121 Olympus a spot on our rankings of the best overall vacuums, the best canister vacuums and the best vacuums for hardwood floors.
It received an impressive 9.0 overall, a 9.0 in cleaning ability, a 10.0 in ability to clean hardwood, and a 8.6 in ease of use.
The pros
The Miele S2121 Olympus received high praise in nearly every category we studied, but it peaked in a few, including cleaning stairs (10.0) and noise (10.0).
Reviewers say this model is a pro at cleaning hard flooring, including hardwood, tile and laminate. It can also take on cleaning jobs in small areas, such as the edges of stairs. This makes it a good addition to multistory homes.
Users didn't rate it quite as highly for carpet cleaning (8.0), but the vacuum still does relatively well at that.
Performance aside, this Miele earned points with users for its quiet motor, which is a boon for homes with small children who might be startled by loud noises. Some reviewers went so far as to note that they could carry on a conversation while the device was running.
» MORE: The best vacuums for hardwood floors
The cons
There are a few areas in which the Miele S2121 Olympus is less than stellar. For instance, the vacuum received a 7.0 for maneuverability, one of its lowest ratings. Many users disliked the device's 18-foot power cord, saying it was too short and required constant plugging and unplugging as they cleaned the house.
Although still fairly impressive, this Miele's 8.3 score for pet hair pickup was lower than the scores for many other canisters we analyzed. Some reviewers expressed disappointment that the vacuum simply moved pet hair and didn't suck it up.
» MORE: The best canister vacuums
The verdict
If you want a canister vacuum that works on multiple floor types and comes with plenty of onboard tools, go for the Miele S2121 Olympus. It's ideal for homes with large areas of hardwood.
But if you have cats or dogs, we'd recommend the Miele S8590 Alize, which is more expensive than the Olympus, but earned a 9.4 overall and 10.0 in pet hair pickup.
Or, for an inexpensive alternative, consider the Bissell Zing 6489. It earned a 9.6 in pet hair pickup and can be purchased for less than $70.
More from NerdWallet
5 things you should know before buying a vacuum
Courtney Jespersen is a staff writer at NerdWallet, a personal finance website. Email: [email protected]. Twitter: @courtneynerd.