Upgrading your home's old thermostat is a simple way to kick off your journey toward more efficient energy consumption. Space heating and cooling account for almost half of a home's energy use, and are therefore some of the largest energy expenses, according to the U.S. Department of Energy. A smart thermostat can help cut down on wasteful energy use and the accompanying cost.
The Nest and the Emerson Sensi are two smart thermostats that can make your home more energy efficient and your comfort more convenient. You can snatch up the Sensi for about $100 less than the Nest — if you're willing to sacrifice a few features. Let's take a look at how they stack up against each other.
The thermostats: At a glance
| | Nest (third generation) | Emerson Sensi |
| --- | --- | --- |
| Price | $249 | $129.99 |
| Colors | Copper, stainless steel, black, white | White |
| Automatic schedule learning | Yes | No |
| Alerts | Yes | Yes |
| Mobile app | Yes | Yes |
| Compatible with | iOS and Android devices, Amazon Alexa speakers, Google Home, Nest products | iOS and Android devices, Amazon Alexa speakers, Wink |
| Energy usage reports | Yes | No |
| Buy on Amazon | | |
Design
These devices look quite different. The Nest is a small device, measuring 3.3 inches wide, 3.3 inches high and 1.2 inches deep. It has a modern look, with a circular design and large LCD color display. The screen changes color based on the thermostat's activity: Blue signals that the system is cooling, orange signals heating and black means the thermostat is off. The thermostat itself has no button controls, but you can turn its ring dial to make adjustments. The Nest comes in copper, stainless steel, black or white.
The Emerson Sensi isn't as sleek and stunning as the Nest. Rather, it more closely resembles a standard thermostat. It's a thin, rectangular-shaped panel with a black-and-white digital display, button controls and a backlight. The Sensi takes up a bit more wall space, measuring 5.9 inches wide, 3.6 inches high and 1.1 inches deep. It comes only in white.
The Nest and the Sensi are each designed to easily hook up to your home's old thermostat system.
» MORE: Google Home vs. Amazon Echo: Smart speakers that listen
Features and compatibility
While the thermostats differ in appearance, many of their capabilities overlap. Both aim to make adjusting your home's temperature a breeze. They connect to your phone, tablet or other device using a Wi-Fi connection, so you can adjust the temperature even when you're away from home. Access controls through each one's designated app — available to download free in the App Store and Google Play store — or on your web browser. Either thermostat links up with other smart devices, such as Amazon Alexa speakers, for added functions like voice commands.
Nest
Aptly named the Nest Learning Thermostat, this system remembers the temperatures you set at specific times throughout each day and automatically programs itself based on your patterns. The Nest completes its customized process after about a week of use, or you can manually set your preferences in the app. Nest sends you alerts if your home reaches extreme temperatures or your furnace is on the fritz, and reminds you to periodically change your system's air filters.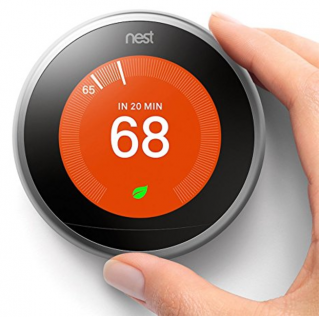 Using Nest's Farsight technology, the screen illuminates when you enter the room. The thermostat displays the local weather and time in addition to your home's temperature, plus it lets you choose between a digital or analog clock face.
The Nest is packed with energy-efficient features: A leaf symbol appears on the screen when the thermostat is set to an energy-saving temperature. The Nest detects when you leave the house, using sensors and your phone's location, and automatically adjusts to an Eco Temperature to save energy and money while you're gone. View your energy usage in the app's Energy History and monthly Home Reports.
You can use up to 20 Nest thermostats in a single home to accommodate systems that heat or cool different areas independently, and you can control up to two homes at a time — a nice benefit for vacation-home owners. The thermostat also connects to certain smart devices, such as other Nest products and Google Home and Amazon Alexa-enabled speakers. The Nest is compatible with smartphones and tablets running on iOS 8 or higher, Android 4.1 or higher and the latest version of Safari, Chrome, Firefox or Internet Explorer on Mac OS X version 10.9 or later and Windows 7 or later. Check the Nest website to find out if the thermostat is compatible with your current home setup.
Emerson Sensi
The Sensi lacks many of the Nest's capabilities, yet still provides plenty of convenient features. Designed for those with unpredictable routines, it gives users total control of the temperature settings instead of learning to make adjustments itself. Choose from several pre-made schedules or create your own specific schedule for each day of the week.
You can check your settings and the local weather, plus control multiple thermostats at once, through the app. Email notifications alert you to high and low temperatures or if your home experiences a significant loss of heating or cooling.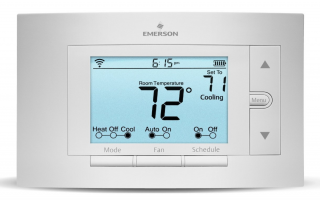 The Sensi is compatible with Apple and Android smartphones and tablets, PCs with Google Chrome version 24.x or later, Internet Explorer 10.x or later, Firefox 18.x or later, or Safari 5.x or later, and Amazon Echo and Wink platforms. Visit the Sensi page to see if it's compatible with your current thermostat setup.
» MORE: Google Nest vs. Honeywell Lyric: Which smart thermostat is right for you?
Price
The more expensive Nest thermostat retails for $249 and the Emerson Sensi for $129.99. However, both devices are sometimes available for less from third-party retailers like Amazon.
Each device offers potential long-term savings, too. The Sensi website says its thermostat can help you save up to 30% in energy costs each year, while Nest users save an average of 10% to 12% on heating and 15% on cooling, according to Nest. And you may be eligible for a rebate with the purchase of either thermostat, so make sure to do your research before you buy.
The verdict
The Nest and the Emerson Sensi thermostats share the same basic functions, but the Nest has more smart, convenient and eco-friendly features to offer. These include both manual and automatic scheduling, proximity sensors and usage reports.
Although the Sensi requires more hands-on user involvement, it is significantly lower-priced and still highly capable. So if you care more about practicality than features, it might be worth going the simpler route instead.
More from NerdWallet
Honeywell HCM-315T vs. Dyson AM10 Humidifier
5 Browser Extensions to Save You Money and Time
Lauren Schwahn is a staff writer at NerdWallet, a personal finance website. Email: [email protected]. Twitter: @lauren_schwahn.