Filmmaker David Lynch once wrote that even bad coffee is better than no coffee at all, but let's face it: Life is too short to drink the bad stuff. That's why we're comparing two popular coffee makers: the Ninja Coffee Bar System and the Keurig K575.
While each machine has a distinct look, both make delicious coffee and are equipped with programming that allows the user to control the strength of the brew and the amount served. The Ninja system came in sixth in our roundup of the best coffee makers, with a (different, but similar) Keurig model nipping at its heels in seventh place. Today we're going to pit the two against each other so you can determine which machine is right for you.
At a glance
| | Ninja Coffee Bar | Keurig K575 |
| --- | --- | --- |
| Price | $179.80 (with glass carafe), $269.70 (with stainless-steel thermal carafe and some other accessories, and more recipes) | $179.99 |
| Serving size | Four single-serve sizes, plus 10-cup carafe and half-carafe options | Cup, mug or carafe — 4 to 30 ounces |
| Brews | Coffee, tea, hot cocoa, cappuccino, lattes and other hot and cold coffee-shop drinks | Coffee from K-Cups |
| Material | Glass, plastic and stainless steel | Plastic and stainless steel |
| Features | Five brew types, 10-cup glass or stainless-steel thermal carafe, permanent filter, brew-strength control (including cold brew), built-in hot and cold frother, 20-page recipe book | Touch screen; reusable coffee filter; removable 80-ounce water reservoir; customizable strength, quantity and high-altitude settings; digital clock; night light; energy saver; choice of three languages |
| Buy | | |
How they compare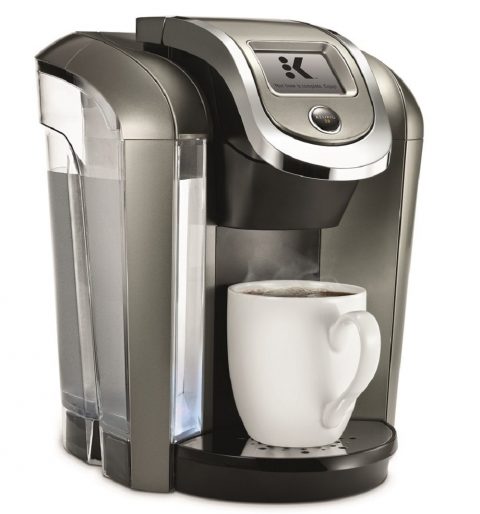 Lining them up next to each other on the counter, the Ninja Coffee Bar has a ribbed glass reservoir and a stainless steel casing that give it an appealing retro look, which is in stark contrast to the futuristic curves of the Keurig K575 Coffee Maker, with its platinum plastic shell and light-up touch screen.
Possibly the most important distinction between the two is that the Keurig uses K-Cups, which have been criticized for their environmental impact, and, as many Amazon reviewers noted, this model uses only the newest version of the pod, so if you've been stockpiling older cups, you may as well toss them (or donate to a friend with an older machine). However, the Keurig is also compatible with a reusable filter if you're looking for a greener alternative. You can use whichever ground coffee you prefer in the Ninja Coffee Bar, which also comes with a handy scoop.
Both machines allow you to make varying quantities of coffee, from a small cup to a carafe. While the Keurig also dispenses hot water for tea or instant cocoa with ease, the Ninja gives you a vast selection of drinks to choose from: You can go as simple as a black coffee or give yourself a barista challenge with a soy mochaccino with caramel drizzled on top. The hot and cold milk frother on the Ninja model works for warm or icy beverages, and when you pick the "iced coffee" option, you get a much stronger brew that won't dilute into watery weakness when poured over ice. Note that while the Ninja does make a cappuccino, it doesn't make a true espresso because of the mechanics involved.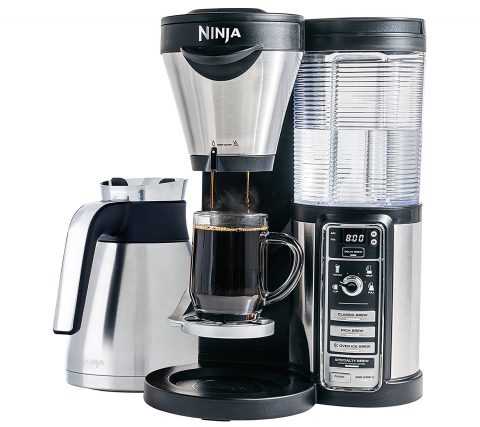 Both machines are fully programmable, although the Keurig also allows you to program it in French or Spanish in addition to English. Neither machine has a warming tray, so if you aren't going to drink your coffee right away, you might want to invest in the Ninja's thermal carafe or an insulated mug for your Keurig.
» MORE: The Best Single-Serve Coffee Makers
So which one should you buy?
Well, that depends. The beauty of the Keurig K575 is that it's the brand's top-of-the-line coffee maker, together with the clean convenience of the K-Cup. It's also a lot less expensive than the deluxe version of the Ninja, now that it's been marked down — just think how many cups of coffee you could drink with the difference! (The glass-carafe version of the Ninja, minus some accessories and recipes, is about the same price.) The Ninja Coffee Bar System uses your choice of coffee and gives you many more beverage choices. However, you need to scoop coffee into the filter, and if you choose a foamy drink, you're going to need to clean that frother, which adds a few minutes to your morning routine.
If you want a simple machine that delivers your coffee with no fuss, no muss, the Keurig is probably right for you. But if you prefer a more customizable approach, you might want to consider the Ninja.