Canister vacuums are easily identifiable — they're the ones with the motor and suction head separated into two units. But what makes one canister different from another? Before you make a purchase, we compared the Kenmore Progressive 21614 and the Kenmore Progressive 21714 to find out.
The vacuums: At a glance
We studied two Kenmore canister vacuums, each called the Progressive and each suitable for up-the-stairs cleaning jobs. But despite similar designs and purposes, these vacuums have more differences than just their model numbers.
The first Kenmore Progressive (model number 21614) is approximately $100 less than the other and is designed to remove pet hair from all sorts of surfaces. The other Progressive (model number 21714) picks up dog and cat fur, but also boasts swivel steering and an LED light for superior dirt cleanup.
[No matter which vacuum you declare the winner, take a look at our Vacuum Buying Guide for tips on which features you should be paying attention to.]
| | | |
| --- | --- | --- |
| | Kenmore Progressive Canister Vacuum Cleaner (21614) | Kenmore Progressive Canister Vacuum Cleaner (21714) |
| Price | $249.99 (regularly $349.99) from Sears | $349.99 (regularly $479.99) from Sears |
| Type | Canister | Canister |
| Cord length | 28 feet | 28 feet |
| Weight | 23.1 pounds | 23 pounds |
| Color | Purple | Red |
| 2-Motor System | Yes | Yes |
| Light | No | Yes |
| Number of onboard attachments | 2 | 5 |
| Total attachments included | 5 | 5 |
| Attachment reach | 11 feet | 12 feet |
| Cleaning width | 14 inches | 14 inches |
The vacuums: Up close and personal
Not sure which features will work best for you? Read more about each canister vacuum, including which one suits which type of user.
Kenmore Progressive 21614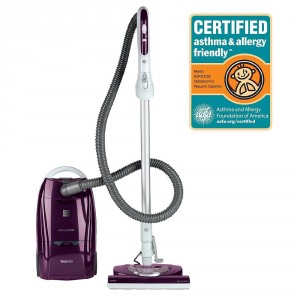 NerdWallet takes you shopping: The less expensive of our two canister contenders is the Kenmore Progressive Canister Vacuum Cleaner 21614. Currently available for $249.99, this product has a regular retail price of $349.99.
Intended for carpet and floor cleaning alike, this device features a Pet PowerMate attachment for furry cleaning jobs, variable speed control, a 7-foot hose for reaching the ceiling and a HEPA-certified filter.
An additional benefit is the vacuum's Stair Grip function, which is designed to hold the canister in an upright position, even while cleaning the stairs. The product's attachments include crevice, combo dust brush/upholstery, bare floor, Pet PowerMate and pet hair catcher.
Good fit for: We're naming the Kenmore Progressive 21614 an ideal choice for canister vacuum-owning hopefuls who don't need all the bells and whistles of a more expensive model. This device will deliver around-the-house cleaning — including pet hair pickup — without breaking the bank.
Kenmore Progressive 21714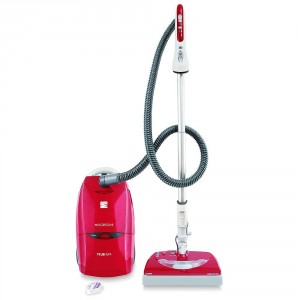 NerdWallet takes you shopping: Next up is the Kenmore Progressive Canister Vacuum Cleaner 21714. This one has a current price of $349.99 (regularly $479.99).
Similar to the preceding sister model, this version of the Progressive also boasts the Stair Grip feature, a HEPA filter and the Pet PowerMate attachment. This model also includes an 8-foot hose (longer than the prior vacuum's 7-foot hose) and easy-to-maneuver swivel steering.
Also setting this version apart is the Progressive 21714's infrared dirt sensor. This function activates an LED light that "sees dirt you don't" and accordingly directs users where to clean more thoroughly. An additional convenience-minded feature is this vacuum's 6-in-1 handle technology, which delivers nozzles and tools for a variety of cleaning jobs.
Good fit for: For more intense cleaning ability, opt for the 21714 Progressive model. Between this canister vacuum's infrared dirt sensor and 6-in-1 handle technology, you'll be able to effectively pick up all types of dirt, hair and other messes.
Compare other popular vacuums here:
For more vacuum buying advice, check out:
Courtney Jespersen is a staff writer at NerdWallet, a personal finance website. Email: [email protected]. Twitter: @courtneynerd.
---
Images via Kenmore.