First we put the Roomba 880 head-to-head with the Roomba 870. Next, the Neato 80 and the Neato 75 squared off. Now, we're comparing the Samsung VR9000 and the Roomba 880.
Before you decide which device to buy, check out Round 3 of our robotic vacuum cleaner face-off.
The vacuums: At a glance
Weighing the pros and cons of any purchase decision is important, but even more so when there's a $300 difference between the two items you're considering.
The Samsung Powerbot VR9000 costs almost $1,000, and is a robotic vacuum designed to clean large areas of carpet and flooring. The iRobot Roomba 880 is a nearly $700 robotic vacuum that comes with lots of extras.
No matter which vacuum you declare the winner, take a look at our list of best robot vacuums for tips on which features you should be paying attention to.
The vacuums: Up-close and personal
But vacuum choice comes down to more than just weight and surface-cleaning capability. Read on to find out which features are a fit for you.
Samsung VR9000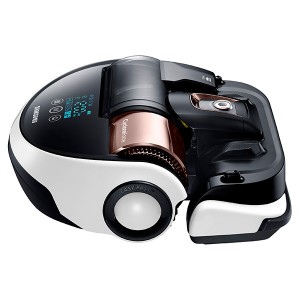 NerdWallet takes you shopping: First up is the Samsung Powerbot VR9000. With a retail price of $999, this robot is the more expensive of the two vacuum models we studied.
The VR9000 is distinguished by its sleek black-and-copper finish. It features a Cyclone Force system to ensure strong suction. Additionally, while it affords users the convenience of hands-off cleaning, it also allows for point cleaning; users need only point the remote toward an area of the home to initiate cleaning in a particular area.
At 10.5 pounds, this robot is heavier than the iRobot, but the device's Visionary Mapping Plus System — which includes an onboard digital camera — is designed to avoid run-ins between the comparatively clunky vacuum and your furniture. It will even map out your home's obstacles for you.
Good fit for: The Samsung Powerbot VR9000 works well for consumers who want a top-of-the-line robotic vacuum. Choose this model if convenience (even at the cost of price) is your main priority or if you want your vacuum to be as smart as the rest of your technology products.
iRobot Roomba 880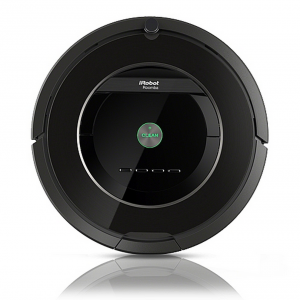 NerdWallet takes you shopping: The Roomba 880 from iRobot is $300 less expensive than the VR9000 at $699.99. It's also more svelte, weighing just 8.4 pounds.
This Roomba model boasts up to seven preset cleanings per week, Wall-Following technology for cleaning in every nook and cranny of a room, and a soft-touch bumper to avoid destructive collisions with furniture.
In addition to the vacuum itself, the Roomba 880 also comes with one iRobot XLife Extended Life Battery, two Virtual Wall Lighthouses (batteries included), one integrated home base, one remote control (batteries included) and one extra HEPA filter.
A noteworthy benefit of the Virtual Wall Lighthouses is the ability of these accessories to set the device on a path of room-to-room cleaning. The device's infrared signal can also allow users to block off areas the vacuum should avoid.
Good fit for: Put these two vacuums side-by-side, and the iRobot Roomba 880 is the better choice for consumers who desire a reliable, effective and convenient robot without paying top dollar for it.
Compare other popular vacuums here:
For more vacuum buying advice, check out:
Courtney Jespersen is a staff writer at NerdWallet, a personal finance website. Email: [email protected]. Twitter: @courtneynerd.
---
Top image via iStock; other images via Samsung and iRobot.