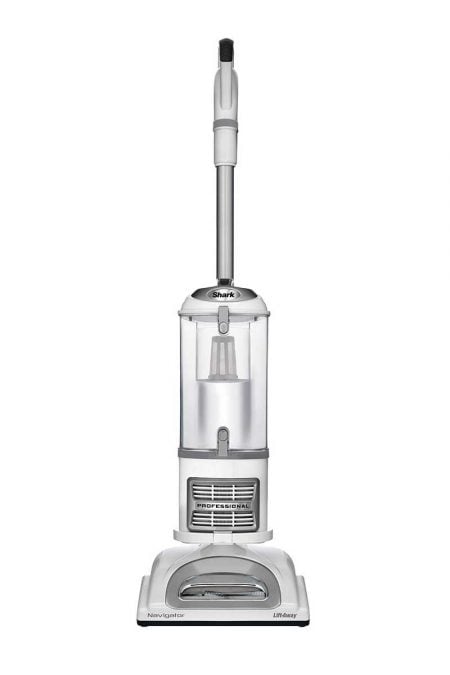 Cordless stick vacuums are great for quick pickups, cleaning stairs without having to worry about tripping over a cord, and just sprucing up the home without the big production that pulling out a canister vac can sometimes entail. But with so many on the market, figuring out which one to buy isn't always easy.
For some people, budget is the main concern, but for others, the vacuum's ability to clean up after a shedding dog trumps cost. Cordless stick vacuums aren't one-size-fits-all — one person's dream machine can be another's appliance-size paperweight.
To help you determine which vacuum is right for you, let's take a closer look at the Shark Navigator Freestyle SV1106.
The vacuum
The Shark Navigator Freestyle SV1106 is a cordless, bag-free powerhouse, with an extra large, easy-empty dust cup and washable filter. The vacuum is built to maneuver into and out of tight places and has a charge that lasts about 15 minutes. Weighing in at just an ounce over 10 pounds, the vacuum is shipped with a docking station and no attachments.
The Shark Navigator Freestyle regularly sells for $99.99 but is available for less at retailers such as Amazon.
Compare the Shark Navigator Freestyle with other top vacuums in NerdWallet's Best Stick Vacuums.
The reviews
We've analyzed reviews of some of the most popular stick vacuums on the market to come up with a definitive buyer's guide. We looked at expert opinions from review sites such as The Sweethome, CNET and Good Housekeeping. Next, we analyzed user reviews to see what shoppers were saying about the various attributes of each vacuum.
To make our ratings, which run from a low score of 1 to a high of 10, we considered what users reported about the vacuums' overall performance and how they performed in a variety of settings, such as on stairs or hardwood floors. We also factored in reviewers' observations on characteristics such as noise level, durability and battery life for a well-rounded look at each model.
In our comparison of stick vacuums, the $99 Shark Navigator Freestyle came in third to two much pricier Dyson models — the V6 ($299) and the V6 Motorhead ($349).
The Shark Navigator Freestyle was the best vacuum under $100, and scored a perfect 10 for its quiet performance, but got only a 2.9 for customer service and repair.
The pros
As mentioned above, this sleek stick vac is perfect for cleaning during baby's naptime because its gentle sound won't wake anyone up. Reviewers were enthusiastic about the Shark's ability to clean carpeting as well as it did hard floors, though they rated it slightly higher for the latter (9.2 vs. 9.5). They were also impressed by its ability to clean up not only pet hair (9.1), but the way it sucked up dropped bird feathers like a champ as well.
Users were particularly impressed by the following:
Powerful suction
Cleaning prowess on both carpeting and hard floors
The way it cleaned up pet hair
Its light weight
The cons
While reviewers had mostly positive things to say about the Shark Navigator Freestyle, they were definitely not impressed with Shark's customer service, giving it just a 2.9 on a scale of 1 to 10. There was also grumbling about the machine's battery life, its durability and its lack of attachments.
Consumers were unhappy with these features:
The verdict
The Shark Navigator Freestyle is the perfect stick vacuum for the person who wants a light, powerful machine without spending a lot of money. With a list price that's a fraction of the only two stick vacuums that outperformed it, it's a natural choice for homes with hardwoods, tile or carpet floors. Pet owners will also like this appliance. Because the battery life is limited, it's probably best used in apartments or as a supplementary vacuum for larger homes.
Compare other popular vacuums here:
Read our vacuum roundups here:
For more vacuum buying advice, check out:
---
Image via iStock.