Consumers look for various things when they're shopping for a vacuum — impressive product specifications, a low price and good customer reviews, just to name a few. If you're considering a new Shark model, we're helping you take all of these factors (and more) into account.
Don't buy the Shark NV356E Navigator Lift-Away Pro upright vacuum without first consulting our assessment of its strengths, weaknesses and ideal user.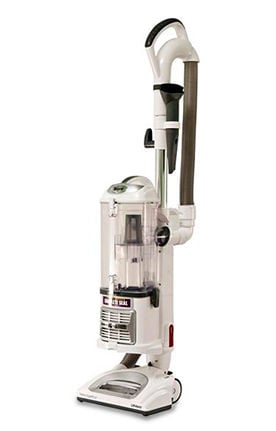 The vacuum
Meant for use on carpets and bare floors, the Shark NV356E Navigator Lift-Away Pro is a multipurpose vacuum cleaner. Its notable features include a HEPA filter designed to remove allergens, swivel steering and an extra-large dust cup.
While the fairly standard white vacuum looks like any other ordinary vacuum, this model boasts a lift-away function that allows users to separate the canister from the head — a feature well suited for more efficiently cleaning those hard-to-reach places.
Included with purchase of this Shark from Amazon are: an 8-inch crevice tool, dusting brush, pet power brush and dust-away bare floor attachment with two microfiber pads. It also has a 30-foot-long power cord.
The vacuum has a regular list price of $249.99 from Amazon, although it's frequently discounted.
The reviews
We analyzed reviews of some of the most popular Shark vacuums on the market to come up with a definitive buyer's guide. We looked at expert opinions from review sites such as The Sweethome, CNET and Good Housekeeping. Next, we analyzed user reviews to see what shoppers were saying about the various attributes of each vacuum.
For the vacuum scores, which run from a low of 1 to a high of 10, we considered what users reported about the vacuums' overall performance and how they performed in a variety of settings, such as on stairs or hardwood floors. We also factored in reviewers' observations on characteristics such as noise level, durability and battery life for a well-rounded look at each model.
Making our final list of top Shark vacuums was the Shark NV356E, which earned an overall score of 8.6. The model scored a 9.5 in the "how well it cleans" category and an 8.7 in "ease of use."
>>MORE: The best Shark vacuums
The pros
The Shark NV356E earned near-perfect scores in a handful of categories, including use on carpet and efficiency of pet-hair pickup. Reviewers found the upright to be especially adept at removing dust, dirt and hair from carpet and rugs.
And just as the vacuum does a stellar job of cleaning homes, users found the vacuum itself is easy to clean as well. This is in part because of its mess-free dust cup.
The cons
But not every category we considered was a slam-dunk with those reviewing the Shark NV356E.
For instance, some users noticed that the vacuum has a tendency to create a high-pitched noise while in use. Additionally, some reviewers were less than satisfied with the vacuum's design, which they found to be top-heavy.
The verdict
Despite a few drawbacks, the Shark NV356E Navigator Lift-Away Pro upright vacuum came out strong after our analysis of the vacuum's reviews across a variety of categories.
Thanks to its all-purpose design and hair pickup, we'd recommend the vacuum for use in large homes with pets. Aside from proficient cleaning, you'll appreciate the device's long power cord and easy-to-empty dust cup.
Check out our comparisons of other popular upright vacuums:
For more vacuum-buying advice, check out:
Courtney Jespersen is a staff writer at NerdWallet, a personal finance website. Email: [email protected]. Twitter: @courtneynerd.