The difference in appearance between Shark vacuum cleaners can be striking, but how do these differences in design translate to differences in function?
We put two popular Shark models side-by-side to find out. Before you buy one of these upright vacuums, check out our analysis of the Shark Rocket and the Shark Navigator.
The vacuums: At a glance
It's the battle of slim and sleek versus substantial and versatile.
The Shark Rocket HV300 is a lightweight, 2-in-1 upright vacuum that can function as both a traditional cleaner and a portable handheld device.
The bulkier Shark Navigator Lift-Away Pro appears to be a standard upright, but it boasts a lift-away feature that allows you to shift the device into a canister design for high and low cleaning jobs.
No matter which vacuum you declare the winner, take a look at our Vacuum Buying Guide for tips on which features you should be paying attention to.
The vacuums: Up-close and personal
Still not sure which Shark to select? We delved into the deep details of each of these devices and decided which one works best for which type of vacuum owner.
Shark Rocket HV300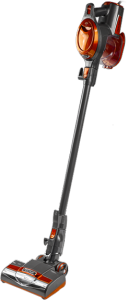 NerdWallet takes you shopping: First up in this Shark vacuum showdown is the Shark Rocket HV300, a $199.75 slim cleaning device.
Capable of cleaning everything from bare floors to area rugs, the Rocket features advanced cyclonic technology for strong suction power, a maneuverable design and included tools. Weighing in at under 8 pounds, this lightweight vacuum can be easily carried up the stairs and around the home.
Plus, when you need to switch from floor cleaning to furniture or car cleaning, put the device into its handheld mode.
Additional features include its ergonomic handle, two-speed brushroll, easy-empty dust cup, cleaning wand, washable filters, storage hooks and wall mount for storage.
Good fit for: The Shark Rocket HV300 is an ideal fit for homeowners who want a lightweight device that can clean their entire home. A perfect mix of detail-oriented handheld cleaning and traditional carpet and floor cleaning, this model will work well in apartments or multi-story homes.
Shark Navigator Lift-Away Pro NV356E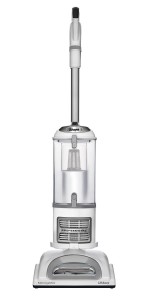 NerdWallet takes you shopping: Next up is the Shark Navigator Lift-Away Pro NV356E. This vacuum has a regular retail price of $449, but can currently be purchased for just $172.99 on Amazon.
Designed for use on all types of surfaces for all types of cleaning jobs (including picking up pet hair), this upright vacuum features cyclonic technology for maintained suction power, swivel steering, an extra-large capacity dust cup, a 9.5-inch cleaning path width and a 30-foot power cord.
It's also designed to keep dust and allergens contained, thanks to its Anti-Allergen Complete Seal Technology and HEPA filtration. When traditional cleaning jobs are complete, you can transition the device to its lift-away canister mode.
The Navigator comes with the following accessories: an 8-inch crevice tool, dusting brush, pet hair power brush, dust away hard floor attachment and one microfiber pad.
Good fit for: If you're searching for a multi-purpose vacuum cleaner from a trusted brand, opt for the Shark Navigator. Although it's bulkier than the Rocket, the versatile device boasts a convenient design and plenty of accessories.
Compare other popular vacuums here:
For more vacuum buying advice, check out:
Courtney Jespersen is a staff writer at NerdWallet, a personal finance website. Email: [email protected]. Twitter: @courtneynerd.
---
Top image via iStock; other images via Shark and Amazon.