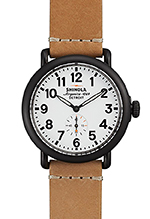 Whether you're browsing for yourself or someone else, sometimes shopping means splurging. Enter Shinola, a U.S.-based luxury watch brand that's growing in popularity.
So what are these watches, and how much will they cost you? Here's everything you need to know if you're thinking about buying a Shinola Runwell watch.
What are they?
Shinola is an American manufacturer of watches, bicycles, journals, wallets, bags, pet products and other specialty goods. With a promise to be "where America is made," the brand prides itself on keeping jobs local and creating lasting products.
The Detroit-based company is perhaps best known for its watches, and one of the brand's signature collections is called the Runwell. Shinola is particularly trendy among celebrities, and former President Bill Clinton has been known to wear a Runwell.
What are the features?
The Runwell collection of analog watches includes an assortment of bands, faces, colors and lengths.
The standard men's Runwell 47mm, for instance, is described as "a hand-assembled timepiece made from the finest components available in the world." It features a sapphire crystal, Super-LumiNova printed dial details, a solid stainless steel case, a screw-down crown, two hands, a remote second hand and a laser-etched case.
Other variations of the Runwell include a moon dial capable of tracking lunar phases. Some models also have a date window.
These watches are powered by Shinola Detroit-built Argonite movement, made with Swiss and imported parts. All watch faces are easily distinguishable by the Shinola wording on the front, and the back of the cases feature a Shinola inscription as well as a serial number and the phrase "built in Detroit."
Depending on how you plan to use your watch and whether you're looking for something casual or formal, choose the Runwell model with your desired band type. Options include leather, nylon strap and metal bracelet.
When you choose a watch to browse on the retailer's website, you'll be able to view product specifications, see a video about the process of making the watches, and look at customer photos that have been tagged with the #MYSHINOLA hashtag.
How much do they cost?
So what will these handmade wristwatches cost you? If you want to purchase a Shinola Runwell, prepare to spend at least $550. Prices will vary according to band style and features.
A few examples of what you can expect to spend:
Are they worth it?
For the fashionable timepiece wearer, Shinola Runwell watches offer both a taste of luxury and the satisfaction of supporting an American-made product. Plus, compared with Rolex watches, which easily run into the thousands of dollars, Shinola is a more reasonable alternative.
If, however, you're more interested in affordable function than brand-name style, you may be better off with a less expensive option. And if you're looking for a smartwatch, the Apple Watch is worth considering.
Read customer reviews and consider how often you'll actually use your new watch before you buy. For more tips, consult our Watch Buying Guide.
Compare some other popular products:
Courtney Jespersen is a staff writer at NerdWallet, a personal finance website. Email: [email protected]. Twitter: @courtneynerd.