A NerdWallet study of 1,000 American shoppers aged 18 or older debunks many preconceived notions about shoppers based on age, income and education.
Key takeaways:
Millennials are more frugal than their parents: 20% of shoppers aged 30-44 say they'll go into debt over holiday shopping, compared with just 7% of those under 30.
College doesn't necessarily make you smarter: Americans with at least an associate's degree were 20% more likely to report that they'd go into debt for holiday purchases.
Baby boomers aren't cutting coupons: Despite the image of older shoppers as avid bargain hunters, those over 60 are the most likely to say they'll buy what's convenient regardless of price.
One assumption that's true: The middle class is getting squeezed. Households earning between $25,000 and $150,000 annually are more likely to overspend during the holidays than higher- and lower-income households.
Millennials are the most frugal of any age group
Despite the stereotype of the spendthrift millennial, our study found that 18- to 29-year-olds were the least likely to go into debt for holiday spending. Just 7% of 18- to 29-year-olds responded "yes" to the statement, "I'll probably go into debt to fund my holiday purchases this year." That's the lowest of any group.
By comparison, 13% of those aged 45-60 and 20% of those aged 30-44 said they'd probably go into debt this year.
"In my opinion, it isn't worth it to go into debt just to buy gifts for people. If they really care about you, they wouldn't want you to go into debt on their behalf. Besides, many people don't really need more 'stuff,'" says 23-year-old Heather Yamada-Hosely of San Francisco, CA. "Some people feel pressured by our culture and by advertising to go all out and buy gifts for everyone. I believe spending money on experiences is much better than buying things."
"Millennials are markedly more debt-averse than their parents," says Anisha Sekar, vice president of credit and debit at consumer finance website NerdWallet.com. "They may have record levels of student debt, but millennials are able to distinguish between debt that's an investment and debt that just funds immediate gratification.
"They're less likely to have credit card debt, and less likely to default on their debts. You can't look at the overall debt levels and extrapolate to a debt-happy attitude."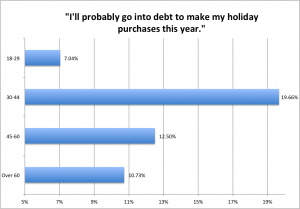 Degree-holders don't always make better financial decisions
In NerdWallet's survey of holiday shopping habits, 14% of those with an associate's degree or bachelor's degree said they will "probably go into debt to make my holiday purchases this year," compared with 11% of those with some or no college. Despite earning higher incomes, postsecondary graduates were more willing to take on debt for the holidays.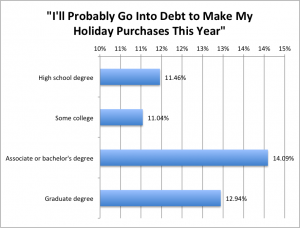 Consumers are saying no to Black Friday crowds
Only 12% of consumers say they'll do most of their shopping on Black Friday. Instead, over 50% plan to do their shopping in the first two weeks of December. Older shoppers are the least likely to brave the crowds, with just 6% reporting that they'll do most of their shopping on Thanksgiving, Black Friday or Cyber Monday.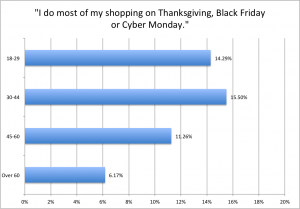 Baby boomers aren't cutting coupons
Despite the image of older shoppers as avid bargain hunters, those over 60 are the most likely to say they'll skip the bargain-hunting. 28% responded that they spend no time looking for the best deal, and instead just go with convenience. By contrast, just 18% of those aged 45-60 went with convenience over price; 82% spent at least some time looking for the best deal.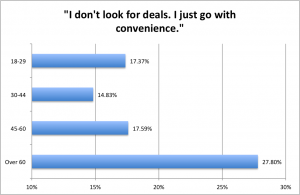 Middle-class houses go into debt during the holidays
It's not surprising that middle-class families are more likely to run up debt to pay for their purchases than higher-income ones. However, they tended to incur debt more often than low-income households as well. 14% of households with incomes between $25,000 and $150,000 said they'd be in the red after the holidays, compared with 11% of both incomes under $25,000 and over $150,000.
"Middle-class households can fall into a dangerous category, where they don't have the income to comfortably pay for purchases, but are extended enough credit to make them," says Sekar.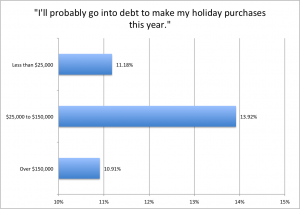 NerdWallet's tips for a debt-free holiday season
1. Budget now. Since many Black Friday deals are released before Thanksgiving, find the items you most want and add up the prices from leaked ads. If you're over budget, find ways to trim now, rather than going on a spending binge and running short for everyone on your holiday shopping list.
2. Take advantage of return policies. If you do go over budget, see if you can exchange items for something cheaper. Try to do all your shopping in a short timeframe, so you can do a spending check and return items within a 30-day window if necessary. And if you've paid with a credit card, you might be in luck: In some cases, the card will offer you return protection even if a merchant doesn't.
3. Check cash-back websites and online rewards malls. The easiest way to save money on online purchases, without clipping coupons and hunting for bargains, is to check cash-back websites or credit card rewards malls. These will give you 5-20% cash back on major retailers such as Macy's, Kohl's and Best Buy, as long as you click through from their website to the merchant's. The NerdWallet rewards mall tool allows you to easily see which sites offer the biggest discounts.
4. If you do go into debt, minimize your interest payments. Consider getting a credit card that has a 0% introductory APR for at least 12 months. That will give you time to pay off your debt interest-free. Be careful, though: If you miss too many payments, you can lose your 0% period.
5. Avoid layaway. Layaway programs are making a comeback, but they're hardly the best way to save money. Even though they've gotten more consumer-friendly by dropping opening fees, you can still lose your initial deposit if you don't purchase the item in time. Instead, set up a separate savings account for holiday purchases and transfer the money to your checking account when it's time to buy.