As the holidays approach, altruists making charitable donations not only support a cause that matters to them, but they can also realize tax savings by itemizing deductions on their tax return.
Should I Itemize or Take the Standard Deduction?
In order to recognize a charitable donation as a tax deduction and lower your taxable income, you must itemize deductions on Schedule A of your tax return. You should itemize deductions when your total deductions for the year are greater than the standard deduction allowed by the IRS. For tax year 2013, the standard deduction amounts are: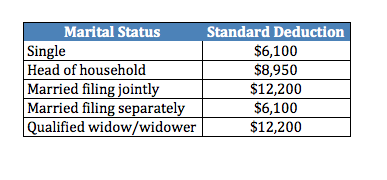 For example, if you made qualified mortgage interest payments such that your total deductions (including your charitable donation) are greater than your standard deduction, you should itemize and deduct your charitable donation from your taxable income. By doing so, you get valuable tax savings, but be sure to follow the main IRS guidelines detailed below.
Donate to Qualified Charities
Once you've decided that you are going to itemize your deductions for the tax year, make sure that you donate to a non-profit that qualifies as a tax exempt 501(c)(3) organization. Any donations (cash or non-cash) that you make to an organization that does not currently maintain this special status will not qualify as tax deductions. You can verify an organization's status with the IRS Exempt Organization Select Check tool.
Examples of qualified institutions include religious organizations, the Red Cross, United Way, non-profit educational organizations, museums, volunteer fire companies and organizations that maintain public parks.
Limitations on Charitable Donations
As with everything tax related, the IRS limits the amount of charitable donations that you can deduct. In general, you may not deduct more than 50% of your adjusted gross income in the form of charitable donations, although in other cases you may be further limited to 20% or 30% depending on the type of contribution you make (e.g. property) and the organization to which you donate.
Before you donate, always ask the charity whether they are a 50% limit organization. Keep in mind that this limit governs all charitable donations you make throughout the year, regardless of whether you donate to one organization or many. Any amounts over this limit can be deducted on your tax returns for the next five years.
For example, if your current adjusted gross income is $50,000, the 50% limit means you cannot deduct more than $25,000 in charitable contributions for this year. If you donated $30,000, you can deduct only $25,000 for the current tax year, but you can deduct the remaining $5,000 next year.
Exceptions
You cannot deduct donations to needy individuals, nor can you deduct the value of your time or personal expenses incurred in performing volunteer work for a qualified organization. For example, if you normally make $25 an hour, you cannot deduct that amount as a charitable donation on your tax return if you spend one hour on a weekend performing volunteer work. However, the IRS will allow you to deduct the costs of gas incurred in driving to the organization to perform your volunteer work at a rate of $0.14 per mile.
While personal expenses incurred in performing the volunteer work are not deductible, you may deduct the cost of a uniform you purchased as required by the organization. For example, if you volunteer for the Red  Cross and are required to purchase and wear a uniform, you can deduct the cost on your tax return.
Keep Records of Your Donations
Cash donations:
A good rule of thumb with charitable donations is to keep documentation regardless of the amount. If you paid by cash, qualified documentation includes a bank statement, credit card statement, receipt from the charity (including date, amount, and name of the organization), or cancelled check. If you made a contribution as an automatic deduction from your paycheck through your employer, keep copies of your W-2 or paystubs showing the amount and date of your donation.
For cash contributions exceeding $250, the IRS requires you to obtain a letter of acknowledgment from the charity. This documentation must:
1. Be written
2. Include the amount of cash that you donated, whether you received any good or service from the charity in exchange for your donation, and a good faith estimate of those goods and services
3. Be received by you on the date you file your tax return (usually April 15) for the year in which you made the contribution to the charity
Non-cash donations:
If you donate non-cash items such as a car or other types of property or goods, the IRS has a different set of rules for what documentation is required, depending on whether the value of your non-cash donation is less than $250, between $500 and $5,000, or above $5,000. When donating clothing or household furniture, ensure that the items are in good or working condition, if not new. If you donate more than $500 worth of clothing or household items, include an appraisal. For more details, see IRS Publication 526.
The US tax code incentivizes generosity by allowing those who itemize to deduct their charitable donations, and the 50% limit gives donors considerable flexibility with their contribution. Armed with knowledge of the rules, donors can support their favorite charities and realize tax savings.
Image courtesy of Shutterstock.