Advertiser Disclosure
NerdWallet Launches TravelNerd to Take the Grinch Out of Holiday Airline Travel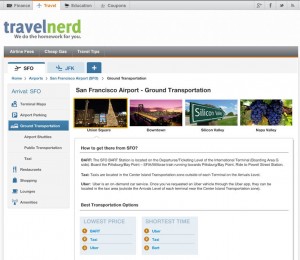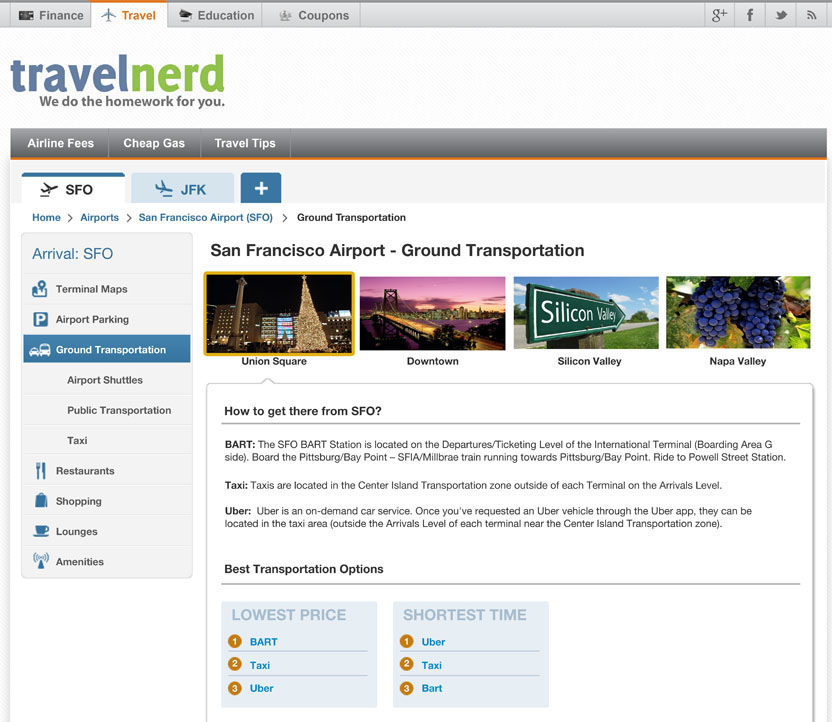 Today, NerdWallet announced the launch of TravelNerd, a recommendation site available online and via the smartphone app (TravelNerd Airport Guide), to help travelers tackle the common stress factors associated with holiday travel: parking and transportation, amenities and navigating through airport terminals.
TravelNerd adheres to the same mission as NerdWallet's other tools: do the homework and provide simple, straightforward, and unbiased information that empowers consumers to make informed decisions that not only affect their finances, but time as well.
According to recent survey by Simplicity Travel, consumers' top traveling complaint is the airport. That's because when it comes to wasting precious time and money, airport travel is one of the worst offenders. Travelers can spend hours getting to and from the airport (since many airports are located outside of main metro areas) and in the process can rack up significant costs on taxi fares, food and parking before setting foot on the plane.
"TravelNerd was created in response to an overwhelming need for a guide that helps travelers navigate the hectic nature of airports. As frequent travelers ourselves, we understand that air travel is more than just the flight. Getting to and from the airport and navigating the terminal can be time-consuming and expensive. With these challenges in mind, we created an easily-accessible resource to help consumers make informed travel decisions," says Alicia Jao VP of Travel Media at NerdWallet.
Consumers online can streamline their travel experience by using TravelNerd to:
Weigh transportation options by time and cost
Compare airport parking prices
View detailed terminal maps to find restaurants, restrooms and other amenities
Find parking coupons
The TravelNerd Airport Guide smartphone app is an extension of the online site, helping the on-the-go traveler access:
Social features like taxi sharing
Parking lot directions (via Google or Apple Maps)
Click-to-call transportation options
TravelNerd features more than 50 of the most highly U.S. trafficked airports worldwide with more being added over time. Currently, the Airport Guide app is only available on the iOS platform.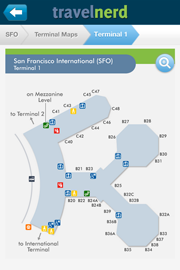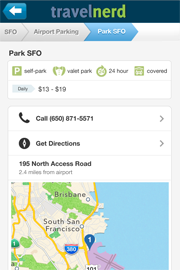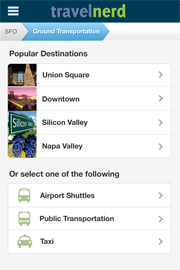 According to Jao, "Consumers certainly have their pick of travel resources today, but none of them address the pains of getting to and from the airport. TravelNerd provides comprehensive airport information so travelers can easily find anything from cheap airport parking to a place to grab a drink. We've also poured extensive resources into our proprietary airport maps since nothing is worse than being lost in an airport terminal when you're running late for a flight or traveling with children."
All of the NerdWallet Travel functionalities will also be incorporated into the new TravelNerd product, including tools that allow consumers to search for and compare specific fees across all major U.S. airlines – some of which can cost more than the airfare alone.