Advertiser Disclosure
Five Maui Picnic Ideas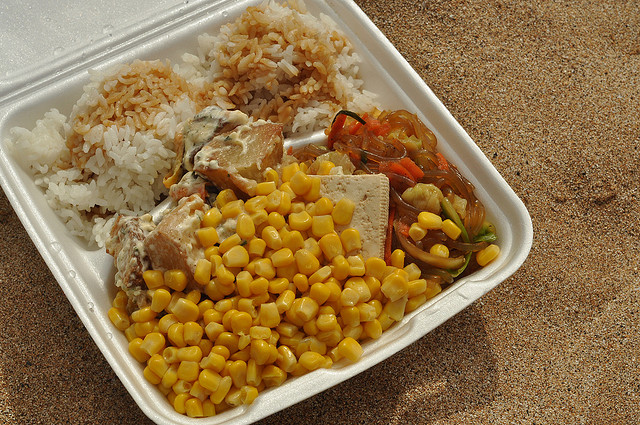 You came to Maui to soak in the tropical sun. So why eat inside? Read on for some unbeatable food and locale pairings for picnics all over the island.
Aloha Mixed Plate at Ka'anapali Beach
Korean kalbi ribs, Hawaiian kalua pig, Japanese teriyaki beef, Filipino chicken adobo. All are reflective of the mix of ethnicities that came to Hawai'i to work on sugar plantations at the start of the 20th century. And all are available with the de rigueur two scoops of rice and one scoop of potato macaroni salad as part of a plate lunch at Aloha Mixed Plate in Lahaina. Order your food to go and drive seven minutes up Honoapi'ilani Highway (Route 30) and claim a spot at the north end of Ka'anapali Beach in front of the Sheraton Maui Resort and Spa. As you finally dig into the food that has been tormenting you with its heavenly scent, watch daredevils plunging into the ocean from the tops of towering black lava rocks. Digest while relaxing to the sounds of waves lapping on the shore and staring dreamily across the ocean to the islands of Lana'i and Moloka'i. When you feel capable of moving again, grab your gear and wade into one of the best snorkeling spots on the island to commune with colorful reef fish and the occasional turtle.
Aloha Mixed Plate
1285 Front St, Lahaina
(808) 661-3322
8:00 AM – 10:00 PM, every day

Fiesta Time at 'Iao Valley State Monument
'Iao Valley State Monument lies nestled among the West Maui Mountains in central Maui. It is a lush wonderland covered with an abundance of tropical plants and flowers that just about beg for photos. Paved trails meander along 'Iao Stream, its waters rushing or burbling depending on recent rainfall amounts. The sharp ridges of the 'Iao Needle tower over everything from its pinnacle 1,200 feet above the valley floor. The Kepaniwai Park Heritage Gardens just a short distance away celebrate Maui's multicultural history with ethnic buildings representing the island's Chinese, Japanese, Portuguese, Filipino, Korean and American immigrants.
Such beauty is hard to focus on when distracted by hunger, so utilize the picnic tables at the Kepaniwai Gardens before your explore. The hot and spicy Mexican food from Fiesta Time in Wailuku pairs well with the valley's damp rainforest surroundings. From their avocado-filled veggie burritos to their chicken enchiladas that drip with cheese and sauce, none of Fiesta Time's offerings disappoint, especially when slathered in their house-made salsa. Try it once and you will want to buy a container, if not a gallon.
Fiesta Time
1132 Lower Main Street, Wailuku
(808) 249-8463
10:00 AM – 9:00 PM, Monday to Saturday
Minit Stop Food at Ho'okipa Beach Park
Pair your visit to see surfers, windsurfers and kite surfers in action at Ho'okipa Beach Park with an array of local comfort food from Paia Minit Stop. Stop at the gas station and convenience store on your way to the world-renowned spot and load up on fried chicken and unbelievably good potato wedges. Grab some Haleakala Dairy POG (passion orange guava juice), a couple spam musubis (fried spam over sticky rice and wrapped in dried seaweed — essentially spam sushi) and a tray each of cone and maki sushi, and you're ready to picnic like a local. Once at Ho'okipa, choose the picnic table of your choice at either end of the beach and try not to let the food fall out of your mouth as your jaw drops at the ocean acrobatics before you.
Minit Stop
123 Hana Highway, Paia
(808) 579-9227
5:00 AM – 11:00 PM, every day

Casanova Deli at Hui No'eau Visual Arts Center
After browsing the unique, carefully curated galleries and boutiques of Makawao and soaking in the ambiance of the former paniolo (cowboy) town, stop at Casanova Italian Restaurant and Deli at the intersection of Baldwin and Makawao Avenues for lunch. Choose from a selection of fresh, colorful salads in the deli case or select one of 15 types of paninis grilled to order on house-made foccacia, and pack it all into your car for the short drive to the Hui No'eau Visual Arts Center.  Find your perfect spot on the 25 acres of sprawling, manicured lawns of the family estate turned community arts center, and savor your Italian delicacies while enjoying views of Haleakala, the West Maui Mountains and Maui's North Shore. Walk off your meal by exploring the gardens, artist studios and abandoned sugar mill on the estate. Be sure to view the latest art exhibit and shop at the gallery story before you leave.
Casanova Deli
1188 Makawao Avenue, Makawao
(808) 572-0220
7:30 AM – 5:30 PM, every day
Hui No'eau Visual Arts Center
2841 Baldwin Avenue, Makawao
(808) 572-6560
10:00 AM – 4:00 PM, Monday to Saturday

Coconut's Fish Cafe at Charley Young Beach
A relative newcomer on the Maui dining scene, Coconut's Fish Cafe has already been featured in Travel + Leisure Magazine as one of "America's best places to eat like a local" and sold its Arizona franchising rights to an eager and enthusiastic customer. It's easy to see what the fuss is about – the fish is incredibly fresh, the preparation is perfect and the ingredients are all selected for maximum taste. The homemade coleslaw, with its subtle hints of coconut milk and wasabi, compliment the fish perfectly. Take your tacos or burgers a little further down South Kihei Road to Charley Young Beach and chow down under a shady palm tree. With easy parking and expansive stretches of soft white sand, Charley Young is one of the most inviting beaches in South Maui.
Coconut's Fish Cafe
1279 S Kihei Rd #304, Kihei
(808) 875-9979
11:00 AM – 9:00 PM, every day
Photo credit: All photos by author