With a timely focus on college football, United Airlines is adding 204,000 seats to planes flying to college football destinations from September to November. The increase averages 2,200 more daily seats than they had for the same months last year.
» Learn More: Find the best airline credit card for you
Here's what you need to know:
Which college towns will see an increase in flights: College Station, Texas; Columbia, South Carolina; Columbus, Ohio; Detroit, Michigan; Greenville, South Carolina; Knoxville, Tennessee; Madison, Wisconsin; Oklahoma City, Oklahoma; Omaha, Nebraska; South Bend, Indiana; and State College, Pennsylvania.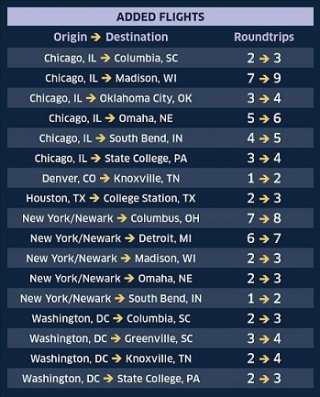 Which towns will see larger planes with more seats: Austin, Texas; Birmingham, Alabama; Boise, Idaho; Fayetteville, Arkansas; Lansing, Michigan; and Tucson, Arizona.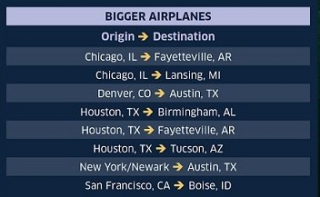 Where will flights originate: The flights are being added to United hubs in Chicago, Denver, Houston, New York / Newark and Washington, D.C.
Book fast if using frequent flyer miles. While it may seem like more flights equals more frequent flyer mileage space, these flights are being added because they are in high-demand markets. Book now to secure your seat, and get your football tickets before they sell out, too.
How to maximize your rewards
You want a travel credit card that prioritizes what's important to you. Here are our picks for
the best travel credit cards of 2020
, including those best for:
Planning a trip? Check out these articles for more inspiration and advice:
6 Things to Know About United Lounges
What the new United Explorer Card means for you
How to get started with frequent flyer programs