When it's time to cash in your AAdvantage miles for an award flight, you'll want to understand how to make your rewards go farther. Here's everything you need to know to get the most out of all those hard-earned miles.
Award types
Before we dig into the details of American Airlines' various award charts; one important caveat: The trend in U.S. airlines over the past few years has been to eliminate award charts entirely, so there's no guaranteeing how long the charts you see below will remain good for.
That said, at present American Airlines offers several categories of award travel depending on how flexible you are and what perks you want with your flight (like free cancellation). Here are details on the types of awards you'll find: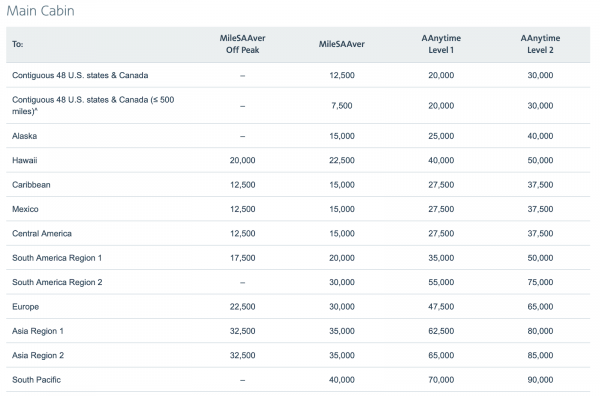 MileSAAver awards
Availability for this award type may be limited because these awards are the cheapest. You can book a flight within the contiguous U.S. and Canada for as little as 7,500 miles each way for flights under 500 miles. MileSAAver Off Peak awards also offer relatively low-mileage flights if you're traveling during low season to other regions including Europe, the Caribbean and even Asia.
Note that there are blackout dates for these budget redemption options, and the cheapest ones can be hard to find. MileSAAver awards are great for anyone with flexible travel plans who is willing to travel on whatever day they can find the cheapest award flights.
AAnytime awards
Starting at 20,000 miles each way, AAnytime Awards let you redeem miles with no blackout dates. The specific number of miles required for any given flight will vary based on date and destination, but at this level you're more likely to find an available award seat on the flight you want if you must travel on a certain day or time.
However, since the award price depends on where you're going and when, many flights within this bracket will require more than 20,000 miles. There are also two pricing levels to AAnytime Awards, with Level 1 being cheaper. This level is also based on your dates and destination; a flight search will show which award level you've selected.
Economy Web Special awards
Occasionally, you may be able to find even cheaper award flights with Economy Web Special rates. These awards aren't as common as the others, but if you spot one, celebrate.
However, take note that these award tickets don't allow changes, and fees may apply if you want to cancel your flight or reinstate your miles.
Things to know about the American Airlines award chart
First and foremost, know that when booking award travel on American Airlines, award prices are shown in one-way segments. There will also be taxes and fees imposed when you book award travel; these start at $5.60 for each one-way flight.
If you prefer to fly business or first class, expect to pay a fair bit extra if the flight you book in the U.S. or Canada happens to be on an aircraft with lie-flat seats. The business/first award price for those trips will be 7,500 more miles for MileSAAver awards, and an extra 20,000 miles for AAnytime awards. We suggest checking what aircraft you'll fly on before you book.
You can also use miles to upgrade your seat by one service class using a combination of miles and cash. Upgrade costs range from 5,000 miles plus $75 to 25,000 miles and $550, depending on where you're flying and what class of ticket you're upgrading from. Note that upgrading from a full-fare ticket doesn't cost any cash, only miles. Check the chart below for a full breakdown.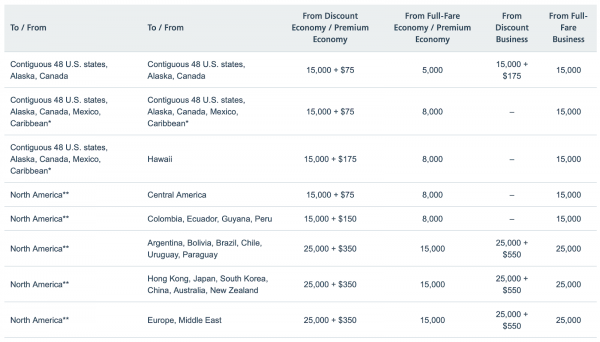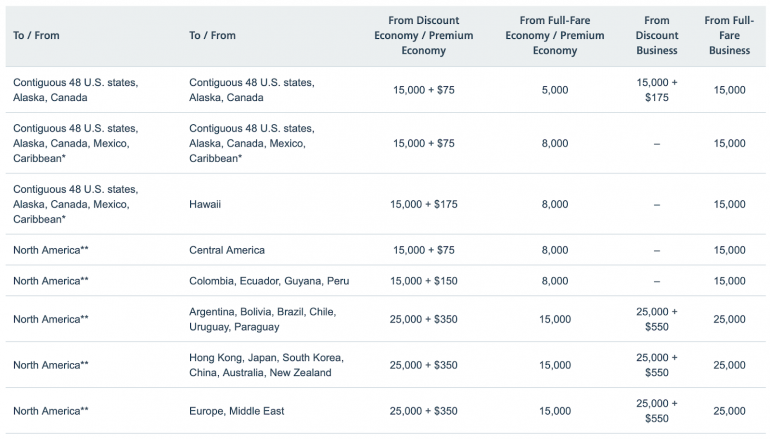 You can also use miles to book travel with American's Oneworld and other airline partners. These include:
Air Tahiti Nui.
Alaska Airlines/Horizon Air.
British Airways.
Cape Air.
Cathay Pacific.
Finnair.
Iberia.
Japan Airlines.
LATAM Airlines.
Malaysia Airlines.
Qantas.
Qatar Airways.
Royal Jordanian Airlines.
S7 Airlines.
Silver Airways.
SriLankan Airlines.
WestJet.
Earn points with American Airlines cards
American Airlines offer four credit cards to help you earn miles faster. Here are their annual fees and sign-up bonuses:
(The CitiBusiness® / AAdvantage® Platinum Select® World Mastercard® is also an option. It has an annual fee of $0 intro for the first year, then $99.)
Note that the Citi® / AAdvantage® Executive World Elite™ Mastercard® comes with membership to American's Admirals Club lounges.
For business owners, the CitiBusiness® / AAdvantage® Platinum Select® World Mastercard® offers a suite of additional benefits businesses may find useful, including travel concierge assistance, additional miles for certain business purchases and a companion certificate after you spend $30,000 on the card in a year.
All these cards except the American Airlines AAdvantage MileUp℠ Card also offer a free checked bag on domestic itineraries with American Airlines, making them beneficial to loyal frequent flyers.
» Learn more: Find the best airline credit card for you
The bottom line
Although award charts can change or disappear at any time, American Airlines' chart as it currently stands does have its strengths, especially when it comes to flexible travel that allows you to find a MileSAAver award. More rigid travel plans mean you'll likely have to cash in more miles, but if you can nab an Economy Web Special or MileSAAver award, you can book with confidence knowing your miles are being well-used.
How to maximize your rewards
You want a travel credit card that prioritizes what's important to you. Here are our picks for
the best travel credit cards of 2020
, including those best for:
Planning a trip? Check out these articles for more inspiration and advice:
34 Ways to Earn American Airlines AAdvantage Miles
Snag these hotel loyalty perks, even if you're disloyal
Earn more points and miles with these 6 strategies