US Mobile lets you customize your cell phone plan to fit your usage. The plan tiers start at 40 minutes, 40 texts and 100 megabytes. You can select the number of minutes, texts and data separately, so you don't pay for more than what you need.
---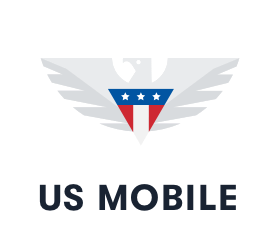 US Mobile
At a glance
Plans start at $2.50 per month for 40 minutes (no texts or data)
Notables: Flexible, inexpensive plans; but standard data speed is slower than what other carriers offer
US Mobile cell phone plans
US Mobile operates a tiered pricing system, similar to those at Ting and Consumer Cellular. The carrier offers custom plans and "unlimited" plans (the unlimited refers to texts, not data). Both options are monthly plans.
Data speed: US Mobile's standard data speed is 1Mbps, which is find for checking email or browsing websites, but not great for streaming or social media. You have to shell out an additional $5 to $15 per month to reach the speed offered by other carriers.
» MORE: Best cheap cell phone plans
Custom plans
Talk
$2.50

40
min
$3

100
min
$5

300
min
$6

600
min
$8

1,000
min
$9

1,500
min
Text
$1.50

40
texts
$2

100
texts
$3

300
texts
$4

600
texts
$5

1,000
texts
$7

4,000
texts
Data
$2

100MB
$5

300MB
$8

600 MB
$10

1GB
$14

2GB
$20

3GB
Unlimited plans
Talk & Text
$8

200 min, unlimited text
$10

1,000 min, unlimited text
$20

Unlimited talk and text
Data
$10

1GB
$15

5GB
$25

10GB
$35

Unlimited*
*The "unlimited" data is actually limited to 15GB, once you hit that your data speed is slowed. See note above re: standard data speed on US Mobile plans.
NerdWallet makes managing your finances easy.
Keep track of your spending, credit score, and even find fresh ways to save.
How US Mobile compares on price
US Mobile's pricing is hard to compare with other carriers since most others give you unlimited talk and text with different tiers of data.
Use the table below to see how US Mobile stacks up against prepaid providers that offer unlimited talk and text with their data plans.
2GB or less
3-5GB
6-9GB
10-25GB
Unlimited
*Google Fi customers pay $20 for unlimited talk and text. Data is billed at a rate of $10 per gigabyte.
**Republic Wireless customers pay $15 for unlimited talk and text. Data is billed at a rate of $5 per gigabyte.
AT&T Prepaid
$35 (2GB)
$50 (8GB)
$65
Boost Mobile
$10 (1GB)

$15 (2GB)
$25 (5GB)
$35 (10GB)

$45 (15GB)
$50
Cricket Wireless

$30 (2GB)
$40 (10GB)
$55
Google Fi*

$20 (talk, text and Wi-Fi)

$30 (1GB)

$40 (2GB)
$50 (3GB)

$60 (4GB)

$70 (5GB)
$80 (6GB+)

$70
Metro by T-Mobile

$30 (2GB)
$40 (10GB)
$50
Net10
$20 (2GB)
$35 (5GB)
$40 (10GB)
Republic Wireless**

$15 (talk, text and Wi-Fi)

$20 (1GB)

$25 (2GB)
$30 (3GB)

$35 (4GB)

$40 (5GB)

$45 (6GB)

$50 (7GB)

$55 (8GB)

$60 (9GB)
$65 (10GB)

$90 (15GB)
Straight Talk Wireless
$30 (1,500 minutes, unlimited texts and 100MB data)
$35 (5GB)
$45 (25GB)
$55
T-Mobile prepaid
$40 (10GB)
$50
Ting
$10 (talk and text)
$25 (5GB)
$45 (with 12GB of hotspot)

$60 (with 30GB of hotspot)
Total Wireless
$25 (talk and text only)
$35 (5GB)
$50
Tracfone
$20 (1GB)

$25 (2GB)

$30 (3GB)
U.S. Cellular prepaid
$30 (talk and text only)
$40 (5GB)
$55
Verizon prepaid

$35 (talk and text only)
$40 (5GB)
$50 (15GB)
$65