Editorial Review
WiseBanyan Review 2019: Pros, Cons & How It Compares
WiseBanyan charges no management fee on taxable accounts, but determining if it's the best deal for you requires a look at the fine print.
At NerdWallet, we strive to help you make financial decisions with confidence. To do this, many or all of the products featured here are from our partners. However, this doesn't influence our evaluations. Our opinions are our own.
Our Take
The Bottom Line: WiseBanyan offers a unique pricing model that will appeal to new investors looking for basic portfolio management, but the added costs for tax-loss harvesting and IRA management are worth noting before you sign up.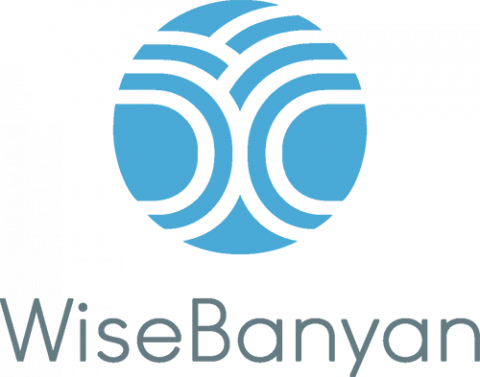 Fees
Account Minimum
Promotion
None
no promotion available at this time
Pros & Cons
Pros
Free management

No account minimum

Goal-based planning tools
Cons
Tax-loss harvesting is paid add-on

Limited account selection
Compare to Other Advisors
Promotion

Free

career counseling plus loan discounts with qualifying deposit

Promotion

Up to 1 year

of free management with a qualifying deposit
Full Review
WiseBanyan makes a compelling case to potential clients, calling itself "the world's first free financial advisor." The robo-advisor charges no account management fees; as with all robos, customers still pay management fees charged by the investments themselves. And has just a $1 minimum balance requirement for taxable accounts. IRAs require maintaining at least a $25 account balance.
The company says free account management will continue, even after its acquisition by Axos  — the financial services firm behind Bank of the Internet, formerly known as Bofi Holding Inc. — is complete.
If there's a drawback it's that WiseBanyan charges for some services that at other robo-advisors are part of the all-in management fee. Still, that shouldn't stop those committed to lower costs, especially new investors looking for a basic portfolio management service.
Beginner investors.

Goals-based investing.

Investors seeking free management.

Investors with low balances.
Free management: A big draw of robo-advisors is that they offer financial advice and management for much less than a human financial advisor charges; around 0.25% to 0.50% of assets managed is typical. But few offer their management services completely free, especially regardless of account balance. WiseBanyan is one of the few. SoFi Automated Investing is another.
A natural follow-up question: How does the company make money? In WiseBanyan's case, it's through paid add-on products and premium services that allow customers to optimize their accounts through tax-loss harvesting and tailor their portfolios by accessing an expanded list of exchange-traded funds, or ETFs. However, there are some fees that are not so optional (if you want to open an IRA, for example), which we'll get into in a moment.
No account minimum: Well, actually, there's a $1 minimum required to open an account, which means anyone with enough spare change in their pocket can take advantage of WiseBanyan's free advice and portfolio management. Another plus for those investing small amounts at a time: Investment minimums are only $10. The firm buys fractional shares, meaning your money is invested immediately instead of sitting idle in cash until you've got enough to purchase full shares.
Investments: Like many robo-advisors, WiseBanyan's investment philosophy is based on modern portfolio theory. The company automatically creates a portfolio for each client by asking a few questions. Those questions lead to a "risk score" that helps build a recommended portfolio of ETFs, weighted to reflect the amount of risk the investor is willing to accept. The company says clients can increase or decrease their risk scores, and the investment recommendations will automatically update to reflect the change.
WiseBanyan's core ETF portfolio is similar to that of other robo-advisors. The funds the company draws from carry an average expense ratio of 0.12% and cover U.S., international and emerging market equities; U.S. government and corporate bonds; short-term high-yield bonds; Treasury inflation-protected securities; and real estate. Many of the ETFs are from Vanguard and iShares.
For an additional $3 a month, WiseBanyan's Portfolio Plus service gives investors access to dozens of additional ETFs and allows them to create completely custom portfolios or choose from an expanded list of pre-existing portfolios.
Goals-based investing: Much like fellow robo-advisors Betterment, Ellevest and Motif Investing, WiseBanyan takes a goal-based approach to help investors create buckets for their money, called "milestones." Users tell the service their goal, time horizon, income and net worth, and WiseBanyan will calculate a recommendation for how much should be invested toward that milestone. Investments can be auto-deposited separately into each milestone's individual portfolio. Users can also adjust WiseBanyan's recommended asset allocation for each milestone via a bar slider.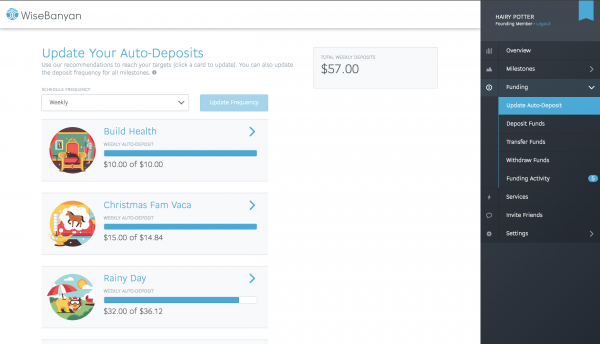 Two other noteworthy free features:
The Partner feature allows twosomes to set, track and save for milestones together. The robo then calculates projections based on your combined holdings and contributions. Both of you must be WiseBanyan customers and your funds are kept in separate brokerage accounts. (The company says a Family Accounts feature is coming, which will allow joint management of custodial accounts held by an adult for a minor, often used for college savings.)

The free Formulas feature (available only with taxable investment accounts, not IRAs) lets users quickly take advantage of opportunities to direct additional funds via a linked bank account toward investing goals. It's like an optimized version of investing on autopilot. For example, you can set it to deposit matching funds for any dividends your investments pay. Or if an investment drops in value, creating an opportunity to purchase extra shares "on sale," you can set a formula to automatically buy more.
Where WiseBanyan falls short
Account selection: Currently, WiseBanyan customers can open only individual taxable accounts or traditional, Roth or SEP IRAs. That's a short list of choices, and it limits the number of clients who will be able to take advantage of the company's free service. You can't, for example, open a joint taxable account with your spouse, as you can at other robo-advisors and brokers, and you can't open a trust or a custodial account for your children, although WiseBanyan's website says that such accounts are in the works.
Also be aware that customers must liquidate their investments before transferring an account to WiseBanyan; the company does not support transfers in kind.
Mandatory IRA fees: The one place where WiseBanyan's "free management" promise doesn't quite ring true is with IRA clients. Figuring out how much you'll pay takes some digging through WiseBanyan's FAQs, but the upshot is this: It'll cost you 0.24% annually (capped at $20 per month, with a minimum $10 annually per IRA). You'll need to sign up for IRAutomation in the Tax Protection Package.
The account minimums are also different than with a taxable account: IRAs require first opening a taxable brokerage account with a $25 minimum and an initial deposit in an IRA of at least $25. Customers are required to maintain at least $25 in each IRA after that.
Paid tax-loss harvesting: This service, which the company calls WiseHarvesting, automatically monitors the account for opportunities to reduce taxes. Clients with taxable accounts can choose to opt in to the WiseHarvesting service for an annual fee of 0.24% of taxable assets. The fee is capped at $20 a month.
At issue, of course, is that many other robo-advisors offer tax-loss harvesting as part of their base services, with no additional fee. WiseBanyan's 0.24% fee for the service puts accounts that take advantage of it in line with the overall 0.25% management fee of Wealthfront, even though the latter offers a more advanced version of the feature.
Is WiseBanyan right for you?
Anyone dipping their toes into the robo-advisor waters for the first time should seriously consider WiseBanyan. It's a solid choice for investors looking for low-cost management (completely free for basic portfolios!) as well as some goal-based guidance. The ability for twosomes to save for goals together — on paper and for tracking purposes; money is still kept in separate brokerage accounts — is an attractive feature, as are built-in behavioral nudges (like rounding up savings dollars) that help painlessly add padding to your portfolio.
WiseBanyan's "free management" slogan doesn't apply to everything: IRA customers are subject to a 0.24% annual fee (capped at $20 a month), which is on par with other low-cost robos. The ability to customize the ETFs in a portfolio also costs extra, as does tax-loss harvesting. If a lot of items on the a la carte menu seem attractive, it might be better to go with one of the larger robo-providers that offer the same features for standard accounts.