Editorial Review
U.S. Bank Mortgage Review 2019
Ideal for borrowers who prefer a traditional bank with a wide variety of loan products.
At NerdWallet, we strive to help you make financial decisions with confidence. To do this, many or all of the products featured here are from our partners. However, this doesn't influence our evaluations. Our opinions are our own.
Our Take
The Bottom Line: U.S. Bank offers perks for some existing customers; personalized rates are not available online.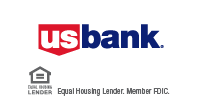 Min. Credit Score
Min. Down Payment
Loan Types and Products
Purchase, Refinance, Home Equity, Jumbo, Fixed, Adjustable, FHA, VA, USDA
Pros & Cons
Pros
Full line of conventional and government loan products

Considers alternative credit data, like utility bills, in some cases

Offers construction and investment-property loans in some areas
Cons
No personalized rates available online

Not all loan products offered are listed on its website
Full Review
Although it's been in business for over a century, U.S. Bank is determined to become a mortgage lender of the future. It offers online pre-qualification and preapproval, a full digital application and mobile app — all aimed at closing loans on time and with less stress.
Fred Bolstad, executive vice president of retail lending at U.S. Bank, says his company hopes to be a "game-changing force" when it comes to customer satisfaction, communication and speed.
U.S Bank also boasts a full menu of purchase loan options, including government-insured and proprietary programs designed specifically to help low- to moderate-income borrowers become homeowners.
Keep reading to learn more about what it's like to get a mortgage from U.S. Bank
U.S. Bank home mortgage products
U.S. Bank offers fixed- and adjustable-rate mortgages, government-backed FHA and VA loans, jumbo loans, home equity loans and lines of credit, and investment property loans. Construction and lot loans also are available, but only in the states where U.S. Bank has physical locations.
U.S. Bank has a few products that may not be available from some smaller lenders, though you won't find them mentioned on its website. One such product is the simultaneous second mortgage.
"It's referred to, in industry vernacular, as the 80-10-10," Bolstad says. Also known as a "piggyback" mortgage, this loan is typically used by borrowers with strong credit who are in markets with high real estate prices and can't come up with a traditional 20% down payment.
U.S. Bank also provides expanded mortgage financing for physicians who are in residencies. Bolstad says this program offers home loans with higher loan-to-value guidelines and some leeway on debt-to-income ratios. Again, this loan isn't advertised on the U.S. Bank website, so if you're a medical professional, contacting a loan officer is the best way to learn more about this option.
The bank also considers alternative credit sources in some cases.
"You're going to have certain situations where an individual may not have traditional credit. So, alternative credit could mean looking at utility bills and other things to show that they do have a disciplined pattern in paying bills," Bolstad says. "It also comes into play for international customers. So, if we have a foreign national that's being relocated with one of our corporate clients and doesn't have traditional credit because they're here on a work visa, in some cases we can utilize other forms of credit to try to help them qualify."
U.S. Bank fees and mortgage rates
The bank says it doesn't charge an origination fee on conventional loan products, though it may on other mortgages, like FHA loans.
Mortgage rates for many U.S. Bank loan products are shown on its website. These are national rates, based on general assumptions, not on your personal credit score or property details.
Nerd Tip: Shop mortgage rates with zero discount points to make an apples-to-apples comparison and keep a level playing field. You still can pare your loan's interest rate by paying discount points (each point — costing about 1% of the total loan amount — reduces your interest rate by about one quarter of a percentage point).
U.S. Bank home loan process
U.S. Bank offers a basic mortgage pre-qualification process online, but be aware that it's a first step toward determining how much house you can afford. With a pre-qualification, there is no formal commitment from the bank to issue a loan, and you're not committing to anything, either.
A mortgage preapproval requires a full mortgage loan application, which you can complete at your leisure using U.S. Bank's online portal.
Bolstad says the digital application system dramatically speeds up the time it takes to get documentation from the borrower and into the underwriter's hands, so loans close faster. U.S. Bank claims to close purchase loans in an average of 39 days, but says it can close in as little as seven days, if necessary.
NerdWallet's star ratings for mortgage lenders are awarded based on our evaluation of the products and services that lenders offer to consumers who are actively shopping for the best mortgage. The six key areas we evaluated include the loan types and loan products offered, online capabilities, online mortgage rate information, customer service and the number of complaints filed with the Consumer Financial Protection Bureau as a percentage of loans issued. We also awarded lenders up to one bonus star for a unique program or borrower focus that set them apart from other lenders. To ensure consistency, our ratings are reviewed by multiple people on the NerdWallet Mortgages team.