Airline Credit Cards That Offer Free Checked Bags
Baggage fees are a bummer, but the right card can save you hundreds of dollars a year, depending on how you fly.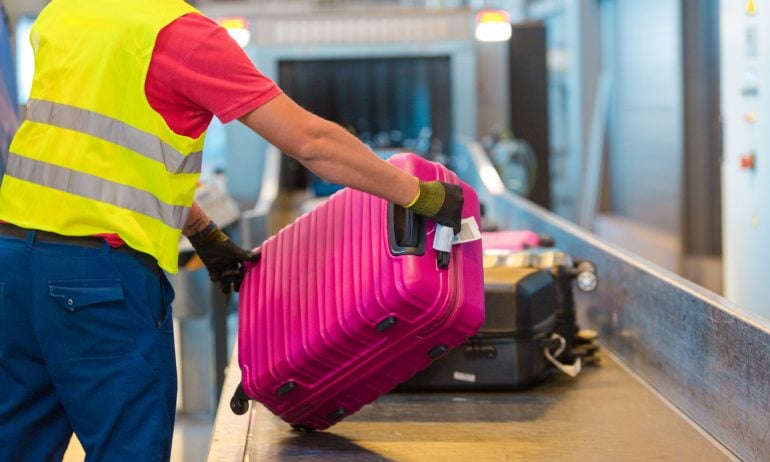 Many or all of the products featured here are from our partners who compensate us. This may influence which products we write about and where and how the product appears on a page. However, this does not influence our evaluations. Our opinions are our own. Here is a list of our partners and here's how we make money.
Nobody likes to shell out extra cash on top of the cost of their plane ticket for luggage. But checked bag fees are a fact of life on many domestic airlines. What's a traveler to do? There's the option to pack light using just a or personal item, of course, which is free on most airlines. If that's not an option, there are still ways to avoid paying hefty fees for checked luggage.
For instance, you can sign up for one of these credit cards with free checked bags.
Most of the credit cards that offer this perk are airline-specific, so your best bet is to sign up for the ones that correspond to the airlines you fly most often. Then pack your bags and enjoy the journey, sans baggage fees.
Baggage are as straightforward as they come: $30 for your first checked bag and $40 for your second. Any additional bags will run you $100 per bag. Heavy bags, defined as weighing 51-99 pounds, or any oversized luggage, will similarly cost $100 per bag.
There are exceptions, of course. Customers traveling in first class, , passengers traveling just within Alaska and active military members can all enjoy free checked bags.
Certain items can be checked for free, too, including a case of wine if traveling from certain regions ( members only) and a box of pineapples if flying back to the continental U.S. from Hawaii.
But for everyone (and everything) else, these Alaska Airlines cards offer free checked luggage:
Unless you have or are active military, expect to pay for checked luggage on Delta. Fees start at $30 for your first checked bag and go up to $40 for your second each way. If your bag weighs more than 50 pounds, however, the price goes up to $100. If it's more than 70 pounds or larger than 63 linear inches (width + height + length), the cost is $200.
But Delta offers the most credit cards with free checked bags out of the airlines we analyzed.
Some JetBlue fare options include checked bags for no additional fee (like Blue Plus, and fares), but the rest do not. If you booked a budget fare, expect to pay $35 per way for your first bag and $45 for your second.
Checking heavy or extra large luggage? Bags 51-99 pounds will cost you extra: $150. But you can avoid some of these fees with a JetBlue credit card.
United uses a baggage calculator to estimate fees based on your departure and arrival destinations. For domestic travel, fees are $35 for each way for your first bag ($30 if you prepay) and $45 for your second bag ($40 if prepaid).
Weight restrictions depend on your class of service. United Economy, for example, can have up to a 50-pound bag without paying additional fees (overweight fees can be up to $200 after that). Business and first-class ticket holders and Premier Silver members and above can check a bag up to 70 pounds (but expect to pay up to $400 for bags of 70-100 pounds). Active military members and their dependents, plus MileagePlus Premier members, pay no baggage fees; they don't need to rely on getting a free checked bag with a credit card from United.
The free checked bags that come with these credit cards can save you serious cash when it comes to paying for your air travel. So if you travel with luggage often — especially if you tend to stay loyal to one or two airlines — it may be worth it to sign up for a travel credit card or two.
The welcome bonus miles will be the cherry on top of the savings you're bound to enjoy when you're no longer paying hefty luggage fees on every flight.
You want a travel credit card that prioritizes what's important to you. Here are our picks for the , including those best for: