Foreign Transaction Fees Can Happen Even When You're Not Traveling
You can end up paying foreign transaction fees even when you're shopping from home.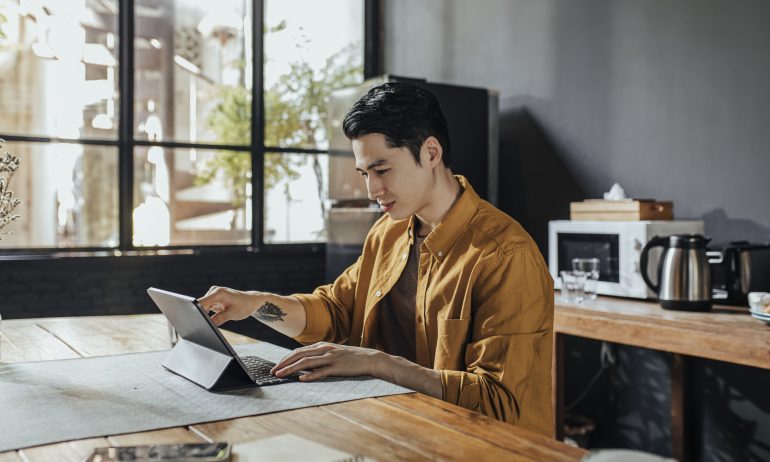 Many or all of the products featured here are from our partners who compensate us. This may influence which products we write about and where and how the product appears on a page. However, this does not influence our evaluations. Our opinions are our own. Here is a list of our partners and here's how we make money.
If you're not a globe-trotter, you probably largely ignore travel credit card tips. After all, there's so much information out there – you have to filter it somehow.
But it turns out there's one fee international travelers are good at avoiding that you should be aware of: foreign transaction fees. How could you get hit with this charge if you're not leaving the country? Let's dig in.
How foreign transaction fees work
If you're not familiar with foreign transaction fees, they work like this: When you buy something with an overseas retailer, your credit card issuer recognizes it as a non-U.S. purchase, and you're assessed a fee.
If you're wondering why issuers charge foreign transaction fees, here's the basic answer: They incur an expense to retrieve your payment from overseas merchants, and they're passing that cost on to you. Plus, most credit card networks charge a fee for converting the foreign currency to U.S. dollars – this is also usually passed on to consumers, and it is often rolled into the foreign transaction fee.
How much do foreign transaction fees cost? Most issuers charge 3% of the total cost of your purchase. That might not sound like much, but it can really add up. Let's say you're traveling abroad and you spend:
$1,000 for a week's stay at a hotel

$200 on cultural activities
Your total spending adds up to $1,850. Let's say you made all those purchases with a card that charges the standard 3% in foreign transaction fees. You'll get hit with a $55.50 charge when it comes time to pay your credit card bill. That's certainly not chump change.
You don't necessarily need to be abroad to be shopping abroad
Obviously, being wary of foreign transaction fees is essential for people who frequently travel internationally. But even if this isn't you, it's important to read your credit card statement carefully to be sure you're not getting hit with them. Here's why: You don't necessarily need to be abroad to be shopping abroad.
With the advent of online shopping, it's easy to make purchases with foreign merchants while safely at home in the U.S. And your credit card company doesn't care where you're physically located when you use your card – what matters is where the retailer is stationed.
Sometimes it's clear if online merchants are based overseas, but sometimes it's not. Recently, one of the Nerds was shopping online with a U.K.-based clothing retailer – but it's not obvious from the website that it's headquartered overseas. She used her card to pay for a few items and got slapped with a foreign transaction fee at the end of the month.
Again, this is why you should scrutinize your credit card statement every month. If a fee you weren't expecting appears on it, call up your issuer to investigate. It's likely the case that you bought something online from a foreign retailer and didn't even know it.
Avoiding foreign transaction fees – once and for all
The only way to avoid this charge is to opt for a credit card that carries no foreign transaction fee. If you got hit with one for a one-time purchase, it's probably not worthwhile to opt for a new credit card (but you should consider asking your issuer to reverse it, especially if there was no indication that the merchant was based outside the U.S.).
However, if you plan on making recurring purchases with an online retailer that's not based in the U.S., switching to a credit card that doesn't charge a foreign transaction fee might be a good idea. While almost every issuer offers at least a few cards that don't charge foreign transaction fees, three waive them on every card: Discover, Capital One and Pentagon Federal Credit Union.
The Nerds don't usually recommend Discover cards for international travelers because of spotty acceptance overseas. But if you're planning to do your shopping at home, the Discover it® Cash Back is a good choice. You'll earn 5% cash back in rotating quarterly bonus categories (up to $1,500 in combined spending per quarter) and 1% cash back on all other purchases. Activation is required quarterly to earn the higher rate.
Plus, the Discover it® Cash Back carries an annual fee of $0, and you'll get free access to your FICO credit score on your monthly bills. And, of course, no need to worry about those pesky foreign transaction fees. All in all, this card is a good choice for domestic spenders!