Dental Credit Cards: Know the Risks and Alternatives
Those 'no interest for 12 months'-type offers in the brochure at your dentist's office could come back to bite you.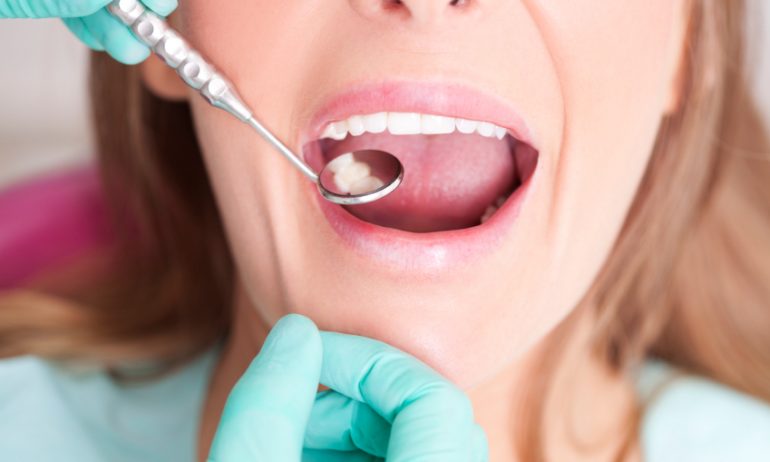 Many or all of the products featured here are from our partners who compensate us. This may influence which products we write about and where and how the product appears on a page. However, this does not influence our evaluations. Our opinions are our own. Here is a list of our partners and here's how we make money.
Sometimes, going to the dentist isn't about getting the perfect smile; it's about stopping the pain. Cavities, left untreated, can lead to severe toothaches. Infected, throbbing gums make eating and drinking difficult. Going without treatment is literally agonizing — but treatment is expensive, which is why you can often apply for a specialized dental credit card right in the dentist's office.
"The need for credit for dental patients is increasing," says Matt Messina, a dentist and national spokesman for the American Dental Association. Even people with dental insurance find that procedures can quickly exceed the maximums, which are typically $1,000 to $1,500 after the deductible. Crowns, implants and dentures can run in the thousands. "Today, $1,500 doesn't get you that far," he notes.
For those without dental insurance — more than 100 million U.S. adults, according to the Health Resources and Services Administration — lack of preventive care can quickly lead to larger, more costly problems.
The downsides of dental credit cards
If your regular credit card limit is too low to finance a certain procedure and you don't have the money in your emergency fund to cover it, getting another credit card — especially the one offered at your dentist's office — can make a tight financial situation even worse. Here's why:
You could end up paying more interest than you expected
One medical credit card got into trouble with federal regulators after promoting its deferred interest plan to consumers as a low-cost financing option. Under the plan, cardholders wouldn't owe interest if they paid off their bill within six, 12, 18 or 24 months, depending on their terms. For more expensive procedures, they could pay a lower rate of 14.9% APR for 24, 36, 48 or 60 months.
Here's the catch: Cardholders who took longer than the specified period of time to pay back their balances were hit with retroactive interest, going all the way back to the original charge, at a 26.99% APR. If you're struggling to pay for dental work in the first place, a few unexpected life events could delay your repayment plan, and you could easily end up owing much more than you expected.
Your credit could take a hit
If you have a small income or a poor credit score, the limit assigned to you on a medical credit card may be low, making it easy to use most or all of your available credit on a single, costly procedure. This could hurt your credit score.
You COULD be solving the wrong problem
If you can't pay for a dental procedure, thinking about ways to get more credit may be your first impulse. But if you try looking for lower-cost care instead, you could save a lot more money and reduce your chances of overborrowing and hurting your credit.
Alternatives to dental credit cards
To be sure, there are times when paying with a credit card at the dentist's office makes sense. If you can pay the balance off quickly, you can collect rewards while paying little to no interest. If your credit is good, you may be able qualify for a regular credit card with a lengthy 0% introductory APR period — one that won't charge retroactive interest if you don't have the whole thing paid off at the end of the intro period.
And we should be clear: Getting the care you need is a priority. If your only option is to put the cost of treatment on a dental credit card or a high-interest credit card, it's better to do that than to continue to suffer. But consider these options first:
1. Getting dental work done at a discount
If you have a nagging dental problem, consider getting a procedure done at a dental school or a dental society. You'll often be able to get good care for a fraction of the price. Other times, dentists may be willing to give you a substantial discount if you pay in cash, or if you don't have insurance. Some online price comparisons can also help you find more affordable options in your area.
Jaswinder Ghuman, a dentist who manages Blossom Dental in San Jose, Calif., notes that finding solutions for patients who are struggling to pay is part of the job. "I just help people when I can," she says.
She offers a plan for people without insurance, which costs less than $200, covers basic preventive care and includes a 20% to 30% discount on dental procedures. Ask your dentist if he or she offers a similar alternative.
2. Asking your dentist about other financing options
If your dentist's office offers its own no-interest payment plans in-house, with no deferred interest traps, you may get more payment flexibility. These in-office plans usually aren't reported to the credit bureaus unless you default on them, making them a less risky, less expensive way to take on medical debt. If you struggle to make a payment one month, you may be able to work out a new plan with your dentist; by contrast, if you can't pay a credit card bill one month, it could damage your credit and cause your debt to balloon.
If entering a payment plan with your dentist, ask whether payments are reported to credit bureaus and make sure you understand the terms before signing any contract.
3. Investing in preventive care
Small preventive measures can help you steer clear of giant bills, and big credit card balances, down the road. A filling may only cost about $100, for instance, but a root canal and crown could easily cost $3,000. Consider prioritizing a small procedure that could help you avoid a larger one, even if it's expensive. Instead of going to the dentist only when something hurts, look for coupons online for discounted teeth cleanings. These regular visits can improve your oral health and help you detect problems early on.
If you're on a tight budget, dental credit cards can sometimes make things worse, not better. Instead of leaning on credit from the beginning, shop around and find a less expensive way to get the dental care you need, and negotiate until you find a solution. Oral health too often comes at the price of financial wellness, but it doesn't have to be that way.