How the Pandemic Is Reshaping Americans' Financial Lives
A new survey finds people are still spending less and saving more a year later, and while many had to take on debt, confidence in their finances is returning.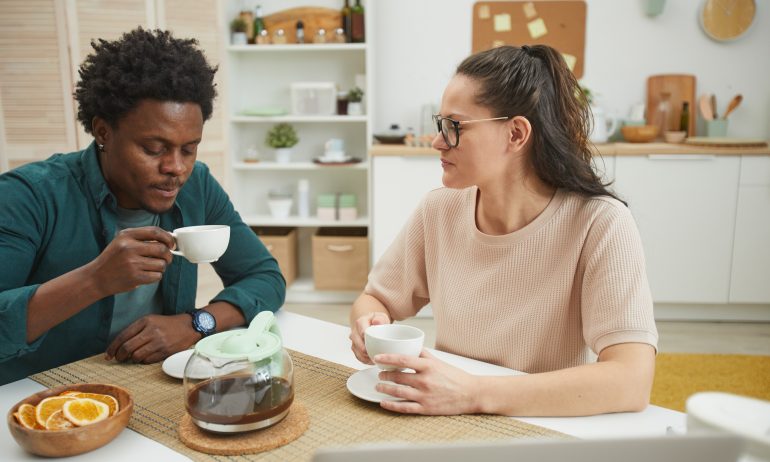 Many or all of the products featured here are from our partners who compensate us. This may influence which products we write about and where and how the product appears on a page. However, this does not influence our evaluations. Our opinions are our own. Here is a list of our partners and here's how we make money.
For well over a year now, Americans have been weathering a pandemic and all of the related economic effects. And while it isn't over yet, a new survey from NerdWallet indicates that at least some Americans' personal finances are inching back to a more stable place.
The survey of more than 2,000 U.S. adults, conducted online by The Harris Poll at the end of July, is a follow-up to a on similar topics. It indicates that, as time has passed, Americans have felt more negative impacts of the COVID-19 pandemic, but they are seeing some improvements, too.
"While there's no doubt that the pandemic wreaked havoc on millions of Americans' finances, it also led to some positive changes — such as saving more and spending less — that could last," says NerdWallet personal finance expert Kimberly Palmer. "If we continue to embrace this shift toward frugality, then we'll be better prepared to handle future emergencies."
One-third of Americans report the pandemic has made them feel less confident about their personal finances. But this number is a marked improvement from when we asked in May 2020. Then, 48% were feeling less confident.
Since the beginning of the pandemic, trillions of dollars in economic aid have been rolled out in the form of relief checks, unemployment, tax credits, loan opportunities and more. At the time of our May 2020 survey, some Americans had likely received their first relief payment. But since then, they've probably received additional relief. This influx of federal spending kept many people's heads above water, and even went far to reduce the projected poverty rate, according to research from Urban Institute, the nonprofit research organization.
Economic aid has been a key driver of improved household financial conditions during the pandemic. The personal savings rate hit an all-time high in 2020, and many Americans report they're still saving more and spending less now than they were pre-pandemic.
More than one-third (35%) of Americans say they're saving more money now than they were before the pandemic, according to the new survey. This is compared with 41% who said the same in May 2020. The slight decrease could be attributed to them having more opportunities to spend, as more stores and restaurants opened back up this year.
In fact, while 48% of Americans said they were spending less in May 2020 than pre-pandemic, that share fell to 34% in our latest survey.
The share of Americans who say they're investing more has climbed slightly, from 15% in May 2020 to 23% in July 2021.
"While many of these new habits came out of necessity — people weren't able to travel or dine in restaurants during pandemic shutdowns — some of these shifts may continue," Palmer says. "Some people realized they were happier eating out less and saving more instead."
How Americans have handled debt during the pandemic underscores the disparate effects of the past 18 months.
More than half (53%) of Americans — about 135 million — took on some consumer debt, such as credit card debt or personal loans, because of the pandemic. Yet 56% of Americans say they were able to pay off some consumer debt completely from March 2020 through July 2021.
Those who took on debt racked up about $5,770, on average (median, $1,500), and paying it off won't come easy. About half (48%) of this group say it'll take more than a year to pay off the debt they've accumulated, the survey found.
"While debt can be a huge burden, especially as interest payments add up, credit also served as an emergency backup plan during the worst of the financial crisis for many people. The best way to avoid building up debt is to put money into an emergency fund before a crisis hits. Even setting aside small amounts each month can make a big difference in the long run," Palmer says.
Those who managed to wipe the slate clean paid off $4,750, on average (median, $1,000).
Though government relief came for many, it wasn't always consistent. Unemployment backlogs, for example, sometimes meant people were waiting weeks or months for a check, and perhaps turning to credit to bide their time. But those able to continue working were likely able to budget more money toward debt repayment than they otherwise would have.
Comparing and choosing financial products, such as credit cards or checking accounts, can be time-consuming. Yet at least some Americans say they researched new financial products, opened new accounts and refinanced loans as a result of the COVID-19 pandemic.
More than 7 in 10 Americans (71%) plan to take some financial action when the pandemic ends. Most of these planned actions are steps toward greater financial stability and could have been motivated by the instability of the past year and a half.
Younger generations in the survey are more likely to plan financial action post-pandemic: 92% of Generation Z (ages 18-24) and 87% of millennials (ages 25-40), while 74% of Generation X (ages 41-56) and 53% of baby boomers (ages 57-75) plan to take action. As Gen Z moves further into adulthood under the shadow of COVID-19, questions linger about how the pandemic will affect them long-term.
"Experiencing the pandemic while coming of age will likely have lasting effects on today's young adults, who have already seen firsthand how essential emergency funds and frugal habits can be to surviving a financial crisis. Going forward, they may be more likely to emphasize financial security even if it means making short-term sacrifices, like spending less on everyday wants," Palmer says.