Does Medicare Cover Dental Care?
Original Medicare does not cover most routine dental care, but there are other ways to get coverage.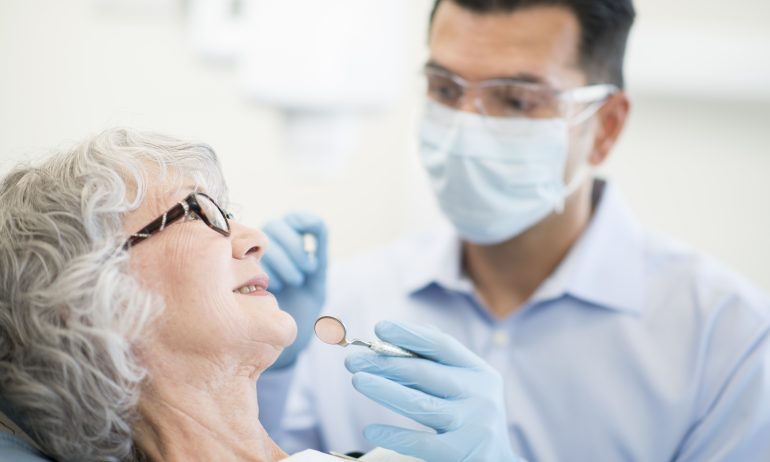 Many or all of the products featured here are from our partners who compensate us. This may influence which products we write about and where and how the product appears on a page. However, this does not influence our evaluations. Our opinions are our own. Here is a list of our partners and here's how we make money.
Although Medicare covers a variety of things, it doesn't cover most dental care, including cleanings, fillings, extractions, dentures, dental plates or other dental devices. However, you may be eligible for some services covered under Medicare Part A — your hospital insurance.
How does Original Medicare cover dental?
The short answer is that Original Medicare (parts A and B) doesn't cover most dental care, including cleanings and fillings. In fact, nearly two-thirds of Medicare beneficiaries don't have dental coverage, according to the Kaiser Family Foundation. But Medicare Part A (your hospital insurance) will cover some dental services that are performed as part of an inpatient stay in a hospital.
For instance, Medicare would pay for reconstruction of your jaw after an accidental injury, or for tooth extractions that were required before radiation treatment involving the jaw. You would also be covered for an oral exam before a procedure like a kidney transplant or heart valve replacement, but you wouldn't be covered for any dental treatment resulting from the exam. (Medicare Part A would cover the exam if a hospital dentist performed it, and Medicare Part B would cover it if a physician examined you.)
Part A would also cover the cost of your hospital care if you needed emergency or complex dental treatment, but the dental care itself would not be covered. Similarly, Medicare Supplement Insurance (Medigap) plans will not cover routine dental care.
What about Medicare Advantage and dental coverage?
Medicare Advantage plans — sometimes referenced as Medicare Part C — may offer extra coverage that doesn't come with Original Medicare Part A and Part B, including dental care. This may include teeth cleaning, fillings, routine X-rays and extractions.
There are various types of Medicare Advantage plans, and they offer different kinds of coverage with different cost structures. If you need dental coverage of a particular type, make sure the Medicare Advantage plan you're considering offers it.
Medicare Advantage providers
Get more information below about some of the major Medicare Advantage providers. These insurers offer plans in most states. The plans you can choose from will depend on your ZIP code and county.
Other dental insurance and other options
You don't have to go through Medicare to get dental coverage. You can enroll in separate dental insurance coverage. Many of the major insurers — Humana, United Healthcare, Aetna — offer dental coverage, and AARP offers member plans through Delta Dental.
These insurance plans operate like most insurance you've worked with: You pay a monthly premium and have access to a number of in-network dentists for care. Depending on the plan, you may be able to go out of network for a higher fee, or you may not be covered for any out-of-network dentists.
Other coverage options include:
A dental discount plan: This is like joining a discount club (like Costco, for instance). You pay a fee to get access to a group of dentists that offer you a discounted rate.

Your partner's dental coverage: If your spouse or partner has access to dental benefits through their employer, you may be able to enroll as well.

Your employer's dental coverage: If you're still working and your employer offers dental benefits, you can enroll in that plan and benefit from group rates.
Typical senior dental costs
Nearly 1 in 5 Medicare beneficiaries who saw a dentist in the past year spent more than $1,000 on dental care in 2016, according to the Kaiser Family Foundation. Dental issues can be pricey, with typical costs like the following:
Basic cleaning: $70 to $200.

Dental exam: $50 to $150.

Amalgam filling: $50 to $150.

Resin composite filling: $90 to $250.

Root canal: $300 to $2,000.

Tooth extraction (nonsurgical): $75 to $300.

Tooth extraction (surgical): $150 to $650.
Consequently, of people 50 to 64 years old who delayed going to the dentist, 69% of them said cost was the primary factor, according to a 2017 survey by the University of Michigan. Dental insurance can help keep out-of-pocket costs down and make expenses more predictable.
How and when you enroll in dental insurance will depend on the kind of coverage you choose:
Medicare Advantage plan: If you want to sign up for a Medicare Advantage plan that comes with dental coverage, you have three chances to enroll:
During your Initial Enrollment Period, which is typically during the seven-month period that includes three months before the month you turn 65, the month you turn 65, and the three months after.

During a special enrollment period if you qualify due to such circumstances as a move, becoming eligible for Medicaid or getting care in a skilled nursing facility.
Separate dental insurance: You can enroll in a stand-alone dental insurance plan at any time.
Dental insurance through an employer: If you're still working or your spouse is still working and you can get covered that way, you'll generally have to wait for the open enrollment period (typically in the fall) to opt in to group dental coverage.
Make sure to consider things that might pop up in the future. For instance, if your teeth are in poor shape or your dentist has mentioned the possibility of dentures, you'll likely want a plan that offers denture coverage.
People who have dental coverage tend to be happy with it: Some 83% of consumers with dental insurance are either "Extremely/Very" or "Somewhat" satisfied with it, according to a 2019 survey from America's Health Insurance Plans. Sixty-eight percent say it saves them hundreds of dollars in out-of-pocket costs, and 65% say it eases their concerns about paying for unexpected procedures. Overall, it's a good investment.
Get more smart money moves – straight to your inbox
Sign up and we'll send you Nerdy articles about the money topics that matter most to you along with other ways to help you get more from your money.