Americans Don't Love Their Insurance, but Most Don't Shop Around
Just half of insurance owners say they're happy with their providers, but less than a third say they comparison shopped in the last year.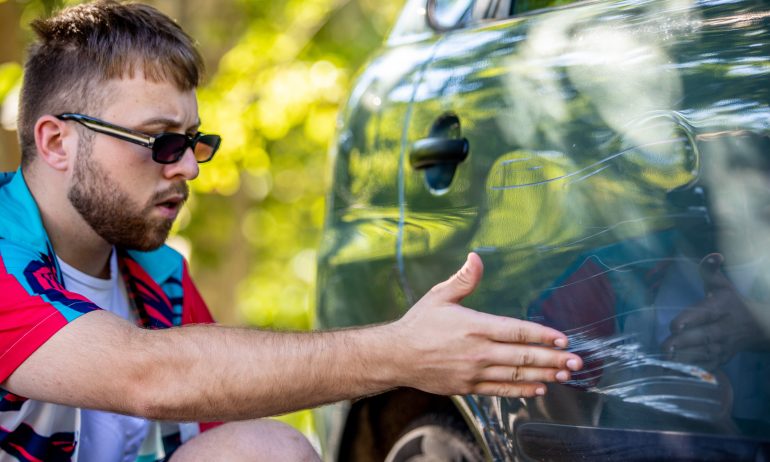 Many or all of the products featured here are from our partners who compensate us. This influences which products we write about and where and how the product appears on a page. However, this does not influence our evaluations. Our opinions are our own. Here is a list of our partners and here's how we make money.
Over the past 12 months, the cost of insurance has prompted more than 1 in 10 Americans who own insurance aside from health care coverage (12%) to not make a major purchase, and a similar proportion (11%) to decrease their coverage to save money, according to a new NerdWallet survey.
Yet only about a quarter of those who own insurance aside from health care coverage (28%) say they shopped around for lower insurance prices in the last 12 months.
The June 2023 survey of more than 2,000 Americans, conducted by The Harris Poll, asked how insurance owners (defined as those who own insurance aside from health care coverage) and shoppers were feeling about the products they have and the prices they pay.
Large price increases for some Americans. More than half of auto insurance owners (57%) say they have seen their premiums increase in the past 12 months, and more than 1 in 6 (17%) say premiums increased a great deal. In the same time period, 62% of Americans with homeowners insurance say their premiums have risen, and 19% say they increased a great deal.

Comparison shopping by millennials (ages 27-42). Almost 2 in 5 millennial insurance owners (39%) say they've comparison shopped for insurance over the last 12 months to lower their rates, and 45% of millennials overall say they will compare prices over the next 12 months.

Concerns about the future of homeowners insurers. Almost 1 in 10 Americans with homeowners insurance (9%) are worried their insurance company will stop providing coverage in their state.
Both homeowners insurance and auto insurance owners report seeing increases over the last 12 months in their insurance premiums. About 3 in 5 homeowners insurance holders (62%) say their premiums increased a little or a great deal over the last 12 months. A similar proportion (57%) of auto insurance owners say the same thing.
Increases were reported most commonly by baby boomer (ages 59-77) owners. Seven in 10 (70%) say they saw an increase in their homeowners insurance rates in the past 12 months. That's compared to 58% of millennials and 55% of Generation Xers (ages 43-58). Additionally, 65% of baby boomer owners say the same for auto insurance premiums, compared to 49% of Generation Zers (ages 18-26), 53% of millennials and 51% of Gen Xers.
Among auto insurance owners, just 10% say they've seen a decrease in their premiums over the last 12 months. And only 6% of homeowners insurance owners say they've seen a decline in rates.
"Car insurance premiums are expected to rise nationally," says NerdWallet insurance specialist Ben Moore. "The increase may surprise drivers, especially those who haven't filed a claim or received a driving violation in a while. Inflation, natural disasters, state legislation and the fact that driving has gotten more dangerous are all contributing factors."
For the 15% of Americans who report owning renters insurance, 43% say they've seen an increase over the last 12 months, and the same proportion (43%) say they've seen no change in their rates.
Feeling the pinch of costs
Many insurance products are required, either by law or contractually, and when costs rise on those required policies, consumers have to find ways to pay.
More than 1 in 10 American insurance owners (12%) say they decided in the past 12 months not to make a major purchase such as a car, home or vacation due to insurance costs. Around 1 in 5 Gen Z insurance owners (22%) say they decided against a major purchase, along with a similar proportion of millennial insurance owners (18%).
Home and auto policyholders take those costs into account when considering future purchases, too. About a quarter of auto insurance owners (27%) say they consider the cost of insurance when making a vehicle purchase. Among home insurance owners, 18% say they consider insurance costs when shopping for a home.
Cost can also be a barrier to insurance purchases, even when consumers need more coverage. Among insurance owners, 10% say they need more coverage for one of their existing policies or need a new insurance product but can't afford it right now. That includes almost 1 in 5 Gen Z insurance owners (19%).
With insurance premiums rising and consumers seeing them as a hurdle to other purchases, it's not a big surprise that some Americans don't think their current rates are fair. Just about 2 in 5 of those with homeowners insurance (42%) say they think their rate is fair. It's a similar story among auto insurance owners, with 45% saying their rate is fair.
For some Americans, there are worries beyond just costs. Around 1 in 10 homeowners insurance policyholders (9%) are worried their provider will stop operating in their state. That scene has played out in some states recently. California has lost several homeowners insurance companies, such as State Farm and Allstate, over the last year. And in Florida, Farmers has stopped writing new homeowners policies.
Less than half of Gen Z (42%), millennial (43%) and Gen X (46%) insurance owners say they're generally happy with their insurance providers (61% of baby boomers say they're happy). However, just 24% of insurance owners say they plan to switch insurance providers to save money in the next 12 months, a plan more common among Gen Z (32%) and millennial (38%) insurance owners. Gen X (22%) and baby boomer (14%) insurance owners are less likely to switch.
About 2 in 5 Americans (38%) say they'll compare insurance prices in the next 12 months, with millennials (45%) being the most likely to compare. Gen Zers (38%), Gen Xers (35%) and baby boomers (35%) are all less likely to compare prices.
"You'll get the cheapest car insurance possible if you shop around and compare quotes from at least three different insurers," Moore says. "Insurers all price rates a bit differently. Plus, car insurance prices are specific to the driver. Your friend may get a cheap rate from a certain insurer, but you won't know if that company is also your cheapest option unless you shop around with other companies."
Where people get their information
The No. 1 source Americans trust to give them guidance related to their insurance policies is their families (48%). However, insurance agents come in a close second, with 45% of Americans' trust. Friends (28%) come in a distant third, with financial advisors right behind them at 27%. Insurance company websites round out the top five with about a quarter of Americans (23%) trusting them for policy guidance.
Baby boomers are the only generation to have a larger proportion show trust in a group other than their families, with 52% saying they trust insurance agents and just 35% saying they trust guidance from their families. Meanwhile, about 7 in 10 Gen Zers (72%) trust the guidance given by their families, along with 54% of millennials and 46% of Gen Xers.
Seven in 10 Americans (70%) say they own auto insurance of some sort. Ownership skews lower among Americans with lower household incomes. Around half (54%) of Americans with annual household incomes under $50,000 say they have auto insurance, while ownership among Americans with $50,000 or more per year in household income rises to 77%.
Homeowners insurance has no legal mandate, though mortgage lenders typically require it for their customers. Around half of Americans (54%) say they own homeowners insurance. Rates of ownership rise alongside Americans' age. Just about a quarter of Gen Zers (24%) say they own homeowners insurance, compared to 44% of millennials, 53% of Gen Xers and 76% of baby boomers.
Just 9% of Americans say they own flood insurance, which covers water damage caused by major storms (including hurricanes) and other flooding hazards.
"Many people don't realize their homeowners policy won't pay for flood damage until it's too late," says Sarah Schlichter, a homeowners insurance specialist at NerdWallet. "Heavy rain can cause flooding almost anywhere, so it's worth considering flood insurance even if you don't live right on the coast."
Less than half of Americans (42%) say they own life insurance (not including insurance provided by an employer). Around a quarter (27%) say they own permanent life insurance like whole life, universal life or a permanent burial policy. Only about 1 in 5 (21%) say they own term life insurance, which expires after a fixed period of time (often 10, 20 or 30 years).
Additionally, 11% of Americans say they own long-term care insurance, and 10% say they own motorcycle, RV or boat insurance. In both categories, men are slightly more likely than women to report owning the insurance. For long-term care, 13% of men are owners compared to 10% of women. And for motorcycle, RV or boat insurance, 13% of men are owners versus 8% of women.
Finally, around 1 in 10 Americans (12%) say they own pet insurance. That jumps to 19% of Americans with children in their households. It's also higher for Gen Z (19%) and millennial (20%) Americans compared to older generations (9% of Gen X and 4% of baby boomers).
This survey was conducted online within the United States by The Harris Poll on behalf of NerdWallet from June 1-5, 2023, among 2,066 U.S. adults ages 18 and older. The sampling precision of Harris online polls is measured by using a Bayesian credible interval. For this study, the sample data is accurate to within +/- 2.7 percentage points using a 95% confidence level. For complete survey methodology, including weighting variables and subgroup sample sizes, please contact [email protected].
Average auto insurance rate methodology
NerdWallet averaged auto insurance rates based on public filings obtained by pricing analytics company Quadrant Information Services. We examined rates for men and women for all ZIP codes in all 50 states and Washington, D.C. Although it's one of the largest insurers in the country, Liberty Mutual is not included in our rates analysis due to a lack of publicly available information.
Our analysis of the average full coverage auto insurance rate in the United States was based on a 35-year-old driver with no moving violations on record; a "good driving" discount was included for this profile. Our hypothetical driver had a credit score considered "good" by insurers. "Good" and "poor" credit rates are based on credit score approximations and do not account for proprietary scoring criteria used by insurance providers.
These are average rates; actual rates will vary based on personal details, state and insurance provider.
Sample drivers had the following coverage limits:
$100,000 bodily injury liability coverage per person.

$300,000 bodily injury liability coverage per crash.

$50,000 property damage liability coverage per crash.

$100,000 uninsured motorist bodily injury coverage per person.

$300,000 uninsured motorist bodily injury coverage per crash.

Collision coverage with $1,000 deductible.

Comprehensive coverage with $1,000 deductible.
In states where required, minimum additional coverages were added.
We used a 2020 Toyota Camry L in all cases and assumed 12,000 annual miles driven.
These are rates generated through Quadrant Information Services. Your rates will be different.
Get more smart money moves – straight to your inbox
Sign up and we'll send you Nerdy articles about the money topics that matter most to you along with other ways to help you get more from your money.