How Much Tesla Car Insurance Costs
Tesla insurance can be expensive, but new coverage options are emerging. To get the best rates, shop around.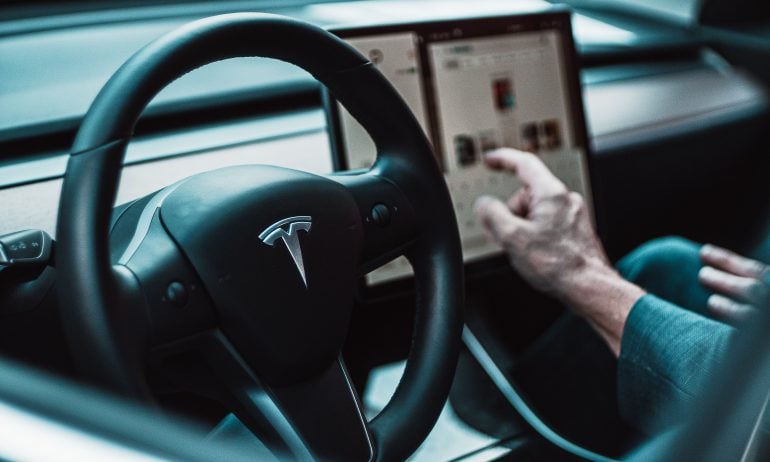 Many or all of the products featured here are from our partners who compensate us. This may influence which products we write about and where and how the product appears on a page. However, this does not influence our evaluations. Our opinions are our own. Here is a list of our partners and here's how we make money.
Tesla's electric vehicles are designed to be some of the safest cars on the road. Even when Autopilot, the carmaker's partially automated driving system, is turned off, Tesla reports quarterly crash numbers at one-third the rate of other cars. Considering that safety record, you might be surprised to know that insuring them can often cost much more than the same coverage for other popular cars.
To give Tesla fans an idea of what to expect, NerdWallet checked rates for full-coverage auto insurance on the lowest-priced Tesla, the Model 3. Here's what we found.
Average cost of Tesla Model 3 insurance
To find the cheapest Tesla auto insurance, make sure to check smaller regional providers as well. They may beat out the bigger players in your neighborhood.
Tesla Model 3 insurance rates from large companies
* USAA is available only to active military, veterans and their families.
How much does Tesla car insurance cost in my state?
Tesla Model 3 insurance costs aren't fixed across the U.S., with average annual rates for full coverage ranging dramatically by state.
Maine has the lowest average cost to insure a Tesla Model 3, coming in at $1,245 annually.

Louisiana has the highest average cost to insure a Tesla Model 3, at $3,436.
While the price you pay might vary based on your location, you're likely to spend more than your non-Tesla-owning neighbors for auto insurance. Of the 25 most popular cars in the U.S., the Tesla Model 3 is the most expensive to insure, on average, in every state except New York, where it comes in second to the Toyota Highlander LE.
In every state, however, you can save money by shopping around to find the cheapest Tesla car insurance.
Here are the average Tesla Model 3 insurance rates in each state, along with the cheapest average rate we found, which could be anywhere from $300 to $2,000 below the state average. We didn't include USAA in our analysis because it's available only to active military, veterans and their families, but it's also worth a look if you're eligible. In 30 states, USAA showed the cheapest rates for Tesla auto insurance.
Tesla Model 3 insurance rates by state
Southern Farm Bureau Casualty

Farm Bureau Financial Services

Southern Farm Bureau Casualty

Farm Bureau Financial Services

Farm Bureau Financial Services

Farmers Mutual of Nebraska

* Rates weren't available for Tesla's own plan, Tesla Insurance, which is offered only in California.
Why Teslas are expensive to insure
The more your car costs, the more it's going to cost to insure. If you're in an accident and need repairs, your collision insurance is going to pay unless it was totally someone else's fault. That means insurers see your fancy car as a bigger risk to them.
Teslas come in above the national average for car costs and line up more closely with luxury cars and other electric vehicles. For example:
A Tesla Standard Range Plus Model 3 starts at $37,990.

The Long Range Model 3 will cost you just over $45,000.

The Model S jumps up in price quickly, with the Long Range edition coming in at right under $80,000.
Teslas are made out of expensive parts, contributing to their base cost. For starters, a Model 3 battery costs thousands of dollars to replace.
Tesla repair costs are also higher due to the use of aluminum in the bodies, which is much more expensive than traditional materials. If you damage a plastic or steel part on your 2012 sedan, an auto body shop can fix it for relatively little cost. The same isn't true for aluminum.
All of those potential repair costs come back to owners in the form of higher Tesla car insurance prices. To ease the burden on owners, Tesla initially tried partnering with Liberty Mutual in the U.S. under a program called InsureMyTesla in 2017.
While the company never officially announced the end of the partnership, its InsureMyTesla website has disappeared in the U.S. and Tesla announced a new plan in late 2019.
Now, the carmaker itself is rolling out an insurance option it claims will be less expensive for Tesla owners called Tesla Insurance.
The new plan was for Tesla Insurance to come directly from the carmaker. It turns out, Tesla customers aren't the only ones frustrated with the cost of insurance — Tesla CEO Elon Musk has also been vocal.
He, like many car owners, believes Tesla car insurance should be cheaper because the cars are more advanced and safe. The U.S. National Highway Traffic Safety Administration has awarded Tesla a perfect five-star safety rating multiple times for different models.
To address the pricing problem, Tesla has taken matters into its own hands. Tesla is now a licensed broker providing insurance to Tesla drivers in California from State National Insurance. Musk has said Tesla Insurance costs should be about 20% lower than average and that the program will continue to roll out "anywhere insurance prices are high."
How Tesla Insurance works
Tesla says it understands how drivers use its cars and takes all of the cars' safety features and crash avoidance systems into account when pricing insurance. The company says it does not use personalized driving data collected by the vehicles in its pricing. In addition to liability, collision and comprehensive insurance, Tesla also offers additional coverages for wall chargers, electronic key replacement and identity fraud.
In its initial filings, Tesla Insurance also included collision and liability car insurance discounts for the use of autonomous driving features, ranging from 5% to 30% depending on the level of autonomy in use. Families with multiple Teslas would also be eligible for discounts.
To summarize, Tesla is planning to use its knowledge of its cars' safety features and partially automated driving technology to cut insurance costs for drivers, especially those who take advantage of the company's Autopilot system.
Until then, comparing several car insurance quotes to make sure you're getting the best deal will be crucial to keeping rates down.
NerdWallet averaged insurance estimates from the largest insurers in all 50 states and Washington, D.C., for the base Tesla Model 3. Rates were for 40-year-old male and female drivers with good credit, no tickets or violations, and with the following coverage limits:
$100,000 bodily injury liability coverage per person.

$300,000 bodily injury liability coverage per crash.

$100,000 property damage liability coverage per crash.

$100,000 uninsured motorist bodily injury coverage per person.

$300,000 uninsured motorist bodily injury coverage per crash.

Collision coverage with $1,000 deductible.

Comprehensive coverage with $1,000 deductible.
In states where required, minimum additional coverages were added. Some policies include additional coverages at the insurer's discretion. These are sample rates generated through Quadrant Information Services. Your own rates will be different.