How Much Does Tesla Car Insurance Cost?
Car insurance for a Tesla Model 3 costs about $2,574 per year, or $215 a month.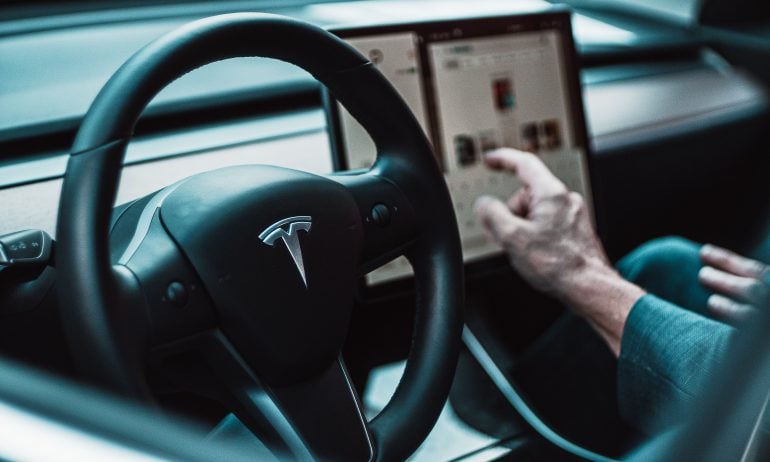 Many or all of the products featured here are from our partners who compensate us. This influences which products we write about and where and how the product appears on a page. However, this does not influence our evaluations. Our opinions are our own. Here is a list of our partners and here's how we make money.
The high cost of a Tesla doesn't stop at its price tag. Insurance for a Tesla tends to be significantly more expensive than that of other popular vehicles, despite its high safety ratings.
Still, rates can vary drastically, even among different Tesla models. Below are the median annual insurance rates by Tesla model, ranked from cheapest to most expensive:
These rates are for full coverage insurance for good drivers with good credit. We used the median rate (rather than the mean average) to provide a clearer picture of the full range of insurance rates across the country. The median is the midpoint between the highest and lowest insurance premiums.
Your rate will vary based on variables like location and insurance company. To get a better idea of what to expect, NerdWallet checked full coverage insurance rates from the nation's largest auto insurers on the lowest-priced Tesla, the Model 3, in every state. Here's what we found.
Why you can trust NerdWallet
Tesla insurance cost for a Model 3
Tesla car insurance for a Model 3 costs a median of $2,574 per year, or about $215 a month, our analysis shows. That's nearly 45% higher than the national median cost of car insurance.
However, rates can vary widely from one insurer to the next. Among the largest car insurance companies in the U.S., the cost to insure the Model 3 differs by more than $3,300.
How much does Tesla car insurance cost in my state?
The cost of Tesla Model 3 insurance isn't fixed across the U.S., with median annual rates for full coverage ranging dramatically by state.
Maine has the lowest median Tesla insurance cost for a Model 3, coming in at $1,697 annually.

Louisiana has the highest median Tesla insurance cost for a Model 3, at $4,820.
Below are the median Tesla Model 3 insurance rates in each state.
You can save money by shopping around to find the cheapest Tesla car insurance. Our analysis found that comparing rates could save you anywhere from around $500 to more than $2,600 per year when compared with median rates, depending on your state. The table below shows the cheapest median rate we found in each state.
Tesla car insurance rates by state for a Model 3
| | | Cheapest insurance company |
| --- | --- | --- |
| | | |
| | | |
| | | |
| | | |
| | | |
| | | |
| | | |
| | | |
| | | |
| | | |
| | | |
| | | |
| | | |
| | | |
| | | |
| | | |
| | | |
| | | Southern Farm Bureau Casualty |
| | | |
| | | |
| | | |
| | | |
| | | |
| | | |
| | | |
| | | |
| | | |
| | | |
| | | |
| | | |
| | | |
| | | |
| | | |
| | | |
| | | |
| | | |
| | | |
| | | |
| | | |
| | | |
| | | |
| | | |
| | | |
| | | |
| | | |
| | | |
| | | |
| | | |
| | | |
| | | |
| | | |
What company has the cheapest Tesla car insurance?
Of the nation's largest insurers, State Farm has the cheapest rates on average for Tesla Model 3 owners. USAA would have beat out State Farm, but it was not included in our analysis because it is offered only to military members, veterans and their families. In addition, although it's one of the largest insurers in the country, Liberty Mutual is not included in our rates analysis due to a lack of publicly available information.
To find the cheapest Tesla car insurance, make sure to check smaller regional insurance companies as well. They may have better rates than the bigger players you see advertised on TV.
Note: Rates for Tesla's own insurance, Tesla Insurance, weren't available. Read more about Tesla Insurance below.
What about Tesla Insurance?
Rates for Tesla's own insurance, Tesla Insurance, weren't available. That said, we can explain what it is and how it works.
Tesla launched its own car insurance option in 2019 to try to ease the financial burden Tesla owners faced when insuring their electric vehicles. In the past, the company has claimed Tesla Insurance can save drivers about 20% when compared with other carriers.
Tesla insurance is currently available to Tesla owners in the following states:
Tesla Insurance is available for new and current Tesla owners to cover their Teslas and non-Tesla vehicles. And if you live in California, you can even get Tesla insurance without owning a Tesla.
How Tesla Insurance works
Tesla uses real-time driving behavior to determine your car insurance rate for most vehicles. It's available for the Model S, 3, X and Y in all states that sell Tesla Insurance except California. California drivers can still buy Tesla Insurance, but rates won't be based on your driving habits.
Tesla is able to collect data on your driving habits through your Tesla car without using an additional app or plug-in device.
Driving behaviors tracked include:
Number of forward-collision warnings.

How close you are to the car in front of you.

How often you drive late at night.
Based on this data, Tesla gives you a Safety Score from 0 to 100, where a higher score represents safer driving. Your safety score updates in real-time whenever you take your Tesla for a spin.
New policyowners are given a score of 90. If you're insuring a non-Tesla vehicle or your car doesn't have the ability to report data, Tesla uses a Safety Score of around 86.
Unlike traditional insurers, the company does not take into account your marital status, age, gender or credit history. It also doesn't use your accident or traffic violation history as a factor to determine your initial or future auto insurance rate.
Instead, Tesla uses the following factors to determine a rate:
Your vehicle's Safety Score.

Number of vehicles insured.
Is Tesla Insurance worth it?
Tesla Insurance is worth a look if you live in one of the states where policies are sold. The company offers a mix of standard coverage (such as liability, comprehensive and collision) and coverage for damaged glass. Tesla also offers gap insurance and roadside assistance.
Additional coverage types and discounts are available on a state-by-state basis, which you can check out here.
Even if you qualify for one or more Tesla insurance discounts, this doesn't automatically mean Tesla will have the cheapest rate for you. Be sure to compare car insurance companies to find the most affordable coverage.
Why insuring a Tesla is so expensive
The more your car costs, the more expensive it is to insure. If someone steals or damages your Tesla, it'll cost your insurance company more to replace or repair it than a less-expensive vehicle. Because of that, insurers will charge you more for Tesla car insurance, specifically, comprehensive and collision insurance.
Teslas are priced similarly to luxury cars and other electric vehicles, making them relatively expensive.
Below is the approximate starting price for a Tesla base trim by model at the time of this publication:
Upgrading beyond the basic model can send your Tesla cost skyrocketing. For example, you'll pay $15,000 to add full self-driving capability, and any paint color other than white will set you back an extra $1,000 to $2,000 for the Model 3. And the more features you add to your Tesla, the more it will cost to insure.
Teslas are made with expensive parts, contributing to their base cost. For starters, replacing a Model 3 battery module could cost nearly $20,000. Tesla repair costs are also higher due to the cars' aluminum bodies, which are much more expensive than those made with traditional materials. If you damage a plastic or steel part on your 2012 sedan, an auto body shop can fix it for relatively little cost. The same isn't true of aluminum. And if you do get in an accident, you'll have to take your car to a Tesla service center or Tesla-approved collision center.
All of those potential repair costs come back to owners in the form of higher Tesla car insurance prices.
Auto insurance buying guide
Frequently asked questions
Are Tesla cars expensive to insure?
What insurance coverage does Tesla offer?
NerdWallet looked at median insurance estimates from the largest insurers in all 50 states and Washington, D.C., for the base 2023 Tesla Model S, 3, X and Y.
Rates were for 35-year-old male and female drivers with good credit, no tickets or violations, and with the following coverage limits:
$100,000 bodily injury liability coverage per person. $300,000 bodily injury liability coverage per crash. $100,000 property damage liability coverage per crash. $100,000 uninsured motorist bodily injury coverage per person. $300,000 uninsured motorist bodily injury coverage per crash. Collision coverage with $1,000 deductible. Comprehensive coverage with $1,000 deductible.
In states where required, minimum additional coverages were added. Some policies include additional coverages at the insurer's discretion. These are sample rates generated through Quadrant Information Services. Your own rates will be different.
Get more smart money moves – straight to your inbox
Sign up and we'll send you Nerdy articles about the money topics that matter most to you along with other ways to help you get more from your money.