Real Estate Crowdfunding: What to Consider
Real estate crowdfunding could be a great addition to your investment portfolio, but make sure to read the fine print on these new types of assets.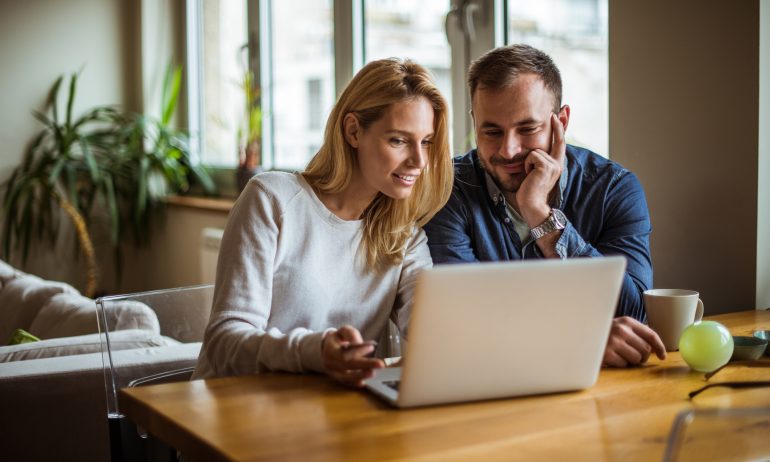 Many or all of the products featured here are from our partners who compensate us. This influences which products we write about and where and how the product appears on a page. However, this does not influence our evaluations. Our opinions are our own. Here is a list of our partners and here's how we make money.
---
The investing information provided on this page is for educational purposes only. NerdWallet, Inc. does not offer advisory or brokerage services, nor does it recommend or advise investors to buy or sell particular stocks, securities or other investments.
Crowdfunding isn't just for your cousin who wants to take a trip to Peru. It can also be a great way for investors to find new opportunities outside of the stock market.
Real estate crowdfunding platforms are newer to the crowdfunding space, but they might be a worthwhile addition to your portfolio — so long as you understand in what exactly you're investing.
What is real estate crowdfunding?
Real estate crowdfunding works the same way as many other crowdfunding ventures: Investors pool their money to fund a project, a product or a company in the hopes that there will be a future profit. In many cases, investing in real estate has a high financial barrier to entry, like having a down payment saved. But some real estate crowdfunding platforms are working to lower that threshold so you can invest with as little as $500.
In most cases, real estate crowdfunding platforms direct investors' money into real estate investment trusts or similar investments. REITs are companies that own, and sometimes operate, real estate, such as apartments, warehouses, malls and hotels. Shares of some REITs are publicly traded on stock exchanges, while other REITs are privately owned.
Real estate crowdfunding platforms often give investors access to private market real estate investments that may offer higher returns than publicly traded REITs. According to one platform, Fundrise, a REIT investment in the public market with daily liquidity (an ability to sell at any time) has an average trailing 20-year annual return of 8.2%, while a REIT investment in the private market with an investment horizon of three to seven years has an average 20-year trailing return of 12.3%.
While that number may seem exciting, it is not advisable to dedicate too much of your portfolio to crowdfunding services. A balanced portfolio of stocks and bonds has a proven track record over the long term. But allocating some funds to a crowdfunding platform could make sense if you're looking to diversify and a chance at some healthy returns.
The pros of real estate crowdfunding
The idea is simple: Allow average investors to benefit from the not-so-average returns real estate can yield.
Since most crowdfunded real estate sites work through REITs, investors get to reap their benefits. REITs, both public and non-traded, are legally mandated to pay 90% of their taxable income to investors. Because of this, many REITs offer a strong history of dividends.
Adding real estate investments can help strengthen and diversify your portfolio. You may still have to pay taxes on the dividends you receive (unless you put those dividends into a tax-advantaged retirement account).
Some of these platforms have fairly low investment minimums. Fundrise offers a starter portfolio with an investing minimum of $500. This hurdle may sound high, but it's lower than the minimums commonly charged by privately owned REITs (which are often in the thousands) while still giving investors access to privately held assets.
One of the biggest advantages of real estate crowdfunding is not having to handle the headaches that come with owning traditional real estate. It's cool to invest in huge properties and never have to deal with frozen pipes or troublesome tenants (though you can also avoid this by investing in publicly traded REITs).
An easy investing experience
The newness of these companies isn't all bad: It means they prioritize easy access. Some crowdfunded real estate platforms offer apps that allow users to start investing quickly and easily from wherever they are.
There are a number of online trading platforms that allow you to invest in real estate properties. Here are a few to consider:
Advertisement
Fees 

0% - 2.5%

management fees; other fees apply.

Fees 

0.5% - 1.5%

other fees apply

Fees 

1% to 1.25%

management fees; other fees may apply

Promotion 

None

no promotion available at this time

Promotion 

Earn a Special 1% Return Boost

on Your First Investment

Promotion 

None

no promotion available at this time
The cons of real estate crowdfunding
Before you get too excited about becoming a digital land baron, there are a few drawbacks to keep in mind.
Depending on the platform you choose, there could be annual fees of 1% to 2.5% (or higher) of your managed assets. Management fees, advisory fees, individual fund fees: It doesn't matter what the platform calls them, they add up. While the fees may be low compared to other management fees for similar services, 1% still may be more than you want to pay. Be sure to read the fine print for any asset before you invest.
Illiquid assets can't be sold off willy-nilly. Unlike more liquid investments, such as most stocks and publicly traded REITs, they take longer to convert to cash. Most of the REITs offered through crowdfunded real estate investing platforms are illiquid and come with long-term investment horizons. This is great for investors who are confident they won't need the money they've put into their accounts anytime soon, but it isn't so great for people who might want or need to sell their assets in the near future.
Getting a dividend check is great, but remember, you may owe taxes on those dividends. Most crowdfunded real estate platforms will send their investors a tax form outlining how much they owe on ordinary dividends, qualified dividends and return of capital, all of which are taxed at different rates.
Sure, the websites are sleek and convincing, but it's worth noting that these investment platforms are relatively new. Fundrise and Patch of Land launched in 2012, RealtyMogul began in 2013 and CrowdStreet in 2014. RealtyShares, founded in 2013, shut down only five years later when it ran out of funding. None of these companies has experienced a severe economic downturn, and it's hard for investors to know how they would fare. Crowdfunded real estate platforms are also not required to register with the SEC.
Some financial professionals have other reservations about these products. "I'm tentative of crowdfunded real estate platforms," Ian Bloom, certified financial planner and owner of Open World Financial Life Planning in Raleigh, North Carolina, said in an email. "They are essentially set up to circumvent the protections offered by traditional real estate deals and publicly traded REITs ... My preference is to have clients gain real estate exposure from REIT mutual funds or ETFs."
One of the major hurdles that kept investors out of real estate before crowdfunding was accreditation. Accredited investors are defined as having a net worth of over $1 million (not including a home's value), or an annual income of $200,000 or more. Some platforms, like CrowdStreet, are still only open to accredited investors. But some, like RealtyMogul and Fundrise, have options for nonaccredited investors, too.
Real estate crowdfunding alternatives
If newfangled platforms don't feel right for you, there are plenty of alternatives in which to invest your money.
If publicly traded REITs seem like a safer bet, there's no need to use a special platform to access them. A brokerage account can give you access to the world of public REITs, as well as many other types of investments. Use the stock screener on your brokerage's website or a free online stock screener to compare prices, dividend histories and other details on REITs.
If researching individual REITs seems a little intense, REIT exchange-traded funds combine the benefits of REITs with the ease of an index fund. REIT ETFs combine shares from multiple REITs to provide instant diversification. Your brokerage account's screener can help you compare these, too.
Standard market investments
If a three-to-seven-year investing commitment makes you nervous, sticking with more liquid investments you'd find in the stock market may be a better option. Stocks, bonds, mutual funds — there are countless investment possibilities to choose from if crowdfunded platforms aren't your thing. Check out our guide on how to start investing.
If real estate crowdfunding sounds too tech-heavy for your taste, there are real-life alternatives you can use to incorporate real estate into your portfolio. You won't be (necessarily) locked into a seven-year commitment, but you will have to commit to keeping up a property or hiring someone else to do so. Despite that, real estate rentals can bring in strong returns. If you have a spare room, a separate unit on your property, or even a basement, you can enter the real estate game. You can even try running a short-term rental to test it out (think Airbnb).
Is it worth it to invest in crowdfunded real estate? It all depends on what you need and what crowdfunding platform you choose. For accredited investors, there are more options. And for those who aren't millionaires, there are still a few choices. New tech always has its risks, so be especially mindful when putting your hard-earned cash into newer investments.
If you're looking to diversify your portfolio with real estate and have at least $500 lying around, the growth potential might make it worth it. If you don't want to commit to a whole new platform, but still want exposure to real estate, you might consider looking closer at publicly traded REITs.
» Interested in learning more? Read our reviews of crowdfunding platforms Fundrise and CrowdStreet for more details on these services.
Get more smart money moves – straight to your inbox
Sign up and we'll send you Nerdy articles about the money topics that matter most to you along with other ways to help you get more from your money.