What Is an Auto Loan Co-signer vs. Co-borrower?
Often borrowers think co-signers and co-borrowers are the same, but they are different in several ways.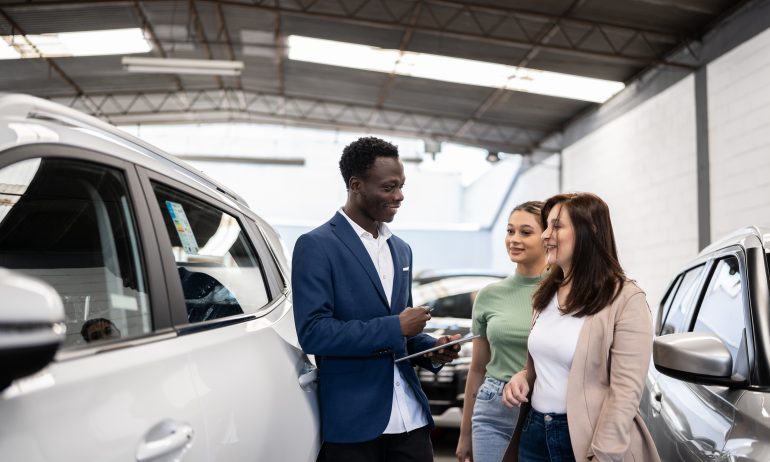 Many or all of the products featured here are from our partners who compensate us. This influences which products we write about and where and how the product appears on a page. However, this does not influence our evaluations. Our opinions are our own. Here is a list of our partners and here's how we make money.
An auto-loan co-signer agrees to make monthly payments if the owner doesn't.
An auto loan co-borrower shares both responsibility for payments and ownership of the car.
A second person on an auto loan is quite common, and most borrowers simply need the stronger credit profile of a co-signer. But some may need to show the additional income provided by a co-borrower.
What is an auto loan co-signer?
An auto loan co-signer is a person — often a family member — who takes responsibility to make any missed payments or repay an entire loan if the primary borrower doesn't.
An auto loan co-signer doesn't have any ownership rights for the financed vehicle, and their name isn't on the title.
If you have a co-signer, that person would need to have a good credit score (a FICO score of 690 and higher), an established credit history and sufficient income to repay the loan. A co-signer is basically agreeing to let you benefit from their own good credit.
Why have an auto loan co-signer?
If you have no credit history, a limited credit history or bad credit, having an auto loan co-signer can help you in several ways.
Loan approval. Because a co-signer commits to repay the loan if you don't, there is less risk of the lender losing money on the loan. With less risk, a lender is more likely to approve your loan.
Lower interest rate. The interest rate you receive on a car loan is determined by many factors, but one of the most important is credit score. If your score is low or you have no credit score, a co-signer with a good credit score could help you qualify for a lower loan rate.
In some cases, a lender will require that a borrower have a co-signer. On the other hand, not all lenders allow co-signers. If you think you'll need one, check with a lender to make sure it accepts co-signers before you apply.
What are the pros and cons of car loan co-signers?
Pros. For the borrower, the main benefit of having a co-signer is being able to qualify for a loan, possibly with a lower rate. Also, if you need the help of someone else to qualify, but don't want to share ownership of the vehicle, a co-signer enables you to do that.
Cons. For the co-signer, there are risks. In addition to possibly being on the hook for someone else's car payments, a co-signer's credit scores can be negatively affected if the borrower doesn't make payments on time. If the borrower files for bankruptcy, the co-signer could still be responsible for paying outstanding debt after a lender repossesses and sells the vehicle.
What is an auto loan co-borrower?
The terms co-borrower, co-buyer, co-applicant and joint applicant all basically refer to the same role — someone who shares in equal ownership of the loan and car. They are also equally responsible for making car payments from the start. A co-borrower is often a spouse or partner.
Why have an auto loan co-borrower?
Having a co-borrower on a loan can provide several benefits.
Meeting income requirements. When you apply for an auto loan with a co-borrower, your incomes are combined by the lender, which can help you meet income requirements. Also, having a higher income can reduce the debt-to-income ratio on a loan, enabling you to qualify for a larger loan amount.
Loan approval. If you have a limited credit history, a co-borrower with a longer history of good credit may help you obtain loan approval.
Lower interest rate. Because a borrower and co-borrower have equal responsibility for a loan, lenders consider the financial information for both. Looking at the income and credit history for both applicants can strengthen a loan application and reduce lender risk, resulting in a lower interest rate.
It's important to note that lenders also consider the credit scores of both borrowers when determining an auto loan's interest rate. So, if your co-borrower has a credit score lower than yours, you could end up with a less favorable rate than you would on your own.

Find your next new or used car with ease
Compare prices, models, and more from over 1,000,000 cars nationwide. Shop and compare before visiting the dealer, and get a trade-in offer for your current car in minutes
What are the pros and cons of car loan co-borrowers?
Pros. Being a co-borrower provides a way for two people to share equal ownership of an asset, in this case the vehicle, with both names on the title. This can simplify the process if one person needs to take sole ownership, for example if a spouse or partner dies.
Cons. On the other hand, being co-borrowers on an auto loan can complicate matters, if, for example, a couple splits up. If one borrower decides to sell the car, that person would need the signature of the other borrower because both names are on the title.
Another benefit of having an auto loan co-signer or co-borrower
If you have no credit history or bad credit, having a co-signer or co-borrower can help you obtain a loan, but the benefit can go beyond that. Once you have the car and loan, it provides an opportunity to build or refresh your credit. If you make payments on time and successfully repay the loan, you may be able to qualify for an auto loan on your own the next time.
Get more smart money moves – straight to your inbox
Sign up and we'll send you Nerdy articles about the money topics that matter most to you along with other ways to help you get more from your money.