How to Maintain Your Electric Car
Electric cars can be relatively easy and cheap to maintain, but their long-term track record is untested.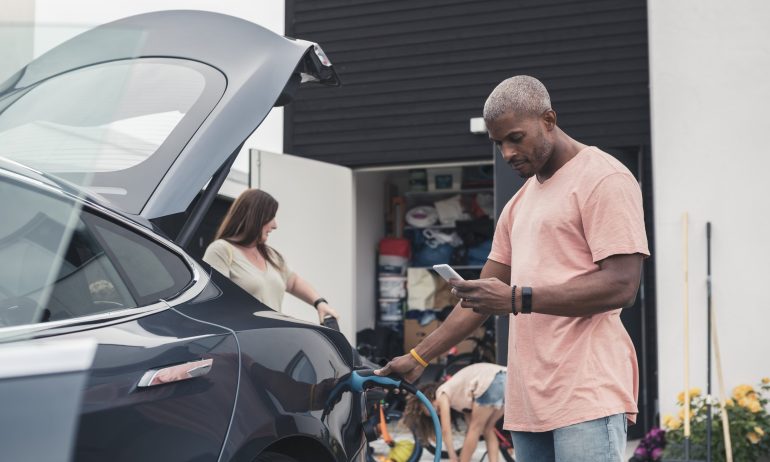 Many or all of the products featured here are from our partners who compensate us. This influences which products we write about and where and how the product appears on a page. However, this does not influence our evaluations. Our opinions are our own. Here is a list of our partners and here's how we make money.
Electric cars tend to be cheaper and easier to maintain than gas-powered cars — the result of electric cars having fewer components to care for. Couple that with charging costs that are generally cheaper than gas, and going electric may seem like a financial no-brainer. 
But there are a few maintenance quirks for electric vehicles, or EVs, that temper that outlook. In some ways, the monetary cost of oil changes is replaced by the need to keep a higher level of vigilance — for example, you'll want to prep your battery before each drive when temperatures are low. And the lack of maintenance options as a battery's capacity inevitably diminishes means coming to terms with a shrinking range over time.
Fewer parts mean less upkeep 
The engine in a gas-powered vehicle has hundreds of moving parts. You must periodically replace parts and fluids — oil, filters and pumps are familiar ones — to keep it running properly. But even if you faithfully book appointments with your mechanic for routine maintenance, each component in your engine still carries with it a chance of breaking or wearing out. 
An electric car, meanwhile, doesn't have an engine at all. Instead, it uses a battery (which doesn't have moving parts) to supply power to the motor that spins the wheels. EVs still have regular maintenance needs, but the general consensus is that these needs are fewer and cheaper than those of gas-powered cars.
Electric car maintenance basics
A car's manual lists the parts an owner should plan to inspect or replace and the specific intervals at which they should do this. Think of these lists, usually called "scheduled maintenance," as preventive measures, like going to the dentist. These proactive tune-ups have you or a mechanic inspecting and replacing parts as they approach the end of their useful life. 
Most car manufacturers post their manuals online. If you have an EV in mind, you can likely find the manual for it if you'd like to review it. Examples of common EV maintenance tasks include:
Tires. You'll want to rotate your tires to ensure even wear. Tesla recommends rotating tires on its Model Y every 6,250 miles while Ford's Mustang Mach-E can go 10,000 miles before tire rotation. Some EV owners report that tires wear out more quickly compared to tires on gas-powered cars — possibly due to the weight of the battery — though EV-specific tires are designed to account for the added load. 

Brakes. Brake fluid will need changing every two to five years, similar to gas-powered cars. The brakes themselves tend to last longer on EVs thanks to regenerative braking, which converts the energy of a slowing car into electricity. Standard brakes convert that energy into heat using friction, which wears away the brake pads over time.
Battery maintenance is important, but some performance decline is inevitable
Unlike gas-powered cars, which require you to buy new parts to replace worn-out parts like spark plugs, EVs run on batteries that live their lives ensconced under your seats and, for the most part, don't need maintenance. Though they might not need physical intervention, batteries do require your attention. You're supposed to follow specific procedures on a daily basis to get the best results — which some might consider too fussy after driving a gas-powered car. 
EV manufacturers say drivers can keep batteries healthy by:
Charging to almost-full. Consistently charging to 100% or letting your battery drop below 20% can degrade performance over time.

Preconditioning. Some EVs let you notify them when you plan to drive next. This enables a feature called preconditioning — essentially a warm-up for the battery. 
However — and this is important — even if you're meticulous about following the manufacturer's instructions for battery care, the battery's ability to hold a charge will decrease over time. The maximum distance your EV can travel before needing a recharge will inevitably diminish — reductions of up to 30% can be considered normal. This is a significant downside compared to gas-powered cars.
You won't worry about declining range for a while if you buy a new EV; batteries are usually covered by warranty for eight years or 100,000 miles of use, and people who buy a new car usually move on to their next car before year nine, according to iSeeCars, which is an aggregator of websites that sell cars. Research done by the National Renewable Energy Laboratory shows that a battery's expected life can be up to 15 years under some conditions, though you'll still be looking at a diminished maximum range. While replacing a worn-out battery altogether can be done, many car companies de-emphasize this option, rarely sharing pricing for new batteries. 
Maintenance costs: Electric cars vs. gas-powered cars
A study published in 2020 by Consumer Reports suggests that, over its lifetime, an average EV saves the owner $4,600 in maintenance costs compared to the average gas-powered vehicle. 
In a 2022 analysis, AAA reported that EV owners save, on average, 18% on maintenance costs compared to the average vehicle. Expected maintenance costs were higher with certain types of vehicles — you'll likely see bigger savings if you switch to an EV from a pickup rather than from a small sedan.
A manufacturer's warranty can help fend off the cost of unexpected repairs, which could justify the higher cost of buying a new car or a lightly used car that's still under warranty. 
A vehicle's warranty consists of multiple coverage types. These can vary from car to car. For example, Ford offers bumper-to-bumper coverage for three years or 36,000 miles of use. It also has a battery warranty of eight years or 100,000 miles, whichever comes first. Tesla's basic warranty, similar to Ford's bumper-to-bumper warranty, lasts for four years or 50,000 miles, whichever comes first. Its longer-range vehicles have battery warranties with a limit of 150,000 miles or eight years, whichever comes first. 
The jury is out on how EVs will age
It's not uncommon to see a gas-powered car that's older than its driver or an odometer reading that has enough miles on it to get to the moon. Reputations of reliability are built over decades, and we know how many gas-powered models have performed. EVs, however, just haven't been around long enough to know how trusty they can be. 
It's fair to assume maintenance costs will go up for older cars. Like gas-powered cars, EV maintenance costs double on a per-mile-driven basis once a car reaches 50,000 miles, according to Consumer Reports, and they go up an additional 25% once it reaches 100,000 miles. Costs for the few EVs tested by Consumer Reports that had six-figure mileages rose by similar percentages, but because the initial average maintenance costs were lower, the actual cost ends up being lower, too. 
Get more smart money moves – straight to your inbox
Sign up and we'll send you Nerdy articles about the money topics that matter most to you along with other ways to help you get more from your money.