How to Negotiate to Buy a Used Car
Whether you negotiate to buy a used car from a private party or a dealer, these simple concepts can save you money.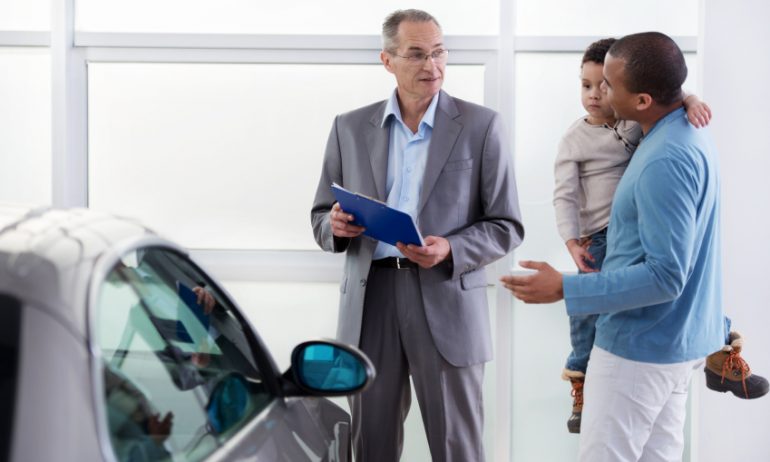 Many or all of the products featured here are from our partners who compensate us. This influences which products we write about and where and how the product appears on a page. However, this does not influence our evaluations. Our opinions are our own. Here is a list of our partners and here's how we make money.
Whether you're negotiating to buy a used car from a dealer or private party, learning a few simple concepts can save you a lot of money.
Back in the day, used car-buying negotiations were always done face-to-face, either on the car lot or standing at the curb haggling with the previous owner. Today, many shoppers negotiate for a used car by requesting a car dealer quote online or texting the car's owner.
Whether you're negotiating for a used car in person or online, here are some basic guidelines to follow:
Quick look: used car negotiations at a glance
When negotiating the price of a used car, it's essential to arm yourself with solid information on which to base your negotiations. Look up the current market value — what other buyers have paid for that used car — in pricing guides such as Edmunds or Kelley Blue Book. Current pricing information, from these impartial sources, will give you confidence and show you how much to negotiate on a used car.
Also, get preapproved for an auto loan even if you think you might choose dealership financing. Here's why: At a dealership or independent used-car lot, you'll be greeted by a salesperson who will probably ask, "What kind of monthly payment will fit into your budget?" Negotiating as a "monthly payment buyer" is a mistake since it obscures the price of the car. If you're preapproved, you can instead politely tell the salesperson you'll be paying cash and just need to settle on the sale price of the car.
2. Make the right opening offer
With the monthly payment trap neatly avoided, it's time to open negotiations. There's a rule in negotiating that advises "The first person who speaks loses." It means that once your opening offer is on the table, it sets the tone for the rest of the negotiation. So, ideally, you'd like the salesperson to make the first offer, because it could be well below what you're prepared to pay.
One way to prompt an opening offer is to say, "I've done some research about what others are paying for this car. What kind of a discount are you offering?" If the salesperson won't bite, it's up to you to kick things off.
Look at the current market value price and set your opening offer lower, but still in the ballpark of what the dealer might accept. If you know that the current market value of the car is $25,000, offer below that, perhaps $23,000.
After delivering your opening offer, say nothing more — but watch the salesperson's body language, tone of voice and facial expression. Salespeople may groan and complain and do all kinds of playacting; but if they take your offer to their manager, you're probably in business.
Negotiating with a private party owner is a bit different. A low-ball offer might offend them since it's their beloved car they're selling. A common opener is to ask them, "What's your best price?" This is an invitation for them to negotiate against themselves and lower the price a little. If they drop the price a bit, you can then come back with an even lower offer.
If the salesperson makes a counteroffer that's close to the current market value you found in your research, you're getting close to a good deal. If the counteroffer is ridiculously high, you might want to just leave, since it'll be tough going. But leave very slowly — this might prompt a better offer.
At dealerships, when the salesperson takes your offer to the manager, it's the beginning of a game that can go on for a long time intended to wear you down. Instead of stewing in a cramped sales office, put an end to it immediately. Tell the salesperson your time is limited and you need an answer immediately or you will leave.
Raise your opening offer by smaller and smaller increments. For example, if the current market value price is $25,000 and your opening offer was $23,000, you might want to offer an additional $500, or a total of $23,500. But the next time, bump it up only $250, then only $100. Proceed slowly and write down your offers on a slip of paper or the salesperson's card to avoid confusion.
If you're negotiating with a private party, and you reach an impasse, you can leave your phone number with them. Often, upon reflection, they will accept your offer later. Another approach is to look for a way to sweeten the deal without raising your price. For example, you could point out that a smog inspection is required but you would be willing to pay for that. Or point out that registration fees are due soon so you will have to pay those fees if you buy it now.
As you near an agreement, the salesperson might try to complicate the deal by offering extras such as a free maintenance plan. The problem is, the value of these extras is hard to quantify, so you really don't know if the deal has improved. It's better to keep the deal simple and stick to just the price of the car.
If you're satisfied with the price, don't accept the deal until you review all the numbers. Ask for a breakdown of the fees or an out-the-door price of the car, which will smoke out any extra fees. You should be paying only the price of the car, sales tax (in most states), a documentation fee and registry fees. If you're paying in cash, or with your pre-approved loan, it simplifies the deal.
The smiling salesperson is apt to jump up from the desk, extend a hand and say, "Congratulations, we have a deal!" However, it's essential to understand that everything so far is just verbal promises. Now you need to get your "good deal" in writing. At a dealership, that will happen in the finance and insurance (F&I) office.
The "F&I guy" will create the sales contract and offer you extra products such as extended warranties, additional alarm systems and even paint protection. These are high-profit items for the dealer and you can usually buy them later for a lower price. Also, this is when you can compare any financing offered by the dealer against your preapproved loan terms.
When you're buying from a private party, find out ahead of time what documents your state requires. That way, you won't have trouble registering your car. In most cases, you need to get a clear title and a bill of sale.
More tips for negotiating a private-party deal
Negotiating for a used car with a private party is more relaxed than going up against a car salesperson. Also, you're dealing directly with the decision maker, so there's no silly back-and-forth to clear the deal with the sales manager.
Often, a private-party seller might arbitrarily choose a price that has no relation to the car's current market value. This makes it especially important to check pricing guides beforehand. Then, when the negotiation begins, you can depersonalize your offer by saying, "Kelley Blue Book has it listed at a much lower price."
When you make an offer that's lower than the seller's "asking price," it helps to justify the price with a reason. For example, you can say, "I was just looking at another car, and they were asking less than you." Or, "This is really out of my budget, but I would be willing to make an offer anyway."
More negotiating tips for buying a used car
Ultimately, you'll need to adapt your negotiating style to your own personality. However, here are a few more tips on how to negotiate for a used car:
Keep it light. Don't make it personal. Stick to numbers and facts.

Avoid bare-knuckle negotiators. Don't even begin negotiating with a used car salesperson who attempts to bully or intimidate you.

Negotiate slowly and repeat the numbers. It's easy to get confused, so write down or repeat the price you are offering for the used car.

Don't start until you're ready. Avoid being led into negotiations at a dealership until you're fully armed and ready to make a deal. Often car salespeople make it sound casual with invitations like, "Let's go inside and take a look at some numbers."

Be ready to walk. This is the classic advice for used car negotiating — but it's true. If you aren't making progress, or you don't like the way you're being treated, it's time to walk.
Get more smart money moves – straight to your inbox
Sign up and we'll send you Nerdy articles about the money topics that matter most to you along with other ways to help you get more from your money.