Employee Loans: Should You Borrow From Your Employer?
Employee loans are one way to get quick cash in an emergency — but avoid making them a habit.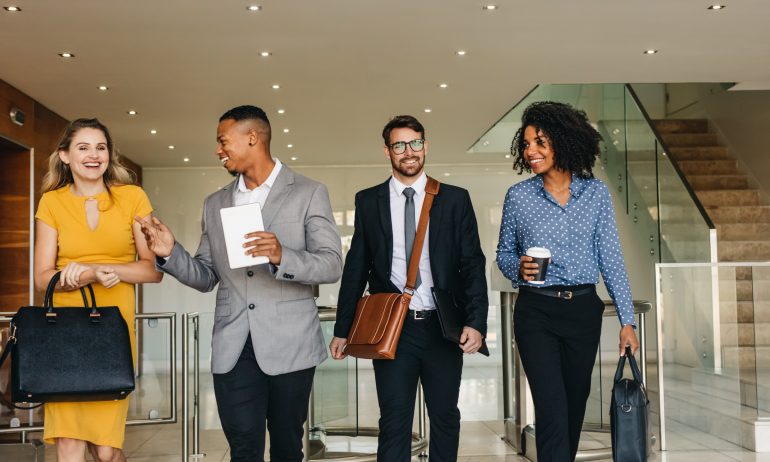 Many or all of the products featured here are from our partners who compensate us. This may influence which products we write about and where and how the product appears on a page. However, this does not influence our evaluations. Our opinions are our own. Here is a list of our partners and here's how we make money.
If you're in a financial bind, you might think to ask for an advance on your next paycheck, which some employers offer through a third party as part of their benefits packages.
These loans can be a low-cost way to borrow, and they might help you build credit. But they charge interest, and paying for early access to your own money can lead to unsustainable financial habits.
Here's what to know about employer-provided paycheck advances, plus alternative ways to get fast cash.
Paycheck advances through your employer
HoneyBee, Salary Finance and TrueConnect provide small personal loans — typically up to $5,000 — through an employer's benefits portal.
These companies look at employment and income data to underwrite your loan, but they may also consider your credit. For example, Salary Finance does a hard credit pull to approve borrowers, but TrueConnect says it doesn't consider your credit score for loans of $5,000 or less. Both report payments to the credit bureaus, which means paying on time can improve your credit.
Annual percentage rates on these loans can reach double digits. For example, Salary Finance charges APRs between 5.90% and 19.9%.
Payment terms span from a few months to a few years, and loan payments are deducted from the employee's paycheck. If you terminate your employment, you're still responsible for loan payments. A company may use your bank account information to collect repayment if they can't get it from your paycheck, though they say they'll work with borrowers who leave their jobs.
Pros and cons of employer-sponsored paycheck advances
Low-cost access to funds: With single- and double-digit interest rates, these loans are likely to be more affordable than payday loans, which can have rates as high as 400%.
Credit reporting: If the lender reports your payments to the credit bureaus, the loan will help you build credit for the next time you want to borrow. It's not the best choice if your goal is to just build credit, but it's an advantage that other payday loan alternatives may not offer.
Financial education: TrueConnect and Salary Finance both offer financial education that can help you understand your situation and find paths to improve it.
Paying to borrow your own money: When paying interest on an employer-sponsored loan, you're essentially paying to borrow your own money.
It's not a better benefit than more money: If your employer offers this program as a benefit, consider whether it's a better perk than a higher income. If you're making use of these loans, consumer advocates say, you may be better off searching for a job that pays more instead.
Employee loans vs. loan apps
Loan apps like Earnin and Dave also provide direct paycheck advances, usually up to a few hundred dollars. Rather than charging interest, these apps charge subscription fees or tips.
Earnin is a mobile app that asks for your time sheet and lets you cash out up to $500 of the money you've earned before your pay date.
Dave lets you borrow up to $200 if you have a spending account with it, or $100 if you don't, and debits the loan amount from your account on the next payday.
Both apps ask users to pay an optional "tip" and offer other features like notifications when your account balance is low.
Unlike employee loans, these paycheck advance apps don't usually check your credit, and they don't automatically report your payments to the credit bureaus.
Similar to employee loans, they're best used for small, infrequent emergencies. If you do borrow from them, NerdWallet recommends declining the tip.
Employee loan alternatives
Consider an employee loan as just one of many fast-cash options you have. Here are some alternatives to consider:
Bank or credit union loans: If your bank or credit union offers personal loans, that may be a good place to start. You could get your funds within a week, and you don't have to rely on your employer to get this type of loan.
Online loans: Online lenders also offer personal loans and tailor their products to borrowers in all credit bands. Even if you have bad credit, you may qualify for an online loan based on other information. These loans can often be funded the same day or day after you're approved, and amounts go as low as about $1,000.
Side gigs: Consider a second job to earn extra income. There are online and offline options, from rideshare driving to taking surveys. This may not get you instant cash, but it's a way to get money without paying for it.
Lending circles: You can form a lending circle with some friends or family members. In these circles, everyone pitches in some amount of money each month, and one person gets the entire pot. It's a longer-term commitment, but it can come in handy when an emergency expense arises.
Borrow from a friend or family member: It can be difficult to ask someone for money, but it's one way to preserve your credit and get a fair shake. You and a friend or family member can even draw up a contract that includes repayment terms and interest.
Before you need to borrow next time, consider building a budget now that includes some room for savings, wants and needs. NerdWallet recommends the 50/30/20 budget, which allocates some of your paycheck to savings. A goal of $500 in an emergency fund is a good place to start.
See your money in one place
The NerdWallet app tallies up your expenses and shows you how much you're spending on things like food, bills, travel and more. Plus, it will show you ways to save big.
Get more smart money moves – straight to your inbox
Sign up and we'll send you Nerdy articles about the money topics that matter most to you along with other ways to help you get more from your money.