Brigit App Review: Paycheck Advances in 2021
The Brigit app offers paycheck advances up to $250, plus credit-monitoring features. You'll pay a monthly fee for access to your cash.
Many or all of the products featured here are from our partners who compensate us. This may influence which products we write about and where and how the product appears on a page. However, this does not influence our evaluations. Our opinions are our own. Here is a list of our partners and here's how we make money.
Our Take
The bottom line: Brigit's cash advance feature costs a flat monthly fee and may be good for one-time, emergency use.
Min. Credit Score
Loan Amount
Pros & Cons
Pros
May be cheaper than an overdraft fee.
Offers credit monitoring tools and identity theft protection.
Cons
Requires access to your bank account.
May promote a habit of borrowing against future earnings.
Doesn't report repayments to credit bureaus.
Get more smart money moves — straight to your inbox
Become a NerdWallet member, and we'll send you tailored articles we think you'll love.
Full Review
The app has a free version with some financial tips and budgeting tools, but to use the advance and credit-building features, users must pay a $9.99 monthly subscription fee.
Brigit's mission is to help average Americans improve their finances and reduce financial stress, says CEO and co-founder Zuben Mathews.
"If you really want to improve someone's financial health, for the masses of our country, it comes down to being able to save effectively and build someone's credit score in addition to instant cash," he says.
When used occasionally, Brigit's paycheck advance feature can be useful if you:
Need to cover an emergency expense.

Have a plan to repay the advance and cover your other expenses.

Have an active checking account that receives regular deposits.

Get enough value from the credit-building and budgeting features to justify paying a monthly fee.
Brigit might not be for you if you:
Regularly spend more than you earn.

Primarily receive income from somewhere other than a job.
Financial advisors say repeated borrowing from a paycheck advance app isn't a sustainable habit. Even if you choose to borrow from Brigit now, take steps to also build an emergency fund that can cover unexpected expenses without added fees or interest. NerdWallet recommends setting an emergency savings goal of $500.
Before you build a budget
Track all your spending at a glance to understand your trends and spot opportunities to save money.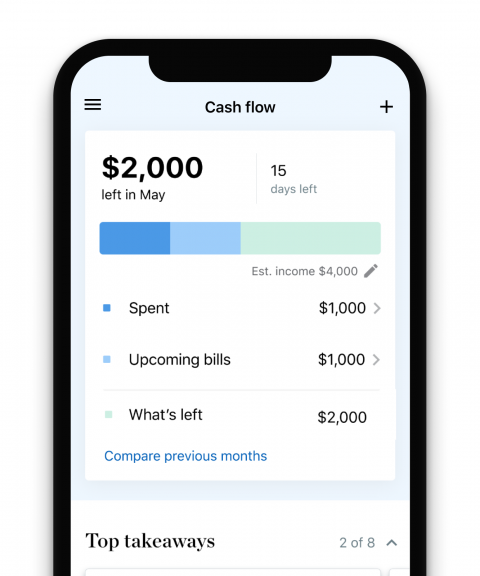 How to qualify for Brigit's paycheck advance app
Unlike competitors that look at your paycheck and employment to determine if you qualify and how much you can borrow, Brigit focuses on the checking account where the money will be deposited.
When assessing your checking account, Brigit looks for the following factors:
An account that's at least 60 days old.

Sufficient activity — Brigit suggests using it every day for a couple of weeks.

Cash left over the day and one day after you receive a paycheck (to be sure there's enough to repay advances).

At least three recurring deposits from an employer, totaling a minimum of $800 per month.
The app gives users a score from 0 to 100 based on information like the account balance over time, the size of your deposits and how much you spend compared with what you earn. The app uses that score to determine whether you qualify for the advance and how much it should be.
How Brigit's advance works
After downloading the Brigit app from an app store, here are the steps to get an advance:
Set up an account and connect your bank account. Brigit will use this account to deduct the monthly subscription fee and deposit cash advances.

Brigit assesses your account, gives you a score and decides if you qualify for an advance.

If you qualify, you agree to pay the subscription fee.

Request an advance. Brigit immediately deposits the money into your account and schedules a repayment date.

You get a notification two days before and on the day payment is due. You can repay the money early by selecting the "Repay now" button.

Brigit withdraws the advance amount from your account.
In addition to providing cash that you request, Brigit also monitors your bank account and tries to automatically deposit an advance if you're about to overdraft. You can have only one advance at a time, and you have to opt out of automatic advances if you don't want them.
The app tries to understand whether there's enough money in your bank account before it withdraws the amount you borrowed, and it will assign a new repayment date if there isn't, Mathews says. But there's no guarantee — the withdrawal could cause an overdraft fee.
You can download the app and access some budgeting tips and financial education for free, but most features — including the advance — are for subscribers.
Credit-builder loan: Users can opt in to a credit-builder loan that offers the benefit of having payments reported to the three major credit bureaus. Brigit deposits loan funds into a credit-builder account, and you contribute monthly payments for 12 months. Once the loan is paid off, you get back the money you contributed.
Credit monitoring and alerts: The app lets you see your credit score and credit report, access a credit score simulator and receive alerts about changes that can affect your credit. Some apps offer this type of service for free.
Identity theft protection: Brigit's identity theft protection reimburses you for expenses if your identity is stolen. Brigit will also help you cancel and replace lost ID and credit cards.
Dave and Earnin are other popular paycheck advance apps. Here's how Brigit compares.
Dave offers advances up to $200 and charges a $1 monthly subscription fee. It may charge up to $5.99 for expedited advances and asks for tips up to 20% of the amount advanced. If you tip $1, you could end up paying about $7.99 for an advance from Dave — less than Brigit, but that fee is per advance, not per month.
Earnin doesn't charge interest or fees, but it asks for an optional tip each time you borrow. Tips are capped at $14, the company says.
A key difference between Brigit and its competitors is that Brigit doesn't ask for a tip. Consumer advocates say tips put the decision about how much the service should cost on the consumer, which doesn't give them a fair chance to compare other services.
Personal Loans Rating Methodology
To review Brigit, NerdWallet collected dozens of data points, interviewed company executives and compared the company with others that seek the same customer or offer a similar product. We have not yet rated this product.
Find the Best Personal Loan
Frequently asked questions
Brigit is an app that offers paycheck advances up to $250. The app includes budgeting and credit-building features, like credit monitoring and a credit-builder loan. Unlike other cash advance apps, Brigit charges a flat monthly $9.99 fee.