Dave App 2022 Review: Paycheck Advances
Dave is an app that provides an advance of up to $250 on your next paycheck. The app requests donated tips in place of interest.
Many or all of the products featured here are from our partners who compensate us. This may influence which products we write about and where and how the product appears on a page. However, this does not influence our evaluations. Our opinions are our own. Here is a list of our partners and here's how we make money.
Our Take
The bottom line:
Dave is best reserved for emergencies, but you may have cheaper alternatives.
Pros & Cons
Pros
May be cheaper than an overdraft fee.

Can be a low- or no-fee way to borrow money.
Cons
Requires bank account access.

May promote a habit of borrowing against future earnings.
Get more smart money moves — straight to your inbox
Become a NerdWallet member, and we'll send you tailored articles we think you'll love.
Full Review of Dave
The Dave app provides users an advance on their paycheck to cover small expenses like gas or groceries. It also offers a "spending account" that charges no overdraft or low-balance fees.
Instead of interest, Dave charges a monthly subscription fee. It also accepts optional "tips" for the service. Adding a tip for the paycheck advance feature means you're paying to access money you've earned. You may have cheaper alternatives if you need cash for essentials.
Dave was launched in 2017 from an idea co-founder and CEO Jason Wilk had to rid consumers of bank overdraft fees.
"I wanted to build Dave to help be like my financial friend who was going to send me alerts about my upcoming bills and effectively tell me how much money I could spend before my next paycheck came in," Wilk says.
Is the Dave app right for me?
When used occasionally, Dave's paycheck advance feature can be useful if you:
Have a small emergency expense.

Can use your next paycheck to cover the money owed to the app as well as your other monthly expenses.

Have a checking account and are paid by direct deposit.

Don't want to overdraw your bank account and pay an overdraft fee, which can cost $34 on average.
Dave might not be a good solution if you:
Regularly spend more than you earn.
Consumer advocates say regularly paying to access your own money isn't a sustainable long-term habit. Even if you use Dave, try to build an emergency fund so you can cover unexpected expenses or brief income gaps without paying extra. NerdWallet recommends starting with a goal of $500 in emergency savings.
Keeping a budget is another good way to start saving. NerdWallet recommends the 50/30/20 budget, which helps you balance needs, wants and savings.
Track your spending — for free
NerdWallet's free app helps you track your spending, find ways to save and build your credit score.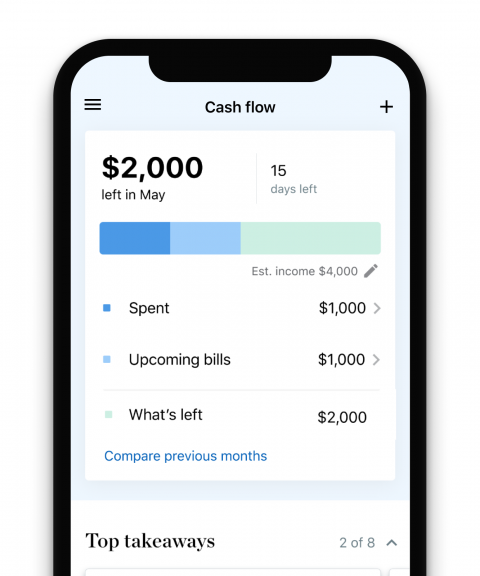 Dave app's paycheck advance details
Fees, rates and repayment terms
A monthly $1 subscription fee.

An optional express fee between $1.99 and $5.99 to receive funds within eight hours (instead of the standard 1 to 3 days).

Optional tips up to 20% of the amount borrowed.
Repayment: Users can pay the advance back manually or set up automatic payments from a bank account. The automatic payment date is set to your next payday, but the company says it'll review your balance before debiting the funds to avoid triggering an overdraft.
Change your pay date: The app says you can contact customer service to change your repayment date. If you can't repay an advance, Dave won't charge a late fee, but it won't give you another advance until you repay the first one.
Loan example: Say you immediately need $200 from your next paycheck. If you pay a $5.99 express fee, a $1 tip — which the company says is the average tip size — plus the $1 monthly subscription fee, it'll cost $7.99 to borrow $200.
Repaid in seven days, that comes out to an annual percentage rate of over 200%, which is lower than what many payday lenders charge but high compared with most traditional forms of credit, like credit cards and personal loans.
What you should know about tips
Wilks says letting users tip rather than charging interest seemed like a fair way to avoid making users overpay to borrow.
But consumer advocates say putting the decision on users doesn't give them a chance to evaluate the full cost of the product, unlike when seeing a credit card or loan APR before signing.
When the app asks if you want to add a tip, it shows a sliding ruler with varying amounts, including 0%. If you use Dave, NerdWallet recommends not tipping.
Dave doesn't check your credit to determine if you qualify to receive an advance. Instead, the company uses machine learning to review information like your income, spending habits and the regular balance of your bank account.
The company says users need to have at least two recent, matching and regularly scheduled direct deposits to verify your income.
Spending account: The spending account holds deposits and makes payments and transfers between it and other bank accounts. There's no minimum deposit or balance requirement to open or maintain the account, and Dave will issue you a debit card if you open an account. You don't need a Dave spending account to qualify for an advance.
Credit building: Dave has a partnership with LevelCredit that lets users who have a spending account report rent and utility payments to the major credit bureaus. If you opt in, your on-time payments could help you build credit, but missed payments can hurt your credit.
Budgeting: Dave has a budget feature that tracks your income and spending to help you plan for upcoming bills and warns you if you're in danger of overdrawing.
Side Hustle: This feature helps Dave customers find flexible work to earn extra income. Side Hustle includes jobs like rideshare and food delivery driver, and the company says it has work-from-home options.
Payroll advance investigation
In August 2019, the New York Department of Financial Services, joined by 10 states and Puerto Rico, launched an investigation into the payroll advance industry. The investigation aims to determine whether payroll advance companies violate state banking laws, such as rate caps and licensing laws, according to a news release from the NYDFS. A Dave spokesperson has confirmed that the company received an information request in relation to the investigation.
Earnin is another paycheck advance app that accepts tips rather than charging interest. Earnin lets you borrow $50 to $500 and caps tips at $14. The app determines whether to give you an advance by reviewing your hours worked, using information like your location and timesheet.
The app doesn't charge a subscription fee and offers a savings account. Earnin also offers a free overdraft notification feature and an overdraft protection feature, which you may have to pay a fee for.
Methodology
This product is not yet rated.
Find the Best Personal Loan