The Institute of Student Loan Advisors Review: Student Loan Help
The Institute of Student Loan Advisors is a nonprofit organization offering free help to student loan borrowers.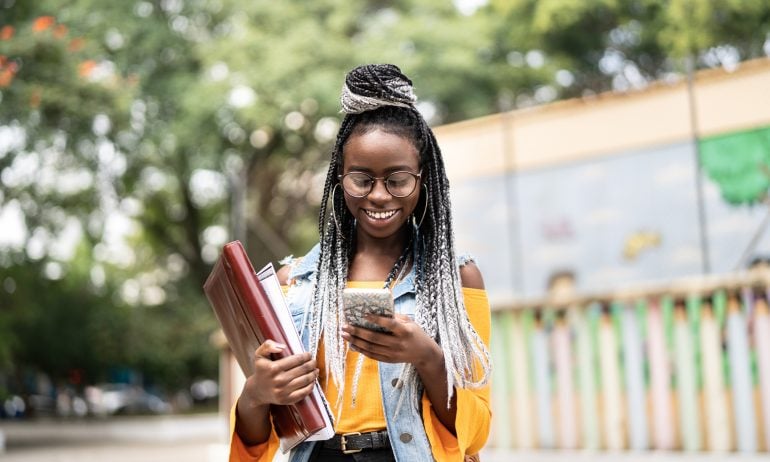 Many or all of the products featured here are from our partners who compensate us. This influences which products we write about and where and how the product appears on a page. However, this does not influence our evaluations. Our opinions are our own. Here is a list of our partners and here's how we make money.
To help student loan borrowers avoid scams, NerdWallet is rounding up information on legitimate sources of help, like this one.
Organization: The Institute of Student Loan Advisors.
Mission statement: "To make certain that all student loan borrowers have access to free, neutral and accurate resources and mentoring to ensure they can successfully manage their student loan debt," says Betsy Mayotte, president and founder of TISLA. "Our overarching message for almost all borrowers is that the name of the game is paying the least amount over time."
Location: Plymouth, Massachusetts.
Business hours: Monday through Friday, 9 a.m. to 5 p.m. ET.
Website: freestudentloanadvice.org.
Areas of expertise: Federal, private, parent, graduate, state and institutional loans, as well as income share agreements.
It can help with: Answering general questions; providing advice on current student loan management strategy, default and loan forgiveness programs; and dispute resolution. Most emails are answered within one business day.
It cannot help with: Advice on applying for aid, legal advice or choosing a lender. It does not forgive loans.
It is funded by: Grants, donations and mission-driven fee for service (such as webinars for employers).
Most common question topics: "We generally have two types of questions: those from borrowers who have done lots of their own research but want a second opinion on their chosen strategy due to the confusing nature of the programs," says Mayotte. "Other borrowers are just overwhelmed — either by their debt or the programs available — and just want someone to evaluate their situation and suggest how to move forward. We also get quite a few questions about [public service loan forgiveness]."
Most common relief/repayment solutions it recommends: Income-driven plans.
Process for assessment/resolution: Most questions are answered within one business day. Disputes, depending on the situation, can sometimes take months to resolve. Most disputes are resolved within a week or two.
What information/documents to bring to the table: Provide information such as the type of loan you have, how much, whether you are in default or not and any questions/goals. A list is available on TISLA's contact page. Do not send any personal information.
Policy on acting on the borrower's behalf: TISLA never acts on the borrower's behalf using a Federal Student Aid ID, or FSA ID, or through power of attorney. TISLA also does not ask for permission to take action or initiate any actions on a borrowers' account. For complex disputes, TISLA may request the borrower submit a third-party authorization form to the loan holder to allow them to speak about the borrowers' dispute, but these authorizations are only used to discuss the account with the borrowers' servicer or the Education Department.
Get accurate refinance options in just 2 minutes with Credible
Compare pre-qualified rates from multiple lenders with no impact to your credit score.
If you need student loan help
If you're struggling with your student loan debt, first speak with your servicer or lender to:
Discuss repayment options.

Take a temporary payment pause.

Temporarily reduce your monthly payments.
If your problem is with your lender or servicer or you're not getting the help you need, look for a legitimate student loan help organization that offers counseling. In addition to TISLA, consider these other vetted resources for student loan help; they are established organizations with verified histories:
| Student loan help resource | |
| --- | --- |
| | Advice on repayment plans, forgiveness programs and dispute resolution. |
| | Comprehensive information on options for student loan borrowers. |
| | Advocacy on behalf of all borrowers to influence policy. |
| | Complete financial review for struggling borrowers, which can include advice on student loan options and plans for dealing with other debt. |
| | Advice on repayment plans, help with paperwork and budget counseling. |
| | Information for student loan borrowers and an attorney directory. |
Many of these organizations offer advice for free. In some cases, you may need to pay a fee, as with a certified nonprofit credit counseling agency or if you hire an attorney.
None of the organizations above calls, texts or emails borrowers with offers of debt resolution.
Offers of help that you have not sought out are likely to be scams. While it's not illegal for companies to charge for services such as consolidation or enrollment in a payment plan, those are steps you can do yourself for free.
Avoid any debt relief companies that demand money upfront.
Spot your saving opportunities
See your spending breakdown to show your top spending trends and where you can cut back.