How to Find the Right Real Estate Agent for You
When you're buying or selling a house, you'll likely seek professional help from a real estate agent. Here's what you need to know to find the right agent for you.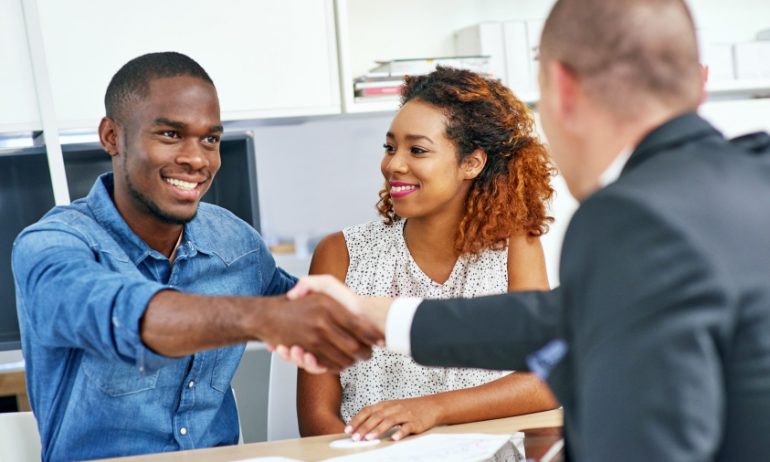 Many or all of the products featured here are from our partners who compensate us. This may influence which products we write about and where and how the product appears on a page. However, this does not influence our evaluations. Our opinions are our own. Here is a list of our partners and here's how we make money.
When you're buying or selling a house, you'll likely reach out for professional help from a real estate agent. But how to choose? There are Realtors and just plain real estate agents, part-time and full-time agents, family friends who are in the business, maybe even neighbors down the street. Which one is right for you?

FIND AN AGENT AT HOMELIGHT
Visit HomeLight to find the right real estate agent for you. Get started now to see your personalized matches.
Work with a professional agent
Devin and Karen Carroll of Texarkana, Texas, found what they thought was the perfect house. So they reached out to a convenient real estate connection.
"I called a family friend who is a part-time real estate agent," Devin Carroll says. "She showed us the house and we submitted an offer. It was at this point the fireworks began."
Carroll says the seller's agent was an experienced negotiator "ready to go to war for her clients." His agent was immediately intimidated. It took only one phone call for the veteran agent to stand her ground on price, and "from that point on, my agent was scared to negotiate."
Lesson learned. Carroll says the next time around, he'll look for a professional agent, one who's not scared to negotiate and who is more concerned with getting a great deal than with sealing just any deal.
Finding the right agent for home sellers
"The days are gone where a real estate broker simply places a sign in the yard, enters it into (the Multiple Listing Service) and sits around their office waiting for it to sell," says Damian D. Hall, a real estate broker in Greenville, South Carolina.
For sellers, that means searching for a proactive, technology-savvy agent, Hall says. Because buyers start with the internet, he says "photos must be professional, magazine quality, and the description has to be detailed and really sizzle."
Also, look for an agent who has some social-media marketing muscle. "It's scary how much Facebook alone knows about its users, but at the same time it's pure gold for those looking to put a product — or in our case, a listing — in front of the consumer most likely to buy the house," he says.
Finding the right agent for homebuyers
On the other side of the transaction, Scott Durham, a Realtor in Reno, Nevada, says there's something to be said for a buyer's agent with a solid track record of closing deals.
"The average real estate agent sold only four homes last year," Durham says. "Think about if you are purchasing a home and you represent 25% of that person's income for the entire year. Do you really think they have your best interest at heart, or will they do just about anything to get the deal closed?"
He says a typical buyer's agent will simply search the MLS for homes, but great agents will hunt down homes that aren't even on the market yet. They'll contact homeowners in the desired neighborhood or launch a direct mail campaign in the desired area with specifics on the buyers and their family.
Know the difference between Realtors and real estate agents
"Not all real estate agents are Realtors," says Kellie Tinnin of Albuquerque, New Mexico, who has been in real estate for eight years. "The term Realtor is a registered trademark of the National Association of Realtors." NAR members pledge to abide by the association's code of ethics.
Of course, similar ethical standards are enforced as a matter of federal and state law, whether you deal with a Realtor or simply a real estate agent.
Agent interviews: Do better than one and done
Real estate pros urge buyers and sellers to interview at least three agents. Most people don't — they're one and done. Peter Boscas, a broker in Columbia, Maryland, offers these agent-hunting tips:
Always ask an agent for a list of recent references.

Ask each agent you're considering how they plan to help you find the perfect home (for buyers) or market your home (for sellers)

Note how an agent responds to your inquiry. Boscas says if an agent answers your initial request for information with a prompt, thorough and informative response, there is a good chance that agent will provide that type of service throughout the transaction.

Ask the agents you're considering to provide a list of their recent sales, not just a general number of sales or sales volume.