How to Get a Mortgage
Not sure how to get a loan for a house? Here's a step-by-step guide.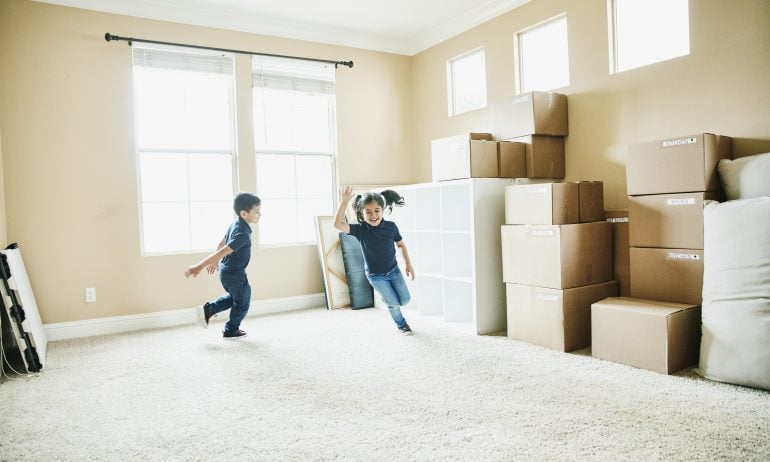 Many or all of the products featured here are from our partners who compensate us. This may influence which products we write about and where and how the product appears on a page. However, this does not influence our evaluations. Our opinions are our own. Here is a list of our partners and here's how we make money.
Getting a home loan isn't just a big step, it's an entire staircase — and it can take a long time to reach the top. There are times when the climb will feel dizzying, but knowing how to get a mortgage before you start can help you stay organized and feel more in control.
Ready to learn what it takes? Here's how to get a mortgage, step by step.
Before you set off to get a mortgage, make sure you're financially prepared for homeownership. Do you have a lot of debt? Do you have enough saved for a ? What about ?
A home is a major purchase — maybe the biggest one you'll ever make — so it's no surprise that lenders really dig into borrowers' finances before handing out house loans. If you've got substantial debt or don't have much of a credit history, you may want to improve your financial health before applying for a mortgage.
A thorough understanding of your income and debts will help you know exactly .
Additionally, know that lenders look closely at your when determining your eligibility for a mortgage. The interest rate you'll be offered depends heavily on your credit score.
Check your credit score, and if it needs work, before you begin applying for a home loan. That can include paying down outstanding debt, on your credit reports and not opening any new accounts.
There are many types of house loans available. The one that's best for you will depend on your financial situation and homeownership priorities. Here are some of the loan options you can consider:
» MORE: Use our to estimate your monthly mortgage payment
Look at multiple to find the one for you. There's a wide array of lenders to consider, including traditional banks, online non-bank lenders and credit unions.
If you're looking for a particular type of mortgage, you may want to zero in on specialty lenders. For example, if you know you want a VA loan, a lender that focuses on working with military borrowers may best fit your needs.
No matter what kind of loan you're seeking, you'll want to consider:
There are a couple of big advantages to getting a . One, it shows sellers that you can make a solid offer up to a specific price. Two, it helps you figure out what your mortgage will really cost, since you'll get details on the rate, , fees and other closing costs.
It's smart to get preapproved by at least three lenders. Hey, you've already gone to the trouble of digging up all those — and comparing rates could potentially over the life of the loan. Plus, if you get all the preapprovals within a short period of time (30 days is safe), it only counts as one hard inquiry on your credit report.
Even if you've been preapproved, you'll have to submit your most recent financial information when you formally apply for a home loan. This can include:
There may be other kinds of documentation required, depending on the type of mortgage you're getting.
Within three days of receiving your application, your lender will give you an initial , which includes:
Now that you know your real rate, you can decide whether to buy discount points. These are an upfront fee that lowers your rate by essentially prepaying interest. (If you opt to buy points, they're included in your closing costs.) Points can be a good option if you plan on staying in your home for at least seven years.
Underwriting can be the most nerve-racking part of getting a mortgage, even if you've been preapproved. It's more waiting, this time to get officially approved for the loan. You may also find yourself working with an underwriter rather than the loan officer who's helped you up until this point.
During the underwriting process, the lender determines whether you're eligible for the loan. Factors evaluated include:
The lender will take a look at your updated credit report and order a . An appraisal tells the lender the market value of the home, since they won't lend you more than the home is truly worth.
Meanwhile, you will schedule a, which will look for any defects in the home. Depending on how it goes, you may want to negotiate with the seller for repairs or a lower price before closing.
During the underwriting process, you'll want to avoid making changes to your finances, such as switching jobs or taking out another line of credit. Same goes for large purchases that increase your debt. Increasing your debt can lower your credit score, which could make the loan costlier — or even jeopardize your qualification.
Finally, your loan is approved! But you've got a few more steps to take before the process is complete.
If you start having serious second thoughts at this point, you can still walk away. You might lose your deposit — also called — if you decide not to close.
Don't be afraid to ask questions. Getting a mortgage comes with a lot of paperwork. Take the time to understand it all. Know what you're signing and what you're paying.
Your state's laws will determine who's present at closing. These people may include:
And that's it — you made it to the top, and the loan is yours. It's finally time to move into your new home!